Living in a Van | Tips, Pros, Cons, and Benefits
Living in a van…This different lifestyle has become something I think about. Exploring the work while I work remotely has started to sound very appealing. I have always loved being on the move, as I am a social person who loves to explore. In addition, while living in the chaos of the age, the minimal full time van life equates to calmness for me. 
Now I want to help you explore the pros and cons of van life, how to make it, and how it'll change your life…In this blog, I will cover all the issues that need to be known, from the financial obligations of caravan life to taking a shower. 
Are you ready to live in a van?
Why Live in a Van?
There may be many personal reasons you have for embracing the van life. You may not like being tied to one place, you may enjoy discovering new things, or you may need to be on the go for your job. But if you can't convince yourself to switch to a nomadic life, let's look at the most valid reasons for choosing the van life:


Being Location-Independent
As a remote worker, you can do your job wherever you find a secure WiFi network if you're living in a van. Imagine working without having to go to an office every day!


Adapting to a Minimal Life
Since you have limited space in van life, you get rid of excess items and move to a simple life. In this way, you continue your van life with only what you care about. This lifestyle makes itself felt in every aspect of your life, and you feel lighter.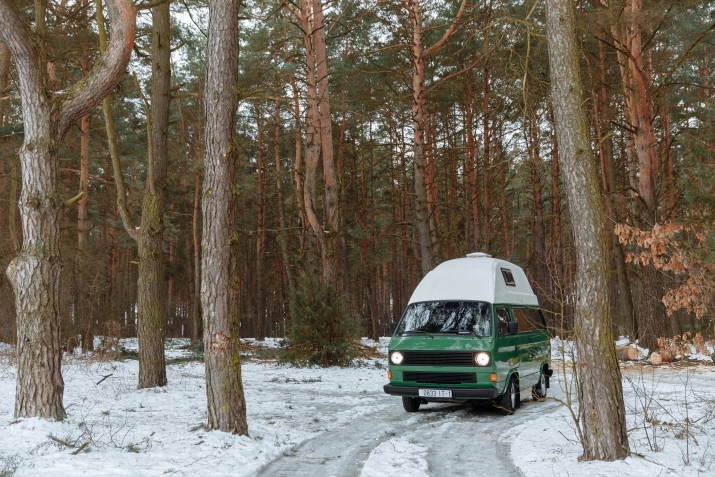 Freedom To Travel as You Wish, Without Any Plans
Van life offers the opportunity to travel independent of place and time. It is entirely up to you to park the van in the city center or on the beachfront. You can choose your favorite holiday style without making a reservation once you start living in a van.
Saving Money
You can determine the amount you spend on van life according to your budget. You can park the van at free campsites or in public places. In this way, you will get rid of the cost of accommodation and save a lot of money.
Spending Time in Nature
You adapt to nature while living in a van. Even your sense of vacation can change after you get the pleasure of camping or skiing with a van. Think about how much it will change your life, moving your desk to a trailer after working in closed and stuffy offices! Fresh air and a beautiful view will be your source of motivation.
The Pros and Cons of Van Life 
Van life comes with some challenges and advantages. Being aware of the pros and cons before adopting this lifestyle makes the decision-making process easier. Now let's consider the pros and cons of van life:
Pros of Living in a Van
Perhaps the biggest plus of van life is that you don't have to belong anywhere. You can decide where and when you want to travel.
When you're living in a van, you can act according to your budget. You have alternatives where you can spend less. In this way, you can create the economic conditions you want.
As I mentioned at the beginning of the article, van life brings minimal life. You can have a simple life with less stuff.
Living in a van makes it possible to spend more time in nature. Van life creates a healthy living environment outdoors.
Nomadic life also begins with an option to meet many people while exploring different parts of the world. It allows you to be friends with people who have the same lifestyle.
Van life will enable you to stay away from social media. You have more alternatives than swiping for hours on Instagram or Twitter.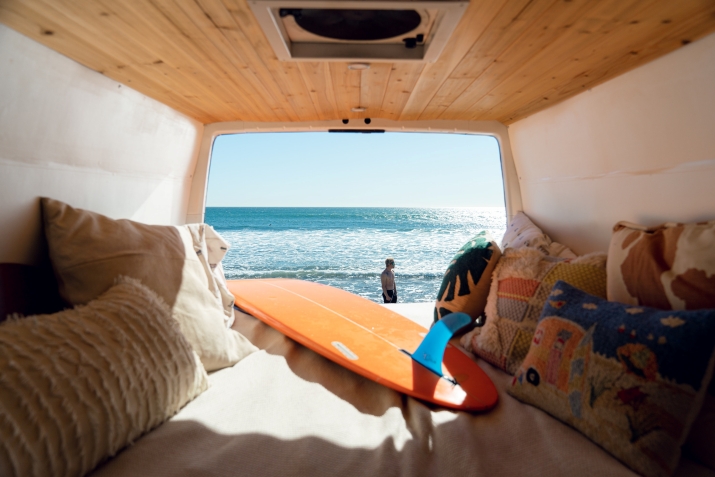 Cons of Living in a Van
Taking a shower is a big problem in van life.
If you have a pet or share the caravan with someone else, the small space in the van can be an issue. You may not be able to create your own space.
Vans often scatter and get dirty. Therefore, frequent cleaning is required.
You may have to use public bathrooms constantly.
It is necessary to find safe camping and parking areas.
It would be best if you had a backup plan if the van breaks down.
You may have difficulty in traffic while traveling in the city.
Using public WiFi is sometimes unreliable.
Van Living: How To Prepare for Van Life
So what about those left behind? How will things change as you suddenly move from a settled to a nomadic life? Let us dwell on these questions now. 
First, you will have to choose between them as not all items will fit in the van. You may have things you don't want to leave. Or, after a while, you may wish to continue with your established layout. So then, a warehouse can be rented. You can place the items you can't take with you and use them whenever you want. As a second option, you can sell things you don't use. In this way, you can meet your cash needs.
Of course, there is also the issue of the home. If it's your own home and you don't want to sell it, renting it may be suitable. For example, if you reserve a room for yourself and rent the house furnished, you will have the opportunity to return to your home whenever you want.
Buying a Van
Perhaps the most important thing to ensure continuity while transitioning to a van life is to find the right van. This choice will determine how long you can live in the van. For this, you need to ask the right questions: 
Will you live permanently or for specific periods? 

Will you live in the winter? 

How much do you plan to budget? 
…and so on.
If you're not ready to buy a van, you can spend a holiday by renting a van. At least living in the van for a while can be a guide for making long-term plans.
Let's continue by introducing the different styles of vans you can find on the market.
Sprinter Van
Sprinter Van model has 4X4 hammer power and is the most suitable model for winter months and mountainous terrains. Thanks to the large storage area, you can easily carry your belongings such as bicycles and ski pieces of equipment. In addition, thanks to its high ceilings, you can move freely in the trailer. However, Sprinter Van is one of the most expensive models on the market, and its parts are not easily available.
Dodge Promaster
One of the preferred models, the Dodge Promaster, is shorter and closer to the ground than the Sprinter and Transit. Although it is more economical in gas mileage, it is not suitable for use in mountainous areas.
Ford Transit
The Transit, which is quite spacious with its high ceilings, becomes more equipped with the level of grip on its wheels thanks to the RWD system, although it has 2-wheel hammers. It is also more affordable than Sprinter in terms of price.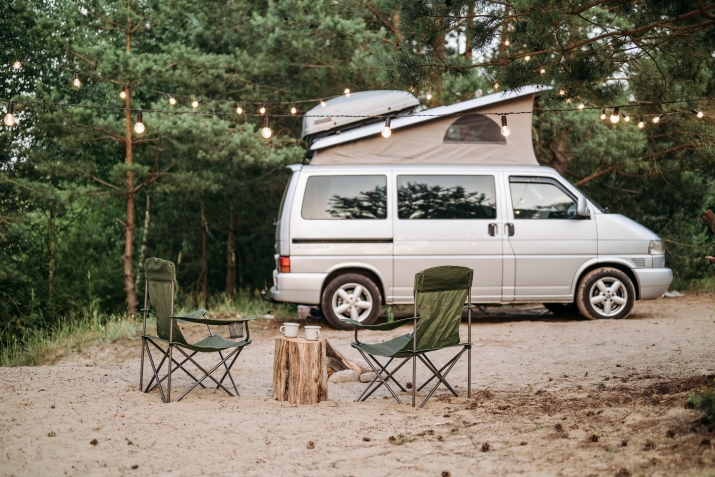 VW Vanagon, Westphalia, or Buses
Although they are not as robust as the new models, they are quite suitable for those who want a vintage style.
Budget Cargo Vans
These old models are very popular because they are cheap. Ford Econolines, Chevy G, Express, and Astros series are among campers.
Van Living: New vs. Used Vans
A new van will, of course, be more secure. At this point, the most important thing is the budget. It can be costly with its expenses. Instead, you can buy a second-hand van but you might end up paying more money to design. Or you can save on the cost of purchasing a designed van instead. But in this case, you should be sure of the reliability and guarantee of the materials used.
Auto Insurance for Your Van
It would be best to fully insure the van while you are on the road. You should hire a company that will provide comprehensive insurance for both your belongings and the redesigned van. For this, I suggest you research the insurance companies in your country and choose the best option possible.
Living in Van: Showering and Finding a Toilet
At the redesign stage, you can place a shower and toilet in the van. But in this case, too much water is consumed. Plus, it takes up a lot of space and can be costly. Instead, you can use showers at paid RV parks, campgrounds, spas, or your friends' homes. Frankly, the critical thing is whether you prefer the private area or the cheaper option.
A portable toilet is an option too.
How Do You Cook in a Van?
One of the important points of the van life is cooking. Going to restaurants, coffee shops, or consuming convenience foods all the time can be both expensive and unhealthy. Cooking in the van is pretty easy with the right ingredients. The kitchen you will install in the van is significant at the design stage. You should also have a good camping stove.
It would help if you chose smaller, more functional kitchen utensils such as pots, pans, plates, and glasses. In addition, you save food consumption time with a handy cooler. The kitchen table will also provide you with convenience. You will enjoy cooking in the van by choosing products suitable for outdoor use.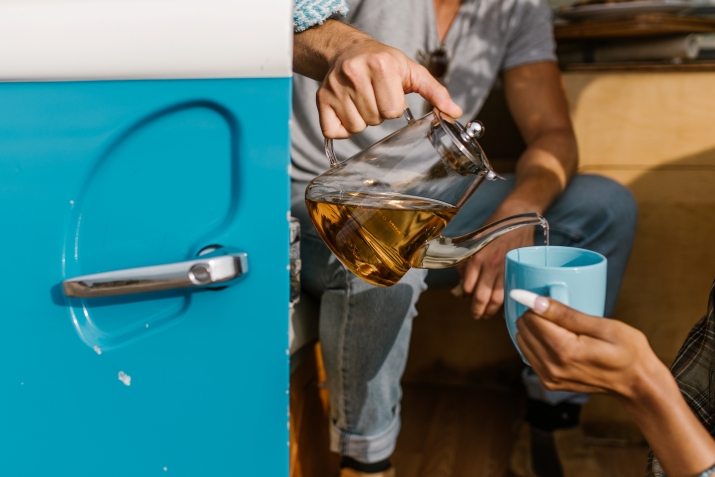 Laundry and Finding Dump Stations 
Perhaps the most challenging part of van life is filling water, draining greywater, and doing laundry. Campsites are quite suitable for doing this kind of work. There are discharge stations to discharge the greywater. You can easily find laundry as well.
However, the frequency of these businesses varies depending on the region you live in. Therefore, you may need to use your clothes for a more extended period. You can easily solve these problems by being cautious according to your region.
How To Get WiFi in Your Van
Another consideration for van life is WiFi access. Although it may seem quite tricky on the road, it is now accessible from many places. You can use your phone as a wireless access point and share unlimited data. In addition, a library or coffee shop is free and reliable points for internet access.
Is Van Life Safe?
Van life and being on the road can sound dangerous. Especially if you live alone. However, there are many solutions to deal with this situation as well. You can park where you feel completely safe and close to the road. You can park at RV parks and become a part of the community. You can create a safe place for your keys and create interior space for the bathroom.
Also, blackout curtains are a good option for you to sleep comfortably at night. You actually have to let some time pass to feel safe in the van. With time and the precautions you take, you can overcome this problem.
Is Van Life Legal? 
There are no laws about living in a van. But at this point, the important thing is the restrictions of the country and city you are in. In particular, coastal towns and major cities are more flexible in this case, while some areas may be more restrictive. You can check these rules according to where you live.
Can I Bring My Dog or Cat in the Van?
Of course! You can start your van life with your pets. In terms of being close to nature, it can be a free lifestyle for them too. At this point, the important thing is to have good ventilation when you leave your pet alone in the van. You may also need to clean more often because you live with an animal. Apart from these, living with your pet will be fun.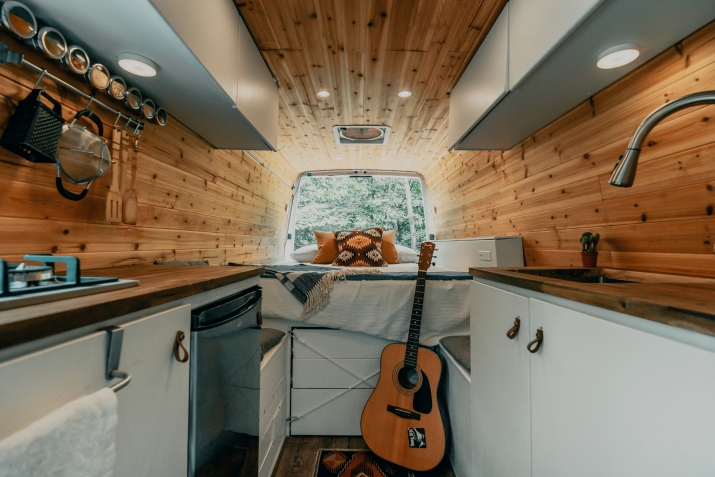 Remote Job Ideas for Van Lifers
In the world of technology, there are so many opportunities to work remotely now. You can find a job based on your field of interest. You can easily find a job in writing, social media management, video editing, web design, or software.
Additionally, you can start your own business online. You can turn any hobby into a business by selling your products or opening a Youtube channel while you're living in a van.
How Much Does Van Life Cost?
There is no set van life cost. You can adjust your monthly expenses according to your budget. Especially the cost of where you live is also significant at this point. The largest expenditure is an initial investment: the purchase and design of the van. Of course, the price of the van you buy also varies; for example, there are different models from $10,000 to $125,000. After switching to regular van life, you can live comfortably according to your budget.
As I've stated previously, there are many areas where you can save money in van life. As a result, the budget setting part will be completely shaped according to your life.
Living in a Van: The Bottom Line
I know that living in a van sounds like a very complex concept. Is it easy? To be honest, there is no right or wrong answer. But, trust me, it's doable. Although the installation process of the right van and the stages of adopting the nomadic life can overwhelm you, things will get easier in time.
So, have you made up your mind about living in a van?
Frequently Asked Questions on Living in a Van
Is it realistic to live in a van?
Yes, living in a van is a viable option. It takes planning, and not everyone will be able to achieve it, but if you're committed, you can make it happen.  Living in a van might be a good way to save money and travel on a budget. But note that if you opt for a Sprinter van, you'll have to spare a big budget as they are expensive.
Is living in a van cheap?
Van living comes with some specific costs that tenants of apartments or houses do not have to consider. Unless you pay cash, you'll be responsible for a monthly payment on your van. Your gasoline budget will be somewhat unpredictable depending on how often and how far you drive. You'll also need somewhere to park your van, which involves either owning land, paying campsite fees, or looking for free camping spots.
Van life is sometimes less expensive than renting, but not always.
Is living in a van cheaper than a house?
For some people, it is a way of living that is less expensive than renting a traditional home. Living in a van full-time can be a savvy way to save money, depending on your lifestyle. Of course, there are additional van-related fees to consider, such as insurance, breakdown coverage, and fuel. However, as compared to the expense of renting an apartment, living full time in a van will almost certainly save you a lot of money.
Where do I park my van?
The abundance of options to park in some of the world's most magnificent surroundings and national parks is one of the most amazing parts of van life. Finding a place to park your van overnight, though, might be one of the most difficult aspects of van life. Established campgrounds and an RV park are safe alternatives. 
However, free camping is more cost-effective. There are numerous free overnight parking opportunities throughout Europe.
What are the downsides to van life?
Although van life has many advantages, there are also many drawbacks. Here are some of the most common cons of living in a van:
Cleaning and hygiene 

Finding a place to park overnight

Social life

Lack of stability

No privacy

Mechanical issues

Shower facilities

Finding gas stations
What is living in a van like?
Beginning your van life adventure is wonderful, but it can also be overwhelming. There's so much to study and figure out, such as which van to buy and where you'll shower, rest for a few hours, and sleep at night.
Van life allows you the flexibility to visit the locations you've always wanted to go on your own timetable. Living in a van and such a small space necessitates a simpler lifestyle with fewer possessions. You'll have to prioritize the most vital aspects of your life and let go of the less significant aspects and unnecessary things.
Is living in a van worth it?
Living and traveling in a van may be worthwhile and enjoyable for some, but don't expect everything to be easy, and note that van life and life in such a small place are not for everyone. Living in a van takes you out of your comfort zone, but you can adjust to living in a tiny space!
Van life adventures are great opportunities to explore life, visit national parks and do fun things for a few months.
How do I pay for van life?
Because the car is the foundation for the entire undertaking of living in a van, it's important to do some research and comparison shopping before you start living in a van. The cheapest method of payment for the van is cash. Ask the dealer about financing alternatives if you don't have the cash or want to save it for the conversion.
However, certain auto lenders would not finance a conversion van. Others may refuse to finance van types that are commonly utilized for work. RV loans are often only available for cars registered as recreational vehicles by the state's vehicle registration agency.
Is van life difficult?
Van life and living in such a small space are extremely demanding. You're constantly looking for national parks, water, parking, and dump stations (if you have an RV toilet). Every time you drive (even if it's only a few blocks) double-check that your vehicle is fastened and ready to go.
Why do people leave van life?
If you don't regularly attend van life meetings, meet other van lifers, or move beyond your comfort zone, it can be tough to meet people on the road with this nomadic lifestyle and carefree life. The second reason is the cost. Living in a van is less expensive than an apartment however, it can be far more expensive than most people believe.
Rising gas prices, mechanical problems, the paid campsite, and health insurance can all add up to a lot more money than some travelers had planned. Go through all helpful resources before you start your road trip.
Is living in a van healthy?
Researchers claim that living in a van or in such a small place raises blood pressure, pulse rate, and irritation. Depression, worry, helplessness, feelings of not having enough privacy, awkward confinement, and the inability to have personal space can all contribute to poor mental health.
Is it legal to live in a van in the US?
Living in a camper van is not illegal. There are no restrictions prohibiting someone from living in a camper across the country. While zoning rules differ from state to state, the IRS considers RVs and mobile homes to be houses. In the United States, living in a camper is permissible for van lifers if they follow the rules and stay in a designated area.