Living on a Boat: A Guide for Beginners
Have you ever dreamed of a boat life? Isn't it super cool? We think so, too! Many people prefer to live on a boat these days. Living on a boat means more adventure and it promises an alternative lifestyle.
Living on a boat has numerous advantages. For example, your rent would be much cheaper than living in an apartment. You'll witness wonderful views every day by living o a boat full time. Moreover, you can party whenever you want, because there are no neighbors.
So, is this a lifestyle suitable for everyone? Have you ever questioned whether it's ideal for you? Before you start your life aboard, you need to think carefully about whether you're suitable for this life. In this article, we'll help you to figure it out.
Benefits of Living Aboard
Saving Money
Living abroad is cheap. At least, it's much less than the rent you would pay for an apartment. We'll mention the costs of living on a boat full-time in the following parts of our article, but, yes, it's cheaper than you'd pay for an apartment in the city center. You can save a lot of money by living aboard. 
For example, when you moor the boat to a marina, you'll receive services such as electricity, parking space, internet, laundry, and showers, which are usually included in the marina rent. Many apartments don't give you these in their entirety. At this point, it's very important in which marina you'll keep the boat. While even more luxurious areas can be much cheaper than apartments, you also have the chance to choose cheaper places. In this way, you'll increase your savings even more.
Changing Your Perspective
Living aboard means, after all, living on the sea. Moreover, this means that you're more likely to meet other cultures and languages. You can forget all the norms you have ever had if you want to! While living at sea, your perspective on life can change and expand. 
Protecting the Environment
If you're one of those who are in favor of protecting nature, living aboard means maintaining an environmentally friendly lifestyle. This is because energy consumption is much less when living in a boat than living in an apartment.
For example, there's a certain amount of water in the board that you can use, which is the water in the boat tank. This leads you to be thrifty about water. Shouldn't we always be like that? But, it's certainly a good thing that the boat compels you to do so. Or, you need to use the electric generator sparingly. Even better, it's much easier to connect solar panels to boards. Maybe you know, it's extremely difficult to connect solar panels to houses. 
Changing the Lifestyle
Your lifestyle will definitely change while living on the boat. This sounds very romantic as well! Yes, it's romantic because you'll start to live a much calmer and more nature-involved life. Living on a boat full-time certainly offers a quality life. Moreover, better yet, there are few things that make you feel freer than living in a boat. Especially if you have good neighbors around you… It's truly a wonderful life!
Having a Good Mental Health
This is definitely one of the biggest benefits of living aboard. Living on a boat has great things, but of course, bad things can happen from time to time. But, that's actually good for you too. Because you're a very brave person and only you have made what many people only dream of.
Sometimes it's perfectly normal for something to go wrong. Things can't always go right in sailing life, can they? The things you'll have to struggle with while living in aboard will improve you a lot. You'll solve a lot of problems and you'll see how successful you're. Your self-confidence will increase a lot, and it'll be very good for your mental health. You'll be very happy.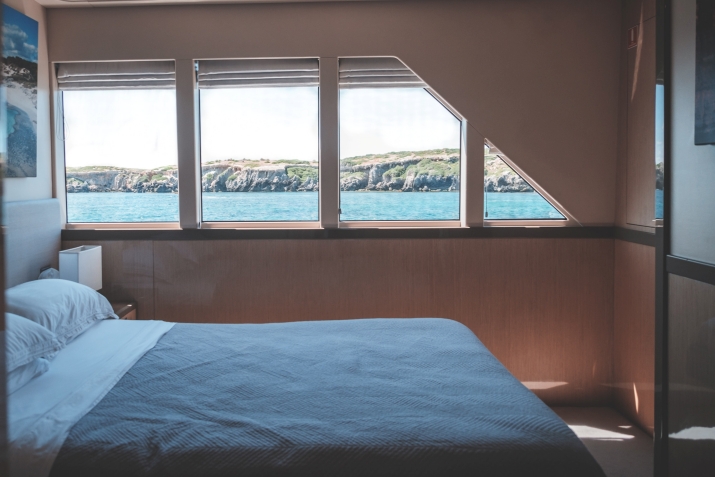 Factors To Consider Before Living Aboard
We've prepared some questions to ask yourself before you decide to live aboard.
Ask yourself these questions and check if you can live on a boat:
Do you just want to travel, or is this a lifestyle you really want?
How do you feel about explaining this decision you've made to people in your social circle? For example, do you feel like you can defend yourself if your family says they find this decision absurd?
What is the climate like where you plan to live? Is it always a suitable place in terms of weather conditions?
Do you consider yourself skilled enough to live on a boat? Are you a problem-solver? Can you stay calm and resolutely focus on solving the problems that come your way?
Are you ready to shop often because you won't have much space on the boat? For example, you may need to start choosing products with a long expiration date.
If you have children, are you sure they'll be comfortable in this environment? If they're not comfortable, will you be able to tackle it?
Do you have any other plans if things don't go well on the boat? Can you put it into practice?
Apart from these questions, a small tip: List any problems you may encounter. For example, you can't do laundry whenever you want and you have to go to the laundromat for this. That'll be a mental exercise for you and will help you think well. Find problems that remain unresolved when you look at them now and put them on paper. Then try to find solutions to them. That way, you'll begin to develop your problem-solving skill if you're determined to live aboard.
Essentials: Stowage, Comfort & Connectivity
We guess you live in a house that'll be bigger than a boat anyway. For this reason, moving from huge houses to tiny boats can be challenging in terms of settlement at first, whether it's a kitchen cabinet or a bathroom cabinet, or a wardrobe, it'll be much smaller and less than what you have in your home right now. As you prepare to live on the boat, you'll therefore need to sort your kitchen tools, accessories, and clothes a bit. In fact, if you have such a possibility, for example, we recommend that you store your winter clothes in another house. You can ask a friend or family member. In the same way, it'll be useful for you to put your work clothes in your closet in the office. 
Make sure your boat is well-ventilated. After that, make sure it's warm and dry. Because now you'll have to fight the molds. Before you start living on the boat, research cleaning products. Get them before you move to the boat.
Take care of the connection needs before you get on the boat, or at least get them planned. For example, if you want to use a TV, plan it. Likewise the internet. The marina may be offering high-speed internet.
Cost of Living on a Boat
Although living on a boat is much cheaper than living in an apartment, of course, there'll still be some expenses you have to make. These expenses will be the boat mortgage payment, slip fees, insurance of the boat, waste management, gas, food, and water. Now, in this section, we'll examine these costs in more detail for first-time boat owners.
As with expenses in all areas of our lives, the best method for managing expenses on the boat is to prepare a budget and stick to it as much as possible. As you'll have a more economical life on the boat, your expenses such as water and gas will be less.
The most difficult point for you in terms of the cost may be the maintenance of the boat. Marine parts and their crafting are often expensive. Living on a boat without a budget planning can be quite challenging considering the maintenance costs.
1. Insurance
Liveaboard insurance is slightly more expensive than insurance for recreational boats. If you're going to stop in local waters, the average price is around $800 per year. If you plan to be on international seas, if you'll be cruising more, it's around $1,800 per year. Some boat owners can set out without taking out insurance, but many shipyards may want to see your insurance while cruising. In any case, you should also take out insurance for your safety.
2. Moorage
Liveaboard is more expensive than recreational moorage like liveaboard insurance. You should research thoroughly before hiring the boat, as the fees will change each year. It's usually paid monthly. 
3. Bills
First of all, you can be sure that your electricity bill will be much less than what you pay at home. Because you'll be living in a very small space on the boat, your electricity consumption will be much less. Think about heating and cooling processes. There's a big difference between trying to heat or cool a whole house and making it in a small space. Therefore, you'll be consuming less electricity and your electricity bill will be much less at the end of the month. So, boat living will be much easier for you.
Fuel may be more at times. The reason why it'll be too much is that you need to start the engine to charge your batteries. Or, it could be running appliances like a watermaker or air conditioner. These are high-traction devices so they can add up to the bill a bit. 
Many sailors use solar panels and wind turbines, which are extremely easy to install on a boat. We also recommend this method. It's both cheaper and environmentally friendly. 
4. Water
This will also vary depending on where you're staying. For example, some marinas charge extra for fresh water. You may need water from time to time to fulfill your tanks, but you'll rarely need to fill too much anyway. Living in the sea will guide you to save water in every way.
As another method, you can get it from water makers that turn seawater into fresh water. It'll be expensive to buy this device at first, but if your water consumption is high, it will do the job well. Apart from this, you can also search for cheaper water alternatives. 
5. Sewage
You also need to consider the cost of pumping out your septic containment tanks. Almost every marina has pumping stations. However, an extra fee is charged for this service. Moreover, in many ports, it's illegal to empty your holding tanks into the water. We hope you don't do that anyway because dumping sewage into the sea is very risky for marine life and will also give you a bad reputation in the surrounding area. So you factor in the expense of pumping out the septic holding tanks into your budget calculation. 
6. Taxes
Boat property taxes vary by location. Therefore, you should research taxes based on your country and city.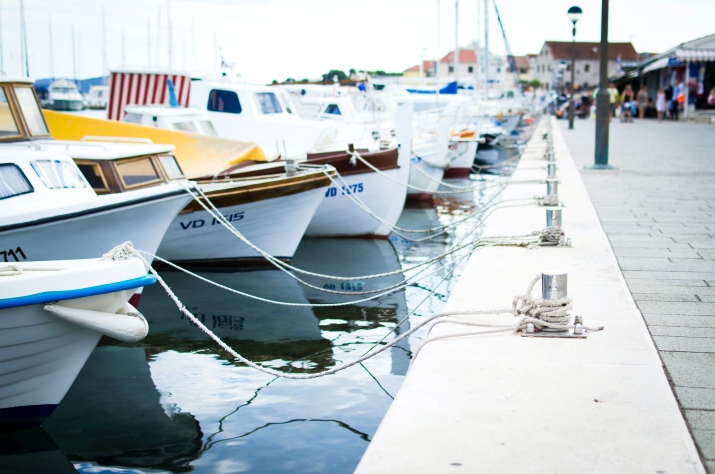 Safety & Security
The safety of your accommodation is also very important. Especially if you have children or pets. Therefore, think carefully about which port you'll be in. Your children and pets should be able to play safely on the dock. Nobody wants strangers to appear on their boat all of a sudden, just like in our lives when we live in the house. 
Install a smoke alarm on your boat and check your fire extinguishers at regular intervals. Check batter levels. In addition, if you have a vehicle, it's useful to pay attention to the following points:
Is it safe at night? Can you easily return to your boat from the parking lot after leaving the car?

Will the car be safe in the garage?
Daily Life & Socialization
This may sound interesting to you, but socializing in a marina is much easier than socializing in the city. Because this is a place in touch with nature. Furthermore, a place where everyone is much more likely to encounter setbacks. Therefore, people in marinas are helpful. Sometimes problems are solved alone, and sometimes with solidarity. If you have any problems, your neighbors will rush to help. But, don't forget to be helpful too. Be prepared to rush to them when they need help.
If you want a quieter life, of course, the boat is suitable for that, too. It's also a more suitable option than living in the city without communicating with anyone. But, in this case, be prepared to tackle it on your own when you need help. Still, we think it's not a bad idea to have a few good neighbors.
Living on a Boat Full Time: The Wrap-Up
Living on a boat is very peaceful. Being on the water all the time and sleeping on the boat with the calm waves… It's a very good way to get away from the hustle and bustle of life. If you find yourself suitable to live on the boat, don't wait. Maybe this is the lifestyle you've always been looking for. We hope our article will help you decide. 
Frequently Asked Questions About Living on a Boat
Can you permanently live on a boat?
Yes, this is possible. Many marinas allow this. There's an application process for this. Although rare, this is not allowed in some areas. In some areas, you may have to wait due to busyness because there's a long waiting list.
Is it cheaper to live on a boat than in a house?
Yes. Compared to living at home, the cost of living on a boat is much cheaper. The biggest expense will be the purchase of the boat. Prices may vary depending on the marina you choose to live in. However, even living in a luxury marina is often less expensive than living in a traditional home when bills and all are considered. If you don't stay in the marina and anchor anywhere permanently, you can live without paying rent. 
Can you live on a boat all year round?
Yes. You can live on the boat for a year, and there are many people in almost every corner of the world who do that.
Do you need a license to live on a boat?
We could say, usually yes. These licenses are chargeable and payable annually. In return, you get permission to use the waterways. Your license must appear on both sides of your boat. 
Do you pay taxes if you live on a boat?
Yes. If you reside on a liveaboard boat, you'll still have tax obligations just as you will if you live in a house. However, paying taxes is also more advantageous than living at home. In addition, there are several legal ways to reduce the tax bill on the boat. 
Is it expensive to live on a boat?
Generally, no. The amount of money you spend living on the boat depends on where you are, your boat, and how you want to live. For example, boat size will make a difference. Moreover, if you're someone who likes to live in luxury, of course, it'll not be cheap for you. However, we can say that it's definitely not expensive for a person who prefers to live by normal standards.
What type of boat is best to live on?
We can list the top five types of boats as follows:
Catamarans

: These have a double-walled structure, so they provide stability even in very rough seas, they are also wide.

Trawler

: They have a wide hull and offer great living spaces with headroom below the deck.

Canal Boat

: Also called narrow boats. It's a very popular type of boat in Europe. It has a long straight body. They need to see some restoration to become a home. However, it's pleasant because it gives the feeling of a caravan while living.

Converted Barges

: They are like canal boats. These also need to go through a restoration to become a house. However, they are much wider inside than canal boats. It has plenty of living space. It can even give the impression of living in a luxury apartment if properly restored.

Houseboat

: It's one of the suitable choices. However, it's more suitable for rivers, lakes, etc. The reason why we put it in the last place is that it may not be very suitable for you but you only see it as an option. 
How hard is it to live on a boat?
It's actually not very difficult. But it has pros and cons when compared to living at home. You will encounter more setbacks here than living at home because after all, you live at sea. Difficult things may come your way from time to time, but they teach you a lot.
Where is the best place to live on a boat?
We can list the five most preferred places as follows:
Green Islands

Lagos, Portugal

Miami, USA

Costa Smeralda, Italy

Cape Town, South Africa
Can you live in international waters?
There is no legal obstacle for you to do this. However, where you live may have certain laws and regulations for this. You should review these rules according to your location.
Can you live on a boat in the winter?
Why not? There are no specific rules for this, it's entirely up to you. Many sailors, even families, live on the boat all winter. If you want to do it, do it.
I already own a boat slip in a marina; is it possible to move aboard?
Liveaboard slip fees are often expensive, and your insurance premiums may rise when your boat becomes your main home.