Pros and Cons of Living in a Van
Van life has now become a lifestyle beyond being a seasonal hobby. The number of those who adopt a minimalist lifestyle with van life and those who want to live in harmony with nature is increasing daily. Van life is also very suitable for digital nomads or freelancers who wish to continue living in the comfort of home and travel simultaneously.
On the other hand, there are some difficulties in getting used to the new lifestyle that comes with van living. If you want a luxurious life or if you are a city person, van life will not be easy for you.
In this article, we will check the pros and cons of van living. Before you own a van in a moment of excitement, you can decide whether the van life is right for you. Of course, a romantic van life like on Instagram or Pinterest is possible. But if you can't get used to living in a van, this quiet lifestyle can become intimidating for you. We will closely look at the pros and cons of van life! After that, the decision is yours!
1. Limitless Freedom of Travel
Perhaps the best part of living in a van is being able to travel freely. You don't have to search for campsites or make hotel reservations months in advance. You can set destinations by drawing a route for yourself. You can stay longer in places you love. So, your wishes are essential when traveling by van. Whether you travel abroad or park in a cove. As long as your financial and physical conditions allow, you have limitless freedom of travel when you're living in a van.
2. A Minimalist Lifestyle
Your life changes drastically when you choose the van life. You need to move from your big flat an average 10-square meter van. This means there is only room for the items you need. So, you will need to switch to a minimalist lifestyle with van living. In addition, minimalist living is known to have a positive effect on mental health. You will have a happier and calmer life once you adapt to the minimalist lifestyle van life offers.
3. Your Belongings Are Always With You
Van life is a lot easier than preparing a suitcase for a vacation. Think for a moment that you always have the things in your house with you during traveling. It is a great convenience that the comfort of your home is always with you. When you see a unique view, there is no obstacle for you to prepare your lunch. Or you don't need to carry your swimsuit with you to go swimming. Your home always comes with you when you live in a van like a turtle.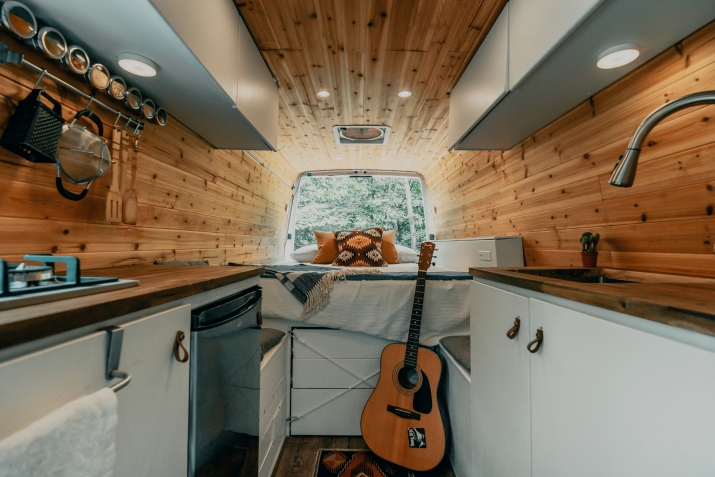 4. Decreased Cost of Living
The costs in van life depend entirely on your preferences. It will be pretty expensive if you buy a new and luxuriously furnished van. But you can get a second-hand cargo van at a very affordable price. Your living costs will be much lower than a house if you travel to a smaller area instead of making kilometers of roads and prefer free campsites. Plus, the bills for a home are greatly reduced when you switch to van living. You do not pay rent, internet, electricity, and water bills. You can also limit your travel space to reduce gasoline costs. You can save a great deal on living costs if you cook meals in the van instead of eating out.
5. Gaining Unique Experiences
When you start living in a van, you will experience situations you have never encountered. For example, if you have an old van, it can break down frequently. As you get support or try to solve it yourself, you will find that you are good at repair work after a while. If you prefer to build your van, you can master everything from carpentry to plumbing. You will also improve your navigation skills while traveling and gain practical first aid and cooking skills. Besides skills, you can also acquire other hobbies. For example, you can experience surfing when you park by the ocean. So, van life will reveal many skills and help you gain experience.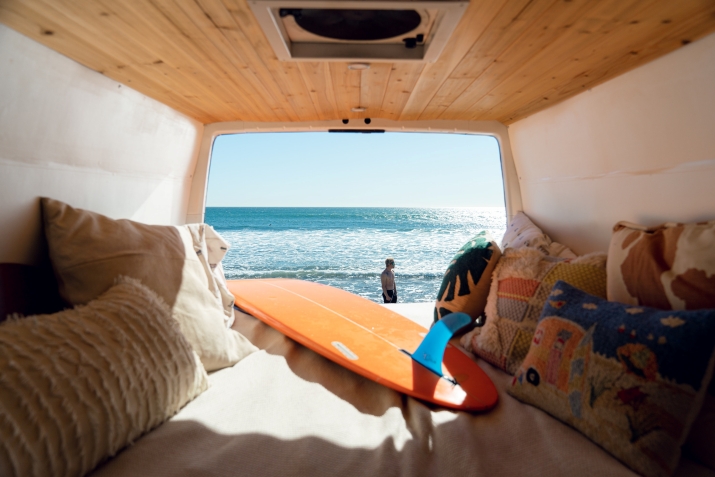 6. Being Prepared for Unexpected Events
Van residents are well prepared for unexpected events. Travelers travel with a backpack, while van residents travel with first aid kits, all-weather clothing, utensils, and more. They have all their belongings and are prepared for any situation, just like in a house. Spare keys, cleaning utensils, repair kit, and more…A van lifer is always prepared!
7. Owning and Customizing Your Own Home
Many people today want to own a house. But due to the high house prices, they are content with renting. On the other hand, you'd pay much less than a house price for a used van. In this way, you can customize a van of your own as you wish. You can design your van like you would decorate your dream house. If you want, you can create it like a wooden cabin or design it in a minimalist style. You can decide on the furniture, the kitchen, the paint. If you're dreaming of a luxury van, you can place a shower and even a mini oven. 
8. Being Connected to Nature
Being in nature will rest your soul after the noise and crowd of the city. You will enjoy watching the stars you can't see from the city's lights with the naked eye. If you want to spend time in nature with your van, national parks, forests and public lands are just for you. You can feel the fresh air and go for nature walks away from your mobile phone and computer. I also find that camping often is a permanent way to connect with nature. As you camp, you can start to recognize the birds by their voices and discover the fruits of the trees.
9. Making New Friends
The van life you live alone can be pretty social if you want to. You can meet other vans owners in the places you camp. You can make new friends on the hiking trails or by the sea. They will often be people who share the same tastes as you, who love adventure and travel. You can share the places you have traveled to or learn more different ideas about vans. You may even meet someone you get along with very well and continue your van life together. So, the more extroverted you are, the more social the van life will be for you. 
Cons of Living in a Van
1. Difficulty in Finding a Job
Finding a job is one of the biggest challenges in van life. While living costs are lower in a van than in an apartment in the city, van residents also need to work. Due to their lifestyle, van owners find it challenging to work in an office. Therefore, it is more suitable for them to work as freelancers, digital nomads, or online business owners. Most van owners also work seasonal jobs, such as teaching surfing or swimming. It causes financial difficulties as jobs are not permanent and less profitable in the long run.
2. Cleanliness and Hygiene Issues
Despite the minimalist lifestyle, living in a van doesn't mean being well organized. Since the space in the van is relatively small, it gets dirty easily if you don't clean it regularly. For example, suppose you pile up dirty dishes. In that case, the dirty water in the small sink will splash around, causing a foul odor and a scattering of contaminated water inside the van. In addition, the use of showers and toilets is a problem for van owners. If you've built a luxury van, it can have a shower and toilet. But if you have a simple van, you'll have to use your toilet and shower in places like campsites or gyms. 
3. Filling and Emptying Tanks
You should regularly empty and fill the water tank. It will be terrible to see that there is no clean water when it is set up in a camping area far from the settlements. In order not to be in such a troublesome situation, you should renew at the nearest facility when the occupancy and vacancy rates of the warehouses approach each other. Discharge facilities can be difficult to find in some areas. Therefore, you might need to rely on apps that show the facilities in your travel regions.
4. Parking Problem
One of the most common problems for van owners is parking. If you don't want to be in the middle of the city crowd and night lighting, you have to travel to areas with national forests and public spaces. Many van residents have to stay in the city at some travel destinations. This can lead to nervous glances from city dwellers, gossip, and police knocking on the door in the middle of the night. You should also research whether the city you are staying in is suitable for van camping.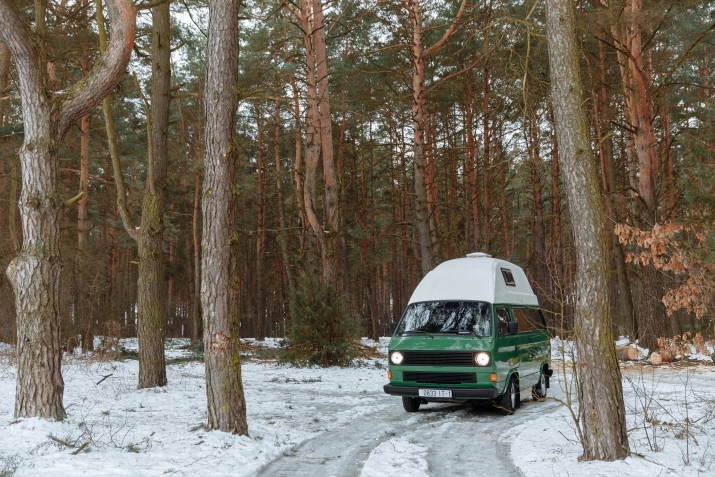 5. Van Breakdown and Repairs
Another problem that van owners often have to deal with is van breakdowns. You can think there will be no problems when you buy the van and do all the maintenance before you set off. However, a breakdown is typical, especially when you are on the road for a long time. That's why you need a backup plan in case of a breakdown. For example, be sure to find out the roadside assistance number of your region. Also, acquiring some van repair skills will be helpful for you to take care of minor breakdowns. Of course, the most crucial point is that you should set aside money for van breakdowns. In cases where you are stuck on the road and can't reach your family, it can be a savior to have cash on the side to avoid debt.
6. Lack of Privacy
Living in a van means you'll spend a lot of time in public places. Even if you have a confined space and spend the night in the van, you often need to be in public places to go to the toilet, shower, or even for coffee. The people you meet at the camp may want to knock on your door and hang out. I recommend not expecting the personal space and privacy a house provides from a van. I would also say that you won't have much personal space in the van if you live in a van with your pet or partner. You will have to sacrifice your privacy while living in a van.
Conclusion
Living in a van is far from the romantic atmosphere of Instagram posts. In addition to the pros of low living costs, being able to travel freely, or spending time in nature, the disadvantages of van life are not to be overlooked. If you are not suitable for a minimalist and natural lifestyle, van life will be unbearable for you. Minimizing your privacy, spending time in public places, or having your van break down in unexpected places requires good preparation before starting your van life.
On the other hand, when living in a van you can start the day with unique views you have never seen in your life. If you do not have a house of your own, you can decorate your living space as you wish as a van owner. Thanks to the remote working opportunities, you can show your creativity away from the tense atmosphere of the office environment. You can focus on your mental health while enjoying nature, the birdsong, and fresh air.
All in all, the pros and cons of van living are right before your eyes. If you say you want to overcome the difficulties and adapt to the positive aspects of van life, don't stop. A van life full of adventures awaits you.