The 19 Most Beautiful White Sand Beaches
Who would not want to take a vacation on a relaxing and sun-drenched beach surrounded by gorgeous palm trees? A location where azure clear waters meet with a wonderful white sand beach…
White sand beaches are suitable for all types of vacationers. You can watch the sunset on the wonderful white sand beaches while exploring marine life. Are you ready to immerse yourself in the waves and these stunning beaches…
In this article, we want to help you plan your next vacation. This is why we've listed the best white sand beaches from around the world for you.
The Best White Sand Beaches in the World
1. Hyams Beach, New South Wales, Australia
Hyams Beach in Australia is first place on our list. It has magnificent white sand and turquoise sea. Everyone's dream vacation! Another beautiful aspect of the beach here is its biodiversity. The ecosystem here is very rich. With its features, Hyams Beach definitely deserves to be among the best white sand beaches in the world. Lie down on your towel and immerse yourself in this perfect beach. Snorkel if you want. Or go birdwatching. This place is also popular for canoeing, fishing, and dolphin watching. 
Famous for: Rich biodiversity
2. Rendezvous Bay, Anguilla
Travelers love it here! Rendezvous Bay is located on the Caribbean Sea side of Anguilla. With its wonderful view and soft and delicious cuisine, this is one of the stunning white sand beaches. Rendezvous Bay has powdery white sand. The water is azure. When you arrive here, you should also go to see the excellent view of nearby St. Martin. Walking on the Rendezvous Bay beach is also very enjoyable. It does not matter which way you walk, east or west everywhere is great. The sun warms but does not burn you…This beach is wonderful! 
Famous for: White sands and beach bars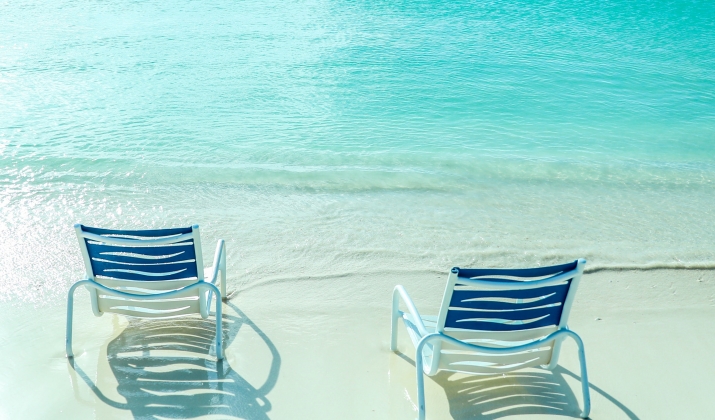 3. Seven Mile Beach, Grand Cayman
Let's take a breath under the palm trees! Seven Mile Beach is located on the west coast of Grand Cayman and is home to one of the best white sand beaches in the Caribbean. This is one of the locations popular with beach lovers. It has facilities for every vacationer. Whether you have a drink at the beach bars on the beach, visit the restaurants, take a walk or relax on the beach all day. Snorkeling is also a popular activity here. You will also be amazed by the marine life here. Do not miss the sunset too! 
Famous for: Free entry
4. Matira Beach, Bora Bora, French Polynesia 
Matira Beach is one of the public white sand beaches in Bora Bora. The way to get here is very pleasant. No need to mention the view of white sand and clear water that you will meet after you arrive! It is also a very nice location for those who like action because it is surrounded by many holiday resorts, restaurants, and shops. There is no public transport on this island, but that is not a disadvantage. Because the hotels offer a shuttle service to tour around the island. Apart from that, if you want to travel by yourself, you can rent a car, scooter or bicycle. 
Famous for: Largest public access beach
5. Grace Bay, Turks & Caicos
Grace Bay is one of the famous white sand beaches in Turks & Caicos. The pearlescent white sand of this place makes it one of the most beautiful beaches. Moreover, the clear water, free from rocks and seaweed is also ideal for swimming. The water is shallow. With the facilities of children's clubs in its hotels, this is an ideal place for families as well. We recommend you to consider this place, especially if you are planning a holiday with your family. There is a large barrier reef about 2 km offshore. This protects Grace Bay from the waves of the Atlantic Ocean, which keeps this stunning white sand beach safe.
Famous for: Coral ecosystem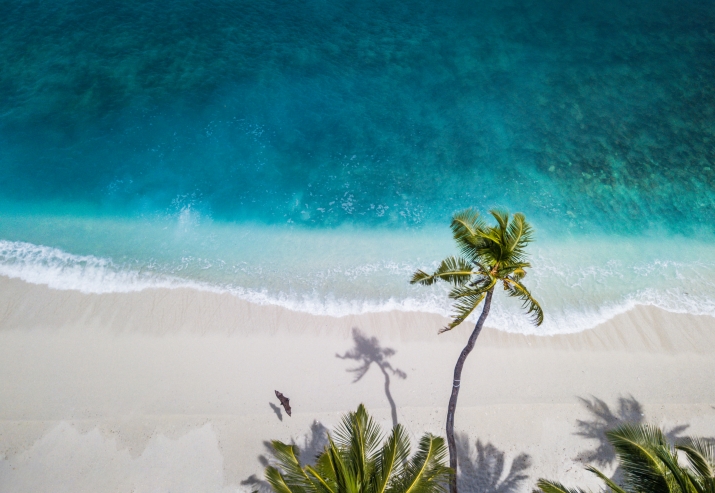 6. Clearwater Beach, Tampa, Florida
The name of the beach actually speaks for itself! Clearwater Beach is located on Florida's Gulf Coast. It welcomes many tourists every year with its magnificent white sand and clear shallow waters. It is close to the city center and it is an advantage for those who love action. You can go to the city at any time and combine this beautiful holiday with shopping and dining. It is also very enjoyable to walk here. You can jet ski. You can fish. You can watch volleyball matches. Those looking for calmness can take their book and sunbathe by the beach. In the evenings, live music is very nice here. 
Famous for: Rich marine life
7. Navagio Beach, Zakynthos, Greece
One of the most beautiful white sand beaches in the world, Navagio Beach is a popular destination among tourists. This place is also known as Shipwreck Beach. The view will take your breath away. This is one of the places you should definitely see when you come to Greece. Photos surrounded by bright blue ocean water will look great on your Instagram feed. There are many shops around to buy nice souvenirs. There is also an official viewing platform here. However, you will see that there are long queues to take photos. 
Famous for: The shipwreck
8. Palm Beach, Aruba
Next is one of the world's most beautiful white sand beaches: Palm Beach! This place is like a piece of heaven. It is ideal for swimming and has crystal clear waters. Pamper yourself with its soft sand. Take advantage of the Caribbean sun. The popular walking path here is very enjoyable. It's also great for adrenaline lovers. Go on a jetski ride. Or dive into the sea and discover the rich marine life. In the evening, sip your drink and eat delicious food at the cozy beach bars on the wonderful beach. The sunset is also great! 
Famous for: Banana boat rides, wakeboarding, water skiing, parasailing, flyboarding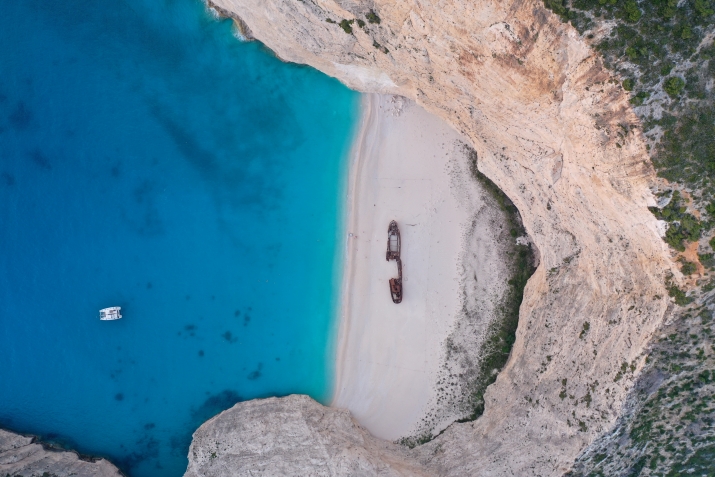 9. Boulders Beach, Cape Town, South Africa 
Beauty protected by African penguin colonies! Yes, that's right. Boulders Beach is famous for the African penguins that have been here since 1982. It is also among the best white sand beaches in the world. This place is part of Table Mountain National Park and attracts many tourists every year. When you come here, you will never want to leave. Enjoy the white sands and the sea to the fullest. And make friends with African penguins, and take lots of photos! You will always want to look at them when you return home. You remember your little friends! 
Famous for: Home to African penguins
10. Orange Beach, Alabama
This place is especially for those looking for a budget-friendly beach. You can find many affordable apartments in Orange Beach. The atmosphere is very nice. And the white sand is wonderful. First of all, this is a really family-friendly place. It is a great place to relax while the kids play safely on the beach. We also recommend that you visit the Gulf Coast Zoo nearby with your children. You can visit various local restaurants and taste very delicious food. Another advantage is that it is very easy to access. This place is reachable by car, plane, and ferry. 
Famous for: Large parks
11. White Beach, Boracay, Philippines
Here comes a peaceful beach. With a length of almost two and a half miles, Boracay is one of the most beloved beaches and the perfect place to relax. With its stunning white sands, turquoise sea, and majestic palm trees, you will find a lot of peace here. If you say you do not want to rest too much, we have good news for you. This place is also famous for its nightlife. Choose whichever option you want. There are always volleyball and football matches on the beach. Enjoy watching them. In the evenings, dance and enjoy the live music. 
Famous for: Amazing sunsets
12. Kaunaoa Bay in Hawaii, USA
Who would not want a great Hawaiian vacation? If you are looking for a white sand beach, of course, one of the most beautiful is in Hawaii. Kaunaoa Bay, which has a crescent shape, is one of Hawaii's most famous white sand beaches. You can find many hotels close to the beach. This place also appeals to luxury lovers. Beach lovers and luxury lovers from all over the world come here every year. Fancy holiday! This place is like a postcard. This place is also very good for water sports enthusiasts. You may also spot some sea turtles while sunbathing on its white sands.
Famous for: Encompasses an array of luxury facilities
13. Paraga Beach, Mykonos, Greece
Welcome to party paradise! Mykonos is famous for its parties. Get ready to dance the night away and then sleep on the shore when you get here. The authentic Greek cuisine of this place is also wonderful. Paraga is a relatively small beach. However, this does not change the fact that it is one of the most popular beaches in Mykonos. Access to the beach is also very easy. There are buses that come frequently. Moreover, there are many good hotels. Have fun at popular beach clubs. 
Famous For: Parties
14. Te Amo Beach, Bonaire
Welcome to the I love you beach! As the name suggests, it's a very romantic place. We recommend you experience Te Amo Beach, especially with your partner. With its pristine water and soft white sand, it is a great place to unwind and find peace. Snorkeling is common here. Enjoy snorkeling in clear seas. Swim and cool off. The natural habitats of this place are also very sweet. Snapper and parrot fish are some of the interesting creatures here. Don't forget to grab a bite from local food trucks. 
Famous For: Fish and corals
15. Anse Source D'Argent, Seychelles
Seychelles offers you a wonderful holiday with its white sandy beach that looks like it is out of a fairy tale. You may feel familiar when you see this place. This is because Anse Source D'Argent has been featured in many commercials, movies, and TV shows. So, the beach itself is famous! We suggest you add this place to your list for relaxing on the beach and witnessing the wonderful views. Once you come here, you will want to visit every year. Note that this is also one of the most photographed beaches in the world. Many tourists come here every year to see the towering granite rock formations. 
Famous For: Granite rock formations
16. Palmilla Beach, Los Cabos, Mexico
Unfortunately, many of Mexico's beaches are not swimmable due to strong currents and waves. However, Palmilla Beach is an exception as it is swimmable. The white sand is wonderful. This is also a luxury place. There are many luxury houses on the beach. Despite the luxury, it is a beach preferred by local people, especially for fishing. If you like golf there is a great golf club here. Palmilla Beach is located along a coastline between the beaches of San Lucas and San Jose del Cabo. Ideal for those who are seeking tranquility due to its distance from the city. 
Famous For: Its tranquil environment
White Sand Beaches: The Bottom Line
Here is the list of white sand beaches we prepared for you. We hope you will find it useful and plan your next vacation comfortably. In this list, we tried to include white sandy beaches suitable for all types of vacationers. Have a great holiday, have fun, and have a good rest in advance!
Frequently Asked Questions About Best White Sand Beaches
Which beach has the whitest sand?
Our answer to this question is very clear. Hyam's Beach, which is at the top of our list, is definitely the whitest sandy beach in the world. It is located in New South Wales, Australia. Interestingly, this beach is not very well known.
Are there white sandy beaches in USA?
Yes. For example, Lanikai Beach in Hawaii is one of the white sand beaches in the USA.
Which beach has the clearest water?
There are many beaches with clean water. However, the answer to the cleanest of these would be Manini'owali Beach, Kalaoa, Hawaii.