12 Best Black Sand Beaches in the World
Yay, it is summer! That means it is time for a beach vacation! Beach holidays are very enjoyable, but it is also more enjoyable if the sand is soft black where you can lie down and sunbathe. Black sand beaches are found in many places in the world. They are of great interest to many tourists.
You will take great photos this year on black sand beaches! The black sand beaches are also very inspiring, especially for those looking for exotic options for vacation! You will discover new places and new things while having fun. 
In this list, we're checking out the best black sand beaches in the world. Let's begin.
Best Black Sand Beaches Around the World
1. Lafayette Beach, Tahiti
Here is the black sand beach that ranks first on our list. We start our route in the South Pacific with Lafayette Beach. There are many black sand beaches in Tahiti, but we choose to add this beach to our list. Think of your footprints in the sand…Very interesting! Lafayette Beach has an ink-colored base and lush green cliffs. It is also a very nice place to relax while being fascinated by the black sand. 
As you walk, your feet will sink into the soft black sand. Lafayette Beach is located on the northwest side of the island. If you want to visit other black sand beaches in Tahiti, you can easily reach them.
2. Black Sands Beach, California 
Now we take you to an interesting place, the only black sand beach in the continental United States. This place is almost hidden inside the Golden Gate Recreation Area in San Francisco. It's like it's not real! The black sand makes this place very special. However, we must warn you about the water here. Swimming is a bit difficult due to the heavy waves. There are warning signs everywhere to prevent people from entering the water.
So, why did we add this place to the list? Because it is a great place to come and relax with your partner, family, or friends! When you come here, you can explore the area by participating in San Francisco walking tours.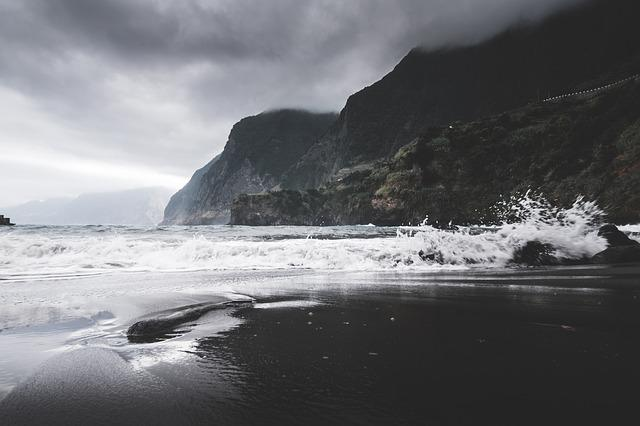 3. Perivolos Beach, Santorini 
Now we are off to Greece's perfect black sand beach. Volcanic Santorini is surrounded by wonderful black sand. Perivolos, in the south of the crescent-shaped island, is the longest here. The atmosphere here is also great. You can relax and enjoy the sun under thatched umbrellas. There are many water sports activities that you can join. It's also a pleasure to taste seafood dishes at the beach taverns. The nearest town here is Perissa. You can get here by bus from Santorini. Walking on the road with a beautiful view is also very enjoyable. Perivolos Beach is also a beach known for wedding receptions. Would not it be nice to come across a romantic wedding? This place is also a paradise for those looking for many other activities, such as nightlife. Kamari Beach in Santorini is another nice beach if you want to check out other beaches on the island.
4. Playa Jardín, Canary Islands
One of the most loved beaches in the Spanish Islands with its black sand is Playa Jardín. It is like a piece of heaven and one of the best black sand beaches in the world. It has lush gardens and colorful flowers. Its waterfalls and palm trees will fascinate you. In fact, many of the tourists come here for surfing. So, this is an ideal beach for boogie boarding and surfing. If you are more of a fan of rest, you can rest comfortably by the beach all day. If you have children, you do not need to worry either. Lifeguards are on duty all day. There is also a playground for children.
5. Albay Islands, Philippines
We are going to paradise! One of the best things about this place is that there are three islands to choose from. Yes, they are all black sand! A big island complex with Bacacay, Santa Domingo, and Tiwi. In all of them, you can enjoy the black sand beach to the fullest. It is really interesting, the volcanic rock and ground lava give the beach a distinctly dark color. Be sure, whichever island you go to, you will return satisfied from your holiday. Access to this place is also very easy, you can take a direct flight from the capital Manila. Albay Islands are also very good for adrenaline junkies! Do not forget to get information about activities while you are there. 
6. Reynisfjara Beach, Iceland
Iceland's wonderful black sand beach! Unfortunately, you can't visit this place for swimming because the tidal waves there could be very dangerous from time to time. It is not suitable for swimming. However, you should definitely see the view. You will lose yourself in the splendor of the view. Reynisfjara Beach is located two hours from the capital city. We recommend you to visit this perfect beach where black lava leaves traces.
This place is very suitable for a day trip from the capital, and the trip will offer a visual feast. The beach sparkles with black sand. When you come here, you will feel as if you are in another world and you will never want to leave.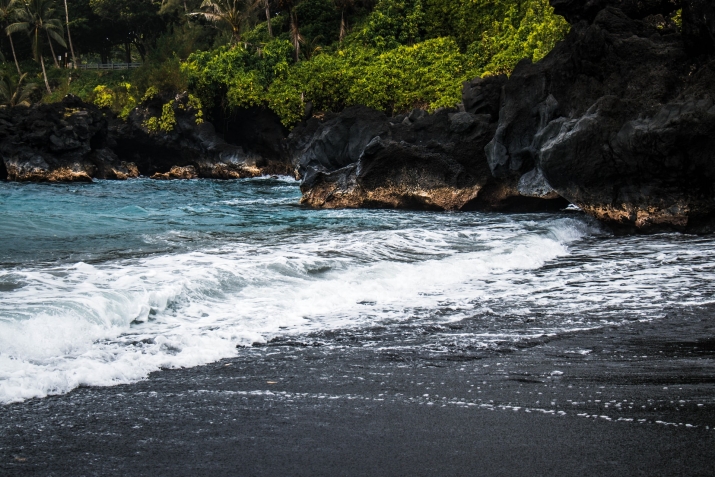 7. Punalu'u Beach, Hawaii
This is an extremely popular place. The shiny, coal-black sands here attract tourists every year. You can see hawksbills and green sea turtles everywhere. There are many things to discover here. For example, when you go to this beach, you should definitely visit the nearby Hawaii Volcanoes, National Park. But you should also be careful about water, the waves could be very strong from time to time. However, swimming in the sea is not completely prohibited. If you visit this place at low waves time, you can enjoy it more.
8. Tangkoko Nature Reserve, Indonesia
Let's go deep into the jungle of Tangkoko Nature Reserve together! This trip will be unforgettable for you. Here is one of the most beautiful back sand beaches in the world. The beach is located on Sulawesi Island. Endemic and exotic species are found almost everywhere on the island. In addition to these, the wonderful natural park and the unique black sand are wonderful. One of the biggest advantages of this place is its easy accessibility.
As a means of transportation, it is about a two-hour ride to Tangkoko after flying to Manado. Along the way, you will see wonderful views. It is a very attractive place with wildlife creatures roaming freely in the forest. Remarkable creaturs in its habitat are tarsiers, black macaque monkeys, maleo birds, couscous, and hornbills.
9. Mero Beach, Roseau
Adrenaline lovers unite! This is Volcanic Dominica, wild and untamed, with its gray highlands, forest scenery, and shimmering black sand beaches! Mero Beach is located just half an hour from Roseau, the capital of the island. Local tourists make this place lively and beautiful. They often come over to barbecue on the weekends. You can join local people's barbecue parties and swim in the warm shallow water. This is a very peaceful place.
When you are looking for activities, you can go to the beach bars nearby. Do not miss the great lunches either. You would not be able to get enough of looking at the long beautiful silver-gray volcanic sand. This is one of the unique places in Dominica.
10. Spiaggia di Ficogrande, Italy 
This is another best black sand beach in the world. In addition to its wonderful sand, this place is also ideal for those who expect many activities from their holiday. Here you can rent water sports equipment. Water sports are common and easy to do. You can rent sunbeds and umbrellas for a fee, lie down and enjoy the black sand, the sea, and the sun.
Spiaggia di Ficogrande also offers a lush landspace. The beach is blue-flagged. That means its water is clean and accessible. The water is indeed very clear. Access to the beach is easy. It is also ideal for those seeking tranquility because it is not overcrowded even during peak seasons. You won't understand how time flies on this wonderful beach.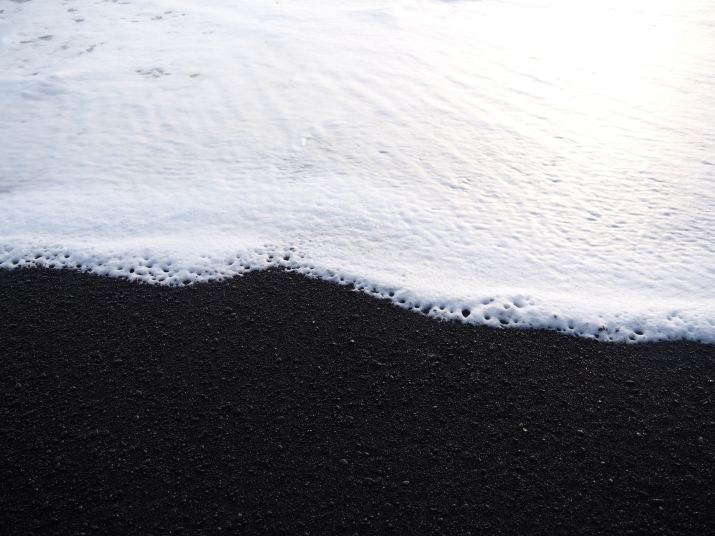 11. Karekare Beach, New Zealand
Northern Auckland has an amazing black sand beach. Karekare Beach surrounds the region with its steep ridges. It is very pleasant to come here walking. This place is frequented by surfers. However, if you are not a professional swimmer, swimming here can be a bit risky. Waves crash on the beach violently. But do not worry. The employees here are always ready to give you information. If you are planning to visit with your family, the employees will already inform you about dangerous situations.
We definitely recommend you to see this beach. One of the places you should see when you come here is Karekare Waterfalls. It takes around 15 minutes from the beach. A wonderful view! 
12. Lovina Beach, Bali
Let's get some rest as we near the end of our list. Lovina Beach is located northwest of Bali. It is a great place to relax. It has a beach that stretches across seven small towns and has 12 kilometers of volcanic sand. The advantage of its location is that there are many shops and restaurants nearby. It is less popular than other beaches near Lovina Beach, therefore it is quieter. So, great for relaxation! The calmness of the waves makes this place more advantageous for families. So, you can come with your child with peace of mind.
Popular activities here are snorkeling and dolphin watching. That means enjoying underwater life! We should definitely add Lovina Beach to our list. 
13. Ureki Beach, Georgia 
Let's look at the last black sand beach on our list. Located in Georgia, Ureki Beach has magnetic sand. This magnetic feature will attract you too. You would not want to leave here! This place is located in the Black Sea. It is believed to have healing properties. Legendary! When you visit this place, you will see people burying themselves in the black sand in hopes of curing their illnesses. Note that this is a crowded beach and not for those looking for much silence. There are already many hotels around. Yet, Ureki Beach would be very enjoyable for summer concerts. Unfortunately, there is a garbage problem here due to the crowd. Therefore, please make sure to clean your garbage when leaving the beach. 
Black Sands Beach: The Bottom Line
There you have it…A guide to black sand beach alternatives around the world. Numerous places, including Hawaii, Iceland, and even surprise competitors like Greece and Georgia, have stunning beautiful black sand beaches.
We hope you like our guide. Have a nice holiday in advance!
Frequently Asked Questions About Beautiful Black Sand Beaches in the World
Is black sand beach swimmable?
Mostly. The characteristic of the black sand beach is that it is formed in volcanic areas. Natural minerals and volcanic rocks cause black sand. However, as with every beach, you should do your research before going about the seas on the black sand beaches. For instance, it is dangerous to enter seas with high tides. 
Are black sand beaches safe?
Most black sand beaches are safe. However, some could be dangerous. For example, some black sand beaches in Iceland are dangerous. The situation is almost the same for other countries. Some black sand beaches are safe, while others are dangerous. Still, they have a natural beauty that attracts tourists.
Is black sands beach good for your skin?
Yes. Black volcanic sand is good for the skin. It promotes natural cell regeneration. The richness in the content of volcanic black sand purifies the skin. It has a detox feature. It is anti-stress and protects the skin against harmful external factors. 
How many black sand beaches are there?
There are around 20 black sand beaches in the world. They are rare because they occur in volcanic regions. This makes black sand beaches special because golden sand beaches are found almost everywhere in the world. Greece Perivolos Beach and Puerto de la Cruz in the Canary Islands are some of them.
What gives black sand beaches their color?
The three main materials of black sand beaches are basalt, andesite, and volcanic glass. Iron is the main mineral on black sand beaches and helps give the sand a rich back color.