The 17 Most Beautiful Beaches in the World
Are you a sea person too? There is nothing like going to a beautiful beach on vacation and enjoying the sea! If you are looking for beautiful beaches around the world, you are in the right place.
Whether you are into watersports or you want to lie on the beach and sunbathe…We have listed the beaches where you can do them all. Let's find you the best beach among the pink, white, gold, even black, and purple sand beaches. 
Are you ready?
Most Beautiful Beaches in the World
1. Saud Beach, Luzon, Philippines 
If your route is in Southeast Asia, you should visit Saud Beach on Luzon Island. This white sandy beach has crystal clear water. On this beach with calm waves, you can have your lunch under a roofed cabana and then rent an outrigger for water trips. Gorgeous colorful corals and fish will impress you. There are coconuts everywhere, and they'll provide you with great photos for your Instagram account.
People also come here a lot for fashion shootings. One of its biggest advantages is that it is for those who seek complete calmness as there are not many people on this beach.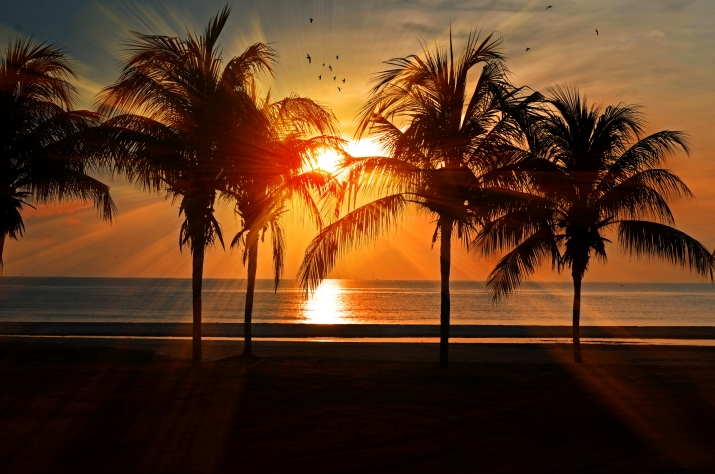 2. Ipanema Beach, Rio de Janerio, Brazil
Located in Rio de Janerio, Ipanema Beach is one of the most beautiful beaches in the world, but also one of the most touristy ones. Cites as one of the best white sand beaches in the world, Ipanema offers wonderful mountain views. If you are also into foot volleyball, you will love this place because it is full of foot volleyball regulars. At the same time, there are sections on the beach that appeal to different interests, such as the fitness set, families, and party areas.
Just a warning, we recommend that you pay attention to the warning signs while you're visiting Ipanema. For example, surfing here may not be suitable for amateurs at times.
3. Whitehaven Beach, Whitsunday Island, Australia 
Whitehaven Beach is the largest place on the Whitsunday Islands, and it extends over seven kilometers. It is located on the Queensland Coast. It fascinates all tourists with its bright white silica sand and turquoise water. You can take lots of Instagram pictures here! Do not forget to swim in the clear water and enjoy the rest of the time. You can also hike to places like Hill Inlet and Chance Bay. If you are into scuba diving, this can be a great spot to give it a try.
It's better to keep in mind that Whitehaven Beach is a national park. Thus, it is prohibited to walk your dog or go fishing on this beach.
4. Elafonissi Beach, Crete, Greece 
Elafonissi Beach is such a popular beach that you may have heard of it before. The popularity of this place comes from its pinkish sand and wonderful water. It has a romantic atmosphere and is one of the best beaches for couples. Elafonissi Beach has shallow water. It is an island separated by sand bards that disappear under about three feet of water at high tide. You can feel the Greek spirit in the taverns here. Facilities also feature palapa-covered loungers and fresh seafood.
Elafonissi Beach is a nice beach for those who like crowds. If you are looking for a quiet place, you can go to Balos Lagoon, which is located in the north. If you want to visit a place merging more with nature, you can try Navagio Beach known as Shipwreck Beach.
Elafonissi Beach is considered one of the most beautiful pink sand beaches in the world.
5. Anse Source d'Argent, La Digue, Seychelles
Seychelles is famous for the value it places on natural areas. Anse Source d'Argent, located southwest of La Digue, is a cove beach. It is definitely one of the most beautiful beaches and one of the most photographed beaches in the world. We recommend you to see this place with its soaring cliffs, rugged rocks, and abundant greenery. At the same time, this place offers a visual feast thanks to its white sand.
If you are into birdwatching, you may want to see the rare black flycatcher found here. Cycling around the beach is another popular activity. You can also taste delicious seafood at nearby restaurants.  Also, if you are looking for a romantic beach, definitely come here. 
6. Cannon Beach, Oregon
Is this a postcard? No, it is real! This is a quiet, perfect beach that enchants visitors with its magnificent view. Cannon Beach is located 80 miles northwest of Portland in the Pacific Northwest town. This place stands out with its seagull colony. To see Haystack Rock, a 235-feet sea stack, you have to go to the center of the beach between Ecole Creek and Tolovana Park. If you're there between June and October, you can have a bonfire in the evening. It is great to watch the sunset during this time! Even if you get bored with the sea, there are lots of things you can do.
You can head to downtown Cannon Beach to check out the art galleries, boutiques, and eateries. If you are looking for somewhere quieter, check out the town's inns, hostels, or resorts. 
7. Nungwi Beach, Tanzania
One of Tanzania's most popular beaches, Nungwi Beach is located in a lively fishing village on Zanzibar Island. One of the most striking features of this place is the pale, wonderful glow of coral sand. This is like an untouched place and luckily it's very easy to swim there. In the evening, the sun setting behind the steep rocks is a wonderful visual. The area is also lively. If you are into water sports, you will love this place.
In addition, we recommend that you join the trips offered on the beach. Deep sea fishing, sunset cruises, and trips to Nakupenda Beach outside Stone Town are popular activities. Restaurants, beach vendors, bars, and resorts abound, too.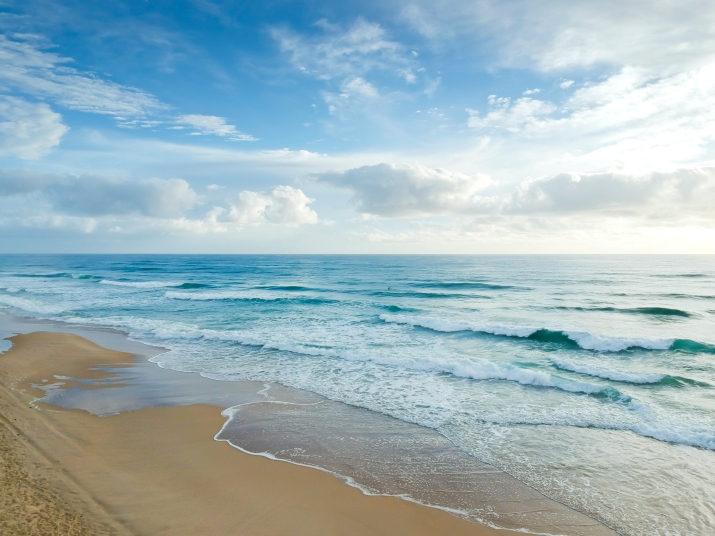 8. Hidden Beach, Marieta Islands, Puerto Vallarta, Mexico
Hidden Beach! Would not you like to discover this hidden beauty? Located along the Marieta Islands, Hidden Beach is about 22 miles off the coast of Puerto Vallarta. This is a beautiful and friendly beach. You have to swim or ski to go inside. You can also consider joining a snorkel cruise here. Another name for this island is ''Love beach''! Hidden Beach is located in the Marietas Islands National Park. There is a lot of greenery around. So, if you are looking for some rest, you can lie in the shade of the trees.
This place is made up of the beautiful blue waters of the Pacific Ocean. Is not it a great idea to go to Love Beach with your partner? We hear you saying, yes! 
9. Horseshoe Bay Beach, Bermuda 
If you come here once, you will always want to come back! Horseshoe Beach, located on Bermuda's South coast, is one of the pink sand beaches. In addition, it is known as one of the most popular beaches on the island with its crushed coral mixture. Especially families prefer this place because it is calm and the water is wonderful. This place is also a paradise for backpackers. Travelers are waiting in line to discover the hidden caves of this place! Do not forget to snorkel and hike the trails to Warwick Long Bay.
Here you can rent equipment for sports such as paddle boarding for a small fee. Do not forget to taste the rum swizzle while you are there. It's the national drink of Bermuda. 
10. Hanalei Bay, Kauai, Hawaii
Welcome to the Hollywood place! Hanalei Bay is a place that is famous thanks to Hollywood and many movies that were shot here. It has a wonderful beauty and attracts everyone who sets foot here. Its beaches are surrounded by green mountains. Because of its wonderful nature, local families come to this place every year to have a great camping experience. Surfers come here very often, especially in winter, because the waves and the speed in winter provide a very suitable environment for surfing. We recommend you visit this wonderful bay.
However, it is a very popular beach among locals and tourists. It would be a better choice to visit this amazing beach on weekdays to find a parking spot easily.
11. Plage de St. Jean, St. Barths 
We are now taking you to one of the most beautiful beaches in the world. Plage de St. Jean Beach is located in the French Caribbean, St. Barths. The beach is located at the end of the island's airport. You can clearly see huge planes landing or taking off. It would be an amazing experience. Plage de St. Jean is a place generally preferred by families with children. The coastline is slightly curved. Its turquoise water and pristine sand make it one of the best places for swimming.
Moreover, because the water is very calm, it is one of the best places for children who are about the swim in the sea for the first time.  In addition, snorkeling and windsurfing are among the popular activities. 
12. Mohegan Bluffs, New Shoreham, Rhode Island
Here you will witness one of the most spectacular views of New York's Long Island! This place is legendary for its natural beauty. You will find yourself stopping frequently to watch the surroundings. It is impossible to get enough of the view! Also, give yourself a break and read about the ties of the bluffs with the Manissean Indian Tribe.
Sunbathing and swimming are of course the best things to do here. But do not forget to hop on a bike and explore the island afterward. Although it would be a bit difficult to climb here with a bike for amateur bikers, the result will be worth it.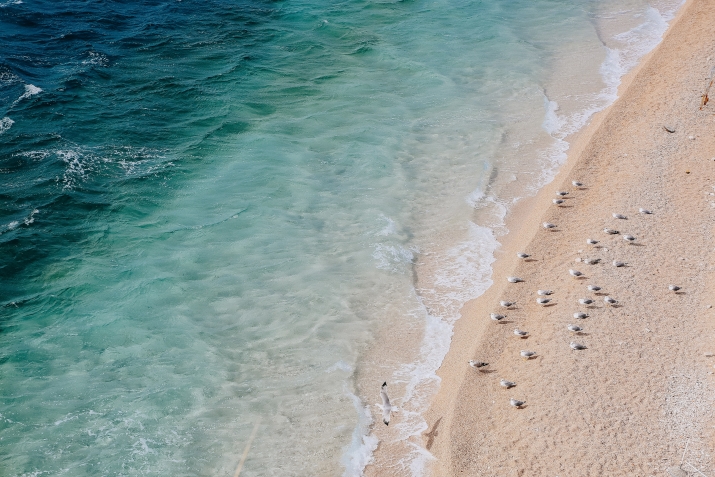 13. Copacabana, Rio de Janeiro, Brazil
Here is one of the most famous beaches in the world. Three miles of golden sand, party vibes, and great views of Art Deco's modernist architecture… It's no surprise that it is very famous! The land space architect of this beach, Roberto Burle Max, has created a wonder with a swirling back and white mosaic design. You can find local people on the beach almost all day and you can chat with them. They are very friendly.
You can also play volleyball with them. The vendors sell almost everything from shrimp skewers and caipirinhas to ice-cold beers. You must taste these local delicacies. Especially on the weekends, this place is more lively. 
14. Siesta Beach, Siesta Key, Florida 
Siesta baby! Siesta Beach is one of Florida's best beaches, located seven miles southwest of Sarasota. This place has a wonderful coastline. One of Siesta Beach's biggest advantages is the soft sand made of quartz, which gives the sand a pure white appearance. It also helps the sand stay cool even on Florida's hottest days. This beach offers an ideal environment for everyone with the utilities it offers. Tennis and volleyball courts, indoor playground, beach wheelchairs, and fitness rooms… There are many entertainment options!
If you take a little stroll around the area, you will see that there are great places to shop, drink or eat. If you want to listen to live music, we recommend going to Siesta Key Village.
15. Clearwater Beach, Florida
Next, is one of the most beautiful beaches in the USA. With 1350 miles of coastline, Clearwater Beach is one of the most beautiful beaches. It is a wonderful beach with dusty white sands, crimson sunsets, and year-round weather conditions. Hold tight! While walking, you can see dolphins and pelicans hanging out with the fishermen. Don't forget to say hi! 
There are also many restaurants where you can eat delicious food with your family. If you want to explore this place a little more, go to the Clearwater Marine Aquarium where sick or injured marine animals are rehabilitated. You will see many sea turtles there. 
16. Plage de Tahiti, Nevez, France 
French glitz and glamor! Plage de Tahiti is located along the Biscay Bay on the northeastern coast of France. It is a very famous place for its wide sandy beaches, restaurants and seaside hotels. You can meet celebrities here because Plage de Tahiti is frequently visited by celebrities and rock stars. As you can understand from its popularity among celebrities, this place is one of the most beautiful beaches in the whole world. 
It is a beautiful beach for both those who want a quiet holiday and those who seek adventure. We strongly recommend that you add it to your list. 
17. Reynisfjara, Iceland 
Iceland is actually a great vacation destination. Being volcanic should not make you nervous. There are black sand beaches made of volcanic ash here. Thus, it offers a fantastic view to its visitors. Reynisfjara is one of the most beautiful ones. This is a deserted beach. So, it is great for those seeking calmness.
Next to the black sands, the huge cave and the giant rock formations in the open water will fascinate you. Reynisfjara is also great for observing the Icelandic Lava Show. We recommend that you learn about glacier walks and ice cave walks and participate. 
The Bottom Line: The Best Beaches Around the World
There you have it. We have listed the most beautiful beaches in the world for you… It is up to you to decide which ones to go first. Whether for relaxation or full of adventure, you would not regret visiting these beaches. We hope we can help you plan a nice vacation. Happy holidays!
Frequently Asked Questions
What is the #1 most beautiful beach in the world?
The most beautiful beach in the world is Saud Beach, Luzon, Philippines. It has wonderful fine white sand. Its water is blue and bright.
Which beach has the clearest water?
Hanalei Bay, Kauai, Hawaii has the clearest water in the world. It is also an ideal place for paddling and there is a small boat ramp where you can launch your canoe. It is a quiet place.
Which country has the best beaches?
We can say that Australia has the best beaches in the world.  Whitehaven Beach and Turquoise Bay are especially popular ones. 
What is the most visited beach in the world?
Miami Beach is the most visited beach. Many tourists come here every year from inside and outside the United States. It is also the most popular place among celebrities. It is known for its stunning sandy beaches.
What's the Number 1 beach in the USA?
The number 1 beach in the USA is Hapuna Beach State Park on the Big Island, Hawaii. It is preferred by many tourists in the summer months. The water is very clean and clear. It is also an ideal beach for snorkeling or scuba diving
Which is the best ocean in the world?
The best ocean in the world is the Southern Ocean. It is also known as the Antarctic. It is considered to be the coldest in the world. However, it's is also number one in terms of cleanliness.
Where is the finest sand in the world?
It is Whitehaven Beach, Whitsunday Island, Australia. The reason why it is one of the best beaches in the world is its white sand composed of 98% pure silica.
Which island has the best beaches?
The Caribbean Island has the best beaches in the world. Some of the best beaches in the Caribbean are in Turks&Caicos (especially Grace Bay Beach), U.S. Virgin Islands, Anguilla, and the Bahamas.
Where are the most beautiful beaches in the Caribbean?
We can list them as:
Turks & Caicos

U.S. Virgin Islands

Anguilla

The Bahamas

The British Virgin Islands

Barbados

The Cayman Islands

Aruba