12 Best Pink Sand Beaches
Those who love beach holidays, unite! What is more beautiful than the sea, sand, and sun, right? Think of all those great photos you're going to take! Especially, if it's pink sand!
To make things easier for you, we've listed the pink sand beaches from all over the world. You'll love these pink beaches!
The list is on us, it's up to you to decide which one to go first. So, let's start!
12 Pink Sand Beaches in the World
1. Horseshoe Bay Beach, Bermuda
Horseshoe Bay Beach gets its name from its shape. A fabulous pink sand beach lined with limestone cliffs… This is a great place for snorkeling there are excellent reefs. There is always a lifeguard on the beach so no worries. If you want, you can rent equipment for water sports or sunbeds.
This is definitely one of the best beaches in Bermuda. It's like heaven! It attracts many tourists with its beauty. Especially the number of tourists coming here by cruise ships is very high. For this reason, let us warn those who don't want crowds. If you don't wish to crowds, you can choose more off-season dates. Horseshoe Bay Beach pink sand beach deserves to be at the top of our list of pink sand beaches. 
2. Elafonissi Beach, Greece
Elafonissi Beach is an extremely popular pink sand beach. Moreover, it has many amenities. These include bathrooms and parking lots. With these amenities, you may think that it's close to the city center. However, it's located away from the crowds, so it's great for those seeking tranquility. The water is quite shallow, so it's pleasant to swim in.
You won't be able to get enough of watching and taking pictures of the wildflowers. Also, the rock formations are worth being photographed. You'll love the natural beauty which is readily available when you're taking a walk along this pink sand beach. Also, this place is located in a very rich historical region. You can get your fill of history by staying in historical stone houses. Make sure to add this pink beach to your list if you're heading to Greece.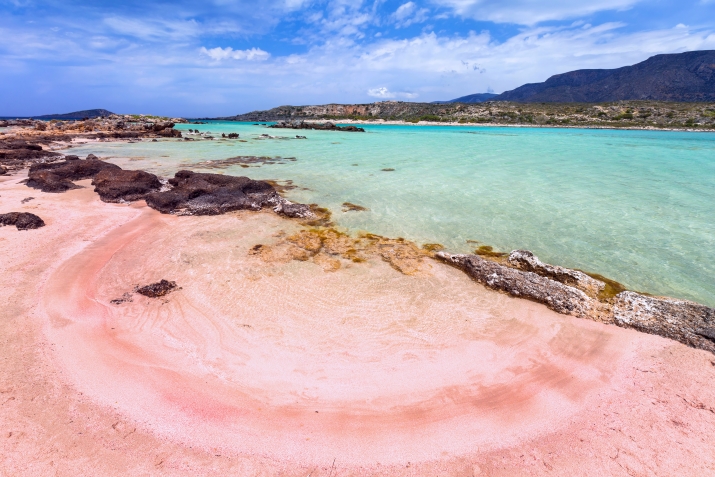 3. Pink Sands Beach, The Bahamas
Pack your bags, we're going to the Bahamas! Don't be surprised if you see horsemen running on the beach…They love the cool sand. You'll love this pink sand beach. The sand isn't very hot, so it can be easily walked on. Burying in the sand is a great idea!
The view is marvelous in this area. One of the reasons this beach is so popular is because of its calm water, apart from the fact that it's pink. Thanks to the reef located off the coast, the water here receives few waves and the water is shallow. Therefore, it's safe and you can have peace of mind with children. Pink Sands Beach is located on a very quiet island on Harbor Island and is a 3-mile beach area. The ecosystem here is also extremely wide. Pink Sands Beach is truly a paradise! 
4. Crane Beach, Barbados
We're now taking a break on the rugged coast of Barbados. This place is located on the east coast of Barbados. Crane Beach has a wonderful pink coastline. Not only that but there's also a lot of greenery here and the water is turquoise blue. This is a beach where you can lie on a sunbed and find peace!
This is also a bit of a luxury place. It's famous for its many luxury hotels. This beach offers a great experience for swimming. here there's a situation that's the only one of its kind in the Eastern Caribbean. You reach the sea, protected by a natural coral reef, via a staircase or glass front beach lift. Isn't this really a great experience?
5. Pink Beach, Indonesia
It's not easy to come to this wonderful beach. But the nearby resorts and tourism companies organize boat trips to bring you to this shore. So, no problem! After you arrive, you'll be fascinated by the view you see. It has wonderful reefs. Don't forget to take snorkeling gear on your way here because you'll want to explore. 
The shells combine to form this wonderful pink beach. The coast is lush. Your view is rugged mountains. Dreamy! This place is on the UNESCO World Heritage List. You're likely to see a komodo dragon or two staring at you from the surrounding area because it's located in the UNESCO World Heritage Site Komodo National Park. This beach is breathtakingly beautiful. Definitely one of the best pink beaches in Indonesia, and of course in the world.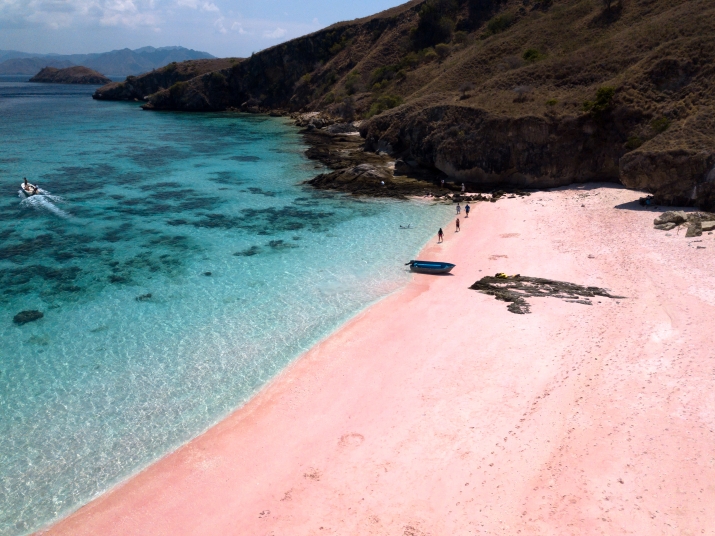 6. Elbow Beach, Bermuda
Another pink beach from Bermuda. This is an ideal beach for those seeking peace. It's a place that hasn't been very famous despite its wonderful views. Therefore, if you're looking for silence, this beach is for you. Here, you can find the peace you're looking for. You're unlikely to come across too many tourists. Grab your snorkel and dive in silence and start exploring. Afterward, lie down on the coral-colored sands in silence for as long as you want. 
Elbow Beach is located on the shore of Paget Parish. You can also find many excellent hotels. It's a public beach. However, part of the beach belongs to the hotel. If you want to stay in the area, you can choose your hotel accordingly. 
7. Tangsi Beach, Indonesia
Indonesia is full of almost the most beautiful pink sand beaches in the world. That's why we add another beach from Indonesia. Tangsi Beach has calm water and wonderful pink sand. If you're looking for calmness, this place is ideal. It's not very crowded. You'll take great photos here. Especially in the early morning, this pastel-colored sand looks great.
Thanks to the coral reefs located just off the coast, it's very pleasant for snorkeling. Tangsi Beach is also known as Pink Beach among tourists. You can be sure, that this is one of the pinkest beaches. It stands out in this respect. This pink pastel beauty lies next to Bali and is complemented by the enchanting view of Mount Rinjani.
8. Balos Bay, Greece
This is one of the most beautiful beaches in Greece. Balos Bay has pinkish-white sands. Its shallow waters, which are comfortable to swim in, have a bright blue color. It's a trendy location, especially for honeymooners.
Transportation to this beach can be a bit difficult. Some prefer to go on their private yachts. For those on a budget, ferries can be taken from the port in Kissasmos. On the other hand, visitors can also reach here by car. You'll only need to walk for 25 minutes after stopping the car to arrive at the pink sand. This is also a very good destination for families with children.
9. Beaches of Great Santa Cruz Island, Philippines
Welcome to pieces of paradise! Here, pale pink sand surrounds the island of Great Santa Cruz, a protected marine reserve. This beautiful island is so quiet and serene that you'll return refreshed. The locals are very sensitive about the cleanliness of this place. Our advice, you definitely don't forget your garbage there. You can reach the island with a 15-minute boat ride from Zamboanga. However, permanent visitors aren't allowed here. Only a certain number of tourists are allowed and within certain hours. Before you come, talk to your agent and arrange accordingly. 
Tourists coming here are generally divided into two. So, which one are you? Some come to relax and enjoy the wonderful sandy beach in tranquility, while others come to explore the wildlife that's unique in the area. Swimming is not a very popular activity here because the water gets very choppy, especially in the afternoon. 
10. Playa de Ses Illetes, Spain 
If you've been to Ibiza and are overwhelmed by the crowds, head to Formentera for a break. It's less crowded and Playa de Ses Illetes is a great beach. Its design is wonderful and special. It would be a great idea to spend a full day here. If you can make friends with the yacht owner vacationers in this one day, you can enjoy more the pink sand beach. There are also very fancy restaurants on the island where you can have fresh seafood.
After praising the restaurants, let's also mention that they're quite expensive. Therefore, if you're on a tight budget, you may want to bring some food with you before coming here. There are places on the beach that rent water sports equipment. You should definitely add this amazing beach to your list if you're heading to Spain in the summertime.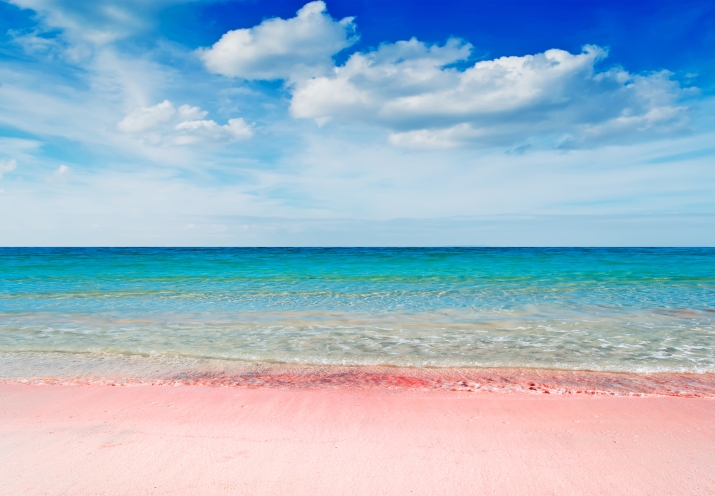 11. Spiaggia Rosa, Sardinia, Italy
Coming towards the end of our list, here is another amazing pink sand beach in Italy. This place is like an untouched pink paradise. It has a wonderful view. There are also very beautiful spots around. For example, we recommend you climb Monte Budello when you come here. Or, you can join a boat trip. Although the sand is not exactly pink, it's extremely close to pink. It has a magnificent coast. Walking is great.
However, unfortunately, swimming, walking on the sand, and fishing are prohibited in this area. This place has been under protection since 1998 because the visitors who came here in time took a lot of sand from the beach. This resulted in the death of valuable organisms and the disappearance of the pink hue in the sand over time. For this reason, there's such a measure on the island. 
12. Pachia Ammos, Greece
We can't get enough of Greece on our list of pink beaches! Located in northern Crete, Pachia Ammos fascinates tourists with its pink and golden sand. Especially on a sunny day, this beach is so beautiful that you won't be able to get enough of taking pictures. It's surrounded by the blue waves of Mirabello Bay and is a suitable beach to devote a full day to. 
Here you'll find many activities to spend time in during the day. Do you just want to rest? Swim and sunbathe. If you want to be more active, canoe or join the beach volleyball matches. History will greet you once you get away from the sand. If you're interested, visit the ancient ruins. Moreover, visit the church built inside a cave. There are also many restaurants nearby. It's also possible to rent beach chairs and umbrellas on the beach.
Pink Sand Beaches: The Wrap Up
Here is the list of stunning pink sand beaches we've selected for you. There's nothing like relaxing on the pink hot sands and looking at the sea. We hope our list will help you plan your vacation. Our list includes options for both those who seek calmness and those who want a more active holiday. It's up to you to decide which one to choose.
Happy holidays! 
Frequently Asked Questions About Pink Sand Beaches
What causes pink beaches?
What causes the pink color actually comes from the foraminifera, a microscopic organism with a reddish-pink shell.
However, sand is a mix of coral shells and calcium carbonate.
Where is the prettiest pink sand beach?
There are so many beautiful pink beaches that it's kind of hard to choose the prettiest one. However, we can list the most beautiful ones as follows:
Horseshoe Bay Beach, Bermuda

Elbow Beach, Bermuda

Pink Sands Beach, Harbor Island, Bahamas

Elafonisi Beach, Crete, Greece

Playa de Ses Illetes, Formentera, Spain

Tangsi Beach, Lombok, Indonesia

Crane Beach, Barbados
Is there pink sand anywhere?
Pink sand can be anywhere under suitable conditions. The necessary condition for this is the presence of millions of small crushed crusts that give the sand its pink color.
So, we can say that pink sand beaches aren't exclusive to one geography, it can be found in almost every corner of the world. 
Is there a pink peach in the US?
Yes. It's Pfeiffer Beach in California. This is one of the best beaches on the West Coast. It has stunning purplish pink sand. 
How many pink beaches are there in the world?
It's stated to be exactly 7. This means that 7 beaches have a direct pink color.
Plus, there are some beaches with pinkish colors, such as purple.