Best Tropical Vacations: 21 Best Spots Around the World
Many tropical destinations in different parts of the world seem like paradise. With blue and green waters, silky sands, breathtaking views, and more… Each of these tropical beauties has its characteristics. Some stand out for their traditions, local culture, and delicious food, while others offer the opportunity to experience the rich wildlife.
You can do many activities on tropical islands, from water sports to exploring volcanic mountains. This list looks closely at tropical resorts in different parts of the world. We'll also share some of the most popular activities you can do in these stunning tropical destinations.
Don't forget to take note of the places on our list of the best tropical islands and vacations!
1. The Maldives
One of the thousand islands in the Indian Ocean, the Maldives is one of the most beautiful islands in the world with its striking beauty. It is located in the south of India and southwest of Sri Lanka. 
The Maldives, which has surreal beauty, has a tropical climate. The island, surrounded by bright deep blue waters, is covered with hearty white sands. The 26 natural atoll, which adds beauty to the beauty of the Maldives, offers visitors a dazzling appearance. 
The Maldives, 99% of which are water, are expected to be inundated in the century due to global climate change. You should definitely visit while you still have the chance to see a paradise like the Maldives. 
There are many luxury resorts in the Maldives. These luxurious resorts offer two different accommodation styles: Water Bungalows and Beach Bungalows. The Maldives is an excellent destination to enjoy local and tropical foods, fun dances, and the sea. In short, this place wants to give you heaven on earth! 
Best Activities in the Maldives
Diving and snorkeling
Swimming with sharks
Picnic in Sandbank
Spa underwater
Sunset trip with traditional Dhoni
Recognition of local culture
Taste of Mas Huni
Traditional Boduberu dance
Spending time on the Piano Deck in Baros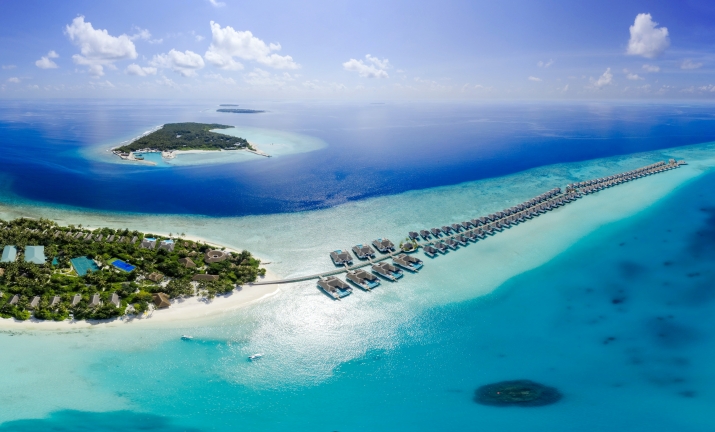 2. Bora Bora, French Polynesia
Bora Bora is a beautiful island in the South Pacific. Located in French Polynesia, Bora Bora is an island of volcanic combinations.
The dazzling combination of green and blue makes Bora Bora one of the best tropical resorts. Turquoise-colored lagoons, bright white sand beaches, and sunsets that offer a visual feast are the most beautiful features of Bora Bora. You can watch tropical fish on the waters that provide a crystal view.
Besides its natural beauty, its cultural richness also makes Bora Bora attractive. You can also enjoy gourmet cuisine in Bora Bora, which has the best French restaurants in the world. Delicious tropical cocktails will accompany you with your meal. You can also get to know the nature of Bora Bora closely with a pleasant trip to Mount Otemanu.
There are many accommodation options on the island, including luxury resorts, bungalows, villas, and self-catering rooms, which are excellent alternatives for families. Romantic tours are also available in Bora Bora, which has the best holiday opportunities for honeymooners.
Best Activities in Bora Bora
Observing underwater life
Diving with sharks
Boat trips to small islands
Picturesque hiking trails
Stargazing
Coral Garden visit
Heiva Festival
Shopping at the Marche Market
3. Riviera Maya, Mexico
At one end of the Yucatan Peninsula and on the Caribbean sea coast, Riviera Maya is ready to meet all your wishes for a tropical island vacation. With all-inclusive luxury and small boutique hotels, holiday options are suitable for every budget.
Riviera Maya offers fine restaurants, endless beaches, and more at affordable prices. The clear waters, where you can see every shade of blue, will open the doors of peace to you.
Riviera Maya is home to glittering sinkholes, sacred ruins, and enjoyable holiday options. The wrecks of Puerto Morelos and Xcaret reefs offer unforgettable experiences to visitors keen on marine life.
Best Activities in Riviera Maya
Snorkeling and scuba diving
Swimming with dolphins and thornbacks
Zipline
Sail
Riding
Guided nature walks
4. Aitutaki, Cook Islands
Aitutaki, the second most populated island of the Cook Islands, is located south of the Pacific Ocean. Consisting of 15 islets connected to the main island, Aitutaki is almost defined as a coral island.
Aitutaki, the second most visited island of the Cook Islands, is a tropical holiday destination with its lush nature, magnificent beaches, and azure waters. Equipped with all the amenities of an exotic tropical vacation, Aitutaki offers an excellent experience with its friendly locals.
You can enjoy the view from the summit of Maungap Mountain. You should visit the tropical islands connected to Aitutaki. Also, the city of Arutanga in Aitutaki is the only city on the island. Arutanga is known for being quiet and calm, even during the opening hours of its markets and shops. Generally, it is a suitable destination for holidaymakers seeking tranquility and peace.
You can also find affordable accommodation in Aitutaki, which offers many different accommodation options, from bungalows to beach villas. Also, since it is a small island, you can rent a bicycle and explore the island.
Best Activities in Aitutaki
Canoeing
Fishing
Snorkeling and swimming
Cook Islands cruise
5. Kaua'i, Hawaii
One of the largest Hawaiian archipelagos, Kaua'i, is known as Garden Island. Kaua'i is an extraordinary place that reflects the spirit of Hawaii with its untouched beauty. Its waterfalls, fragrant rainforests, and more than 60 beaches fascinate nature lovers.
Kaua'i, which is generally quite a rainy place, has many microclimates and the Poipu sides have a drier climate. Kaua'i has rich world cuisine alongside tropical foods and beverages. On the other hand, luxury resorts provide a dazzling holiday with comfortable rooms, magnificent pools, and first-class kitchens.
Kaua'i owes its popularity to its stunning coastline and wild waterfalls. You should definitely explore Na Pali Beach and Wailua Waterfall, which are within an average walking distance. Also, the colorful coral reefs you can visit underwater are home to tropical fish and turtles. Kaua'i, where you will be intertwined with nature, will leave unforgettable memories.
Best Activities in Kaua'i
Kalalau Trail
Waimea Canyon excursion
Surfing
Wailua Falls cruise
Waimea Canyon State Park
Trekking and camping in Na Pali Coast State Park
Diving and snorkeling
Skydiving
6. The Mamanuca Islands, Fiji
The Mamanuca Islands are a volcanic archipelago consisting of about 20 islands. The Mamanuca Islands are famous for their wildlife and beautiful beaches. Despite its very humid and hot climate, the Mamanuca Islands are under the intense interest of visitors. Coral reefs and clear waters make the island unique.
Fiji is generally a reasonably priced vacation destination. There are alternatives for accommodation, food, and transportation, and you can choose according to your budget. From traditional cottages to hotels and popular resorts, the Mamanuca Islands have a variety of styles to choose from.
Palm trees, tropical vegetation, various tropical fruits, and white sandy beaches make the Mamanuca Islands stand out. It is a holiday destination suitable for families, couples, or friends who want to relax and have a peaceful holiday.
Best Activities in the Mamanuca Islands
La Galerie visit
Jet Ski Island Adventures Fiji
Snorkeling and scuba diving
Parasailing
Paragliding
Sunset Beach visit
7. Seychelles
Seychelles on the African continent is a paradise that includes more than 115 islands in the Indian Ocean. While there are 206 "natural" UNESCO World Heritage Sites all over the world, Seychelles is home to two of them. With its thriving coral reefs, nature reserves, wildlife sanctuary, and beautiful beaches, Seychelles has a beauty that deserves protection.
The most visited islands in Seychelles include Mahé, La Digue, and Praslin. Mahé includes Victoria, the capital city of Seychelles. Cafes, bars, restaurants, and casinos throughout Victoria highlight Mahé. It is also home to about 65 unique beaches. To reach Mahé, you can fly to the international airport in Victoria or reach the area by cruise ship.
Vallée de Mai and Aldabra Coral Atoll are Seychelles' UNESCO World Heritage Sites.  Vallée de Mai is a well-preserved palm forest known as the garden of paradise. Aldabra Coral Atoll is home to 307 plant and animal species. It is known as the "palace jewels" of the Indian Ocean.
Best Activities in Seychelles
Sailing
Surfing
Diving in the reefs
Snorkeling
Seeing Esmeralda, the world's heaviest and oldest living turtle
Sunbathing on its magnificent beaches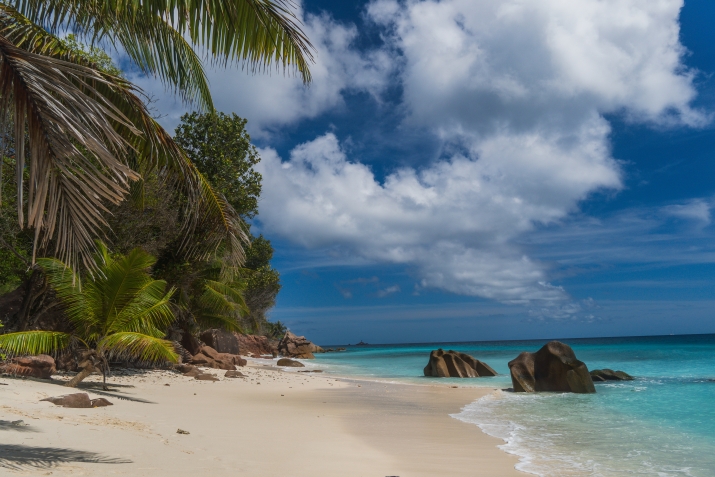 8. St. Barts, The Caribbean
If you are looking for a luxury tropical vacation, St. Barts is the perfect option for you. St. Barts is the most luxurious island in the Caribbean. It is the indispensable address for luxury lovers with its white sandy beach, turquoise waters, and magnificent view.
St. Barts, frequented by the jet set, is more expensive than other locations. Unlike touristic businesses, it is a destination where sophisticated hotels and restaurants come to the fore.
Also, St. Barts is not flooded with tourists, as cruise ships are prohibited from approaching the port. For this reason, we can say that the island is reserved for high society, movie stars, and supermodels.
St. Barts has it all for a first-class vacation. Everything from restaurants with gourmet cuisines to luxury shopping malls has been carefully constructed. Besides, magnificent beaches are open to the public. If you plan to go to St. Barts in the off-season, you can enjoy the island at affordable prices.
Best Activities in St. Barts
Kitesurfing
Snorkeling
Canoe
Surfing
Sail
Fishing
9. The Abacos, The Bahamas
Abacos, the pearl of the Bahamas, is one of the world's leading tropical islands for boating and sailing. Located 300 kilometers east of Florida, Abacos is a quieter island away from vacation destinations around Florida.
Surrounded by pine trees, away from the density of tourists, Abacos looks fascinating with its thriving coral reefs. It is accessible by golf carts and boats alongside its secluded beaches.
The Abacos Islands are inhabited mainly by the British. You can witness the traces of the British on Abacos in the colorful colonial huts in the streets.
Among the main places where you can feel the magnificent view and nature of Abacos are Elbow Cay, Green Turtle Cay, and Treasure Cay. Surrounded by colorful turquoise waters, these places will take you back to the ancient times of the Bahamas. You should see Walker's Cay, Guana Cay, and Man-O-War Cay if you have time.
Get ready to get lost in the extraordinary nature of Abacos!
Best Activities in the Abacos
Fishing
Diving
Snorkeling
Chatting with the locals
Enjoying the stunning beaches
10. Ambergris Caye, Belize
Ambergris Caye, Belize's largest island, is one of the most popular destinations. Ambergris is home to a magnificent underwater realm. As part of the Belize Barrier Reef System with advanced underwater activities, Ambergris is the world's largest barrier reef after the Australian Great Barrier Reef.
Besides its underwater activities, Ambergris owes some of its appeal to the town of San Pedro. Restaurants offering the best flavors of Mexican cuisine and golf carts line the streets. You can also enjoy fresh seafood.
The north of the island is quite close to Mexico. As such, Ambergris is under heavy Mexican influence, and many of the locals speak Spanish.
Best Activities in Ambergris Caye
Fishing
Diving – you may encounter stingrays and sharks
Snorkel
Belizean Arts trip
Mexico Rocks excursion
11. The Dominican Republic
Located on the island of Hispaniola in the Caribbean, the Dominican Republic is the right place for those who want a tropical budget vacation.
The Dominican Republic, one of the popular holiday destinations with its magnificent beaches and clear blue waters, also offers diversity in terms of history and culture. Also, its rich ecosystem includes deserts, coral reefs, steamy forests, mangroves, high green peaks, savanna, and more.
You should be alone with the fascinating nature of Dominica, away from the tourists and Punta Cana, Puerto Plata, and La Romana, which are full of all-inclusive resorts. Spacious beaches, waterfalls in steamy forests, and the highest peaks of the Caribbean will greet you.
Santo Domingo, the capital of the Dominican Republic, is on the UNESCO World Heritage List with its history and architecture. You should visit Santo Domingo for a closer look at Dominican colonial history.
Best Activities in the Dominican Republic
Dive
Surfing
Snorkeling
Zipline
River horseback ride
Explore the underwater world in Sosua
Cycle along Alpine trails through pine forests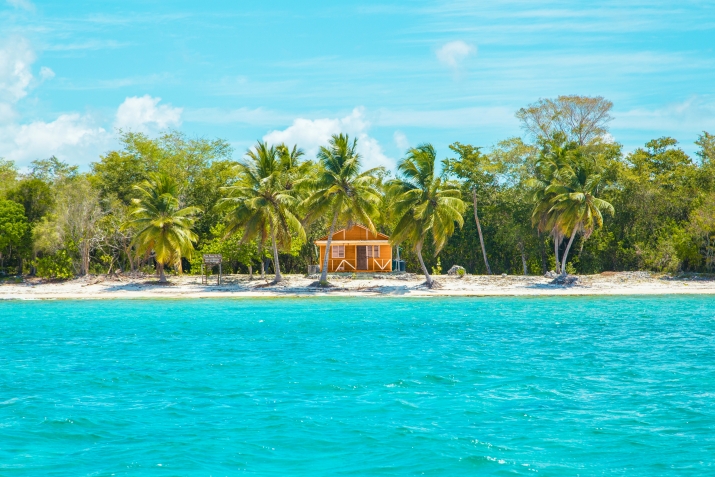 12. Bali, Indonesia
Those who prefer Bali with its mystical charm and spiritual side can also enjoy a unique tropical vacation. Temples filled with incense scents, calmness, and kind people will nourish your spiritual side.
Bali, the most touristic island of Indonesia, also saturates its visitors with its artistic aspect. Painting, sculpture, and dance are highly developed in Bali.
Bali offers options for every budget. It has much more convenient food and accommodation than other tropical holidays. Accommodation options are quite diverse. It has many options, from cheap hostels to all-inclusive resorts and luxury villas.
While on a tropical vacation in Bali, you can pamper yourself with various spa treatments. You can benefit from Bali's famous massages at very affordable prices. Also, lively beaches and fine restaurants are other attractive features of Bali.
Best Activities in Bali
Tour the rice fields in Ubud
Visit Lempuyang Temple
Take a day tour of Tirta Gangga (Water Palace)
Visit Pura Ulun Danu Beratan Temple
Take pictures at the Selfie Parks on Wanagiri Road
Yoga
Kecak Dance (Fire Dance)
Balinese Massage
Surfing
13. Port Douglas, Australia
Adventurers assemble! We're going to a wonderful tropical destination. Port Douglas! If you're an adventure lover, you should definitely add Port Douglas to your list. We recommend you visit this place, especially between May and September. It's located about an hour's drive north of Cairns. We can say that it's a bit of a luxury town. But note that this is a great fishing town and a meeting point for wild safari lovers! Although swimming is prohibited for most of the year, you should definitely come here for sightseeing.
When you come here, you'll be close to two of Australia's richest ecosystems. The Great Barrier Reef and Daintree Rainforest, are part of the Wet Tropics World Heritage Site. Snorkeling in the Great Barrier Reef is a wonderful experience. In the Daintree Rainforest, you'll also enjoy the reef-covered waters.
The pleasure of walking in the green streets of the town is wonderful. If you love shopping, you'll find plenty of luxury boutiques here. There are great cafes to stop and relax, and many galleries for art lovers. 
Best Activities in Port Douglas
Fishing trip on the Cape York Peninsula
Going to Four Mile Beach
Seeing the Great Barrier Reef
Visiting the Daintree Rainforest
Take a reef trip
Go on a wild safari
 14. The Andaman Coast, Thailand
The magnificent islands of the Andaman Coast definitely deserve to be explored. Lush limestone peaks, turquoise waters, wonderful islands… You'll witness one of the most beautiful landscapes in the world. Staying here is also comfortable. Accommodation for every budget can be found. In general, we can say that it's a suitable place among tropical destinations. We recommend that you should come here between May and October. 
There are many islands around which one can make a day trip. So, there are many beauties you can see when you come here, including the famous islands! How about chatting with elephants? In Khao Sok National Park you can do it! Besides chatting with the elephants, there's also a stunning view here. If you want to mingle with exotic cultures and taste good food and do it at a relatively affordable price, you should consider the Andaman Coast. 
Best Activities on the Andaman Coast
Talking to elephants in Khao Sok National Park
Visiting the island of Ko Phi Phi Don
Visiting Ko Phi Phi Leh
Joining Phuket Day Sightseeing Tour
Seeing Phang Nga Bay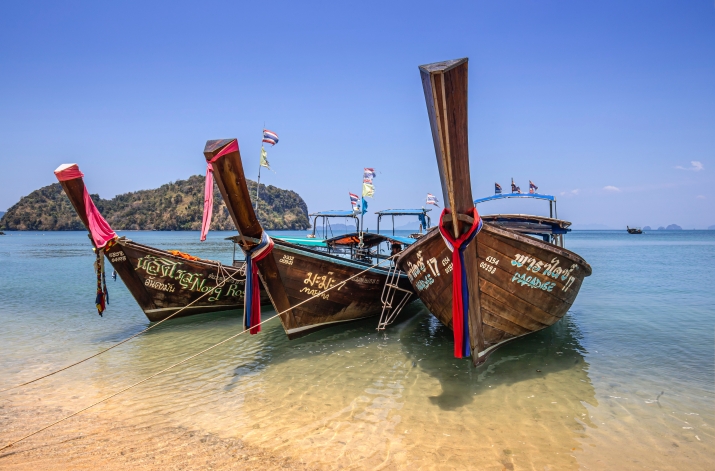 15. The Nicoya Peninsula, Costa Rica
Now, our list takes us to the Pacific coast of Costa Rica. A great stop for surfers… This is a great spot for nature lovers and surfers, with many forested areas and long shores. This is also a trendy place. In addition to surfing, you can find many restaurants where you can have good meals. It's also famous for its organic food. 
This is such a wonderful place that it attracts travelers from all kinds of travelers. For example, at one point you might encounter a backpacker while at one point you might see families vacationing. This place also attracts those seeking peace with its yoga retreats. A short distance from here you'll see one of the most beautiful cloud forests in the world at the Monteverde Cloud Forest Reserve.
Best Activities on The Nicoya Peninsula
Seeing the Monteverde Cloud Forest
Visiting Nosara, Montezuma and Samara
Seeing the luxurious Santa Terasa
Watching turtles nesting
Snorkeling
Riding a horse
Surfing
16. The Florida Keys, the US
Do you like fishing? Then, welcome to the sport fishing capital of the world! Fishing tournaments are held here every year. There are many great resorts. Florida Keys is the only coral reef place in the US. You'll be greeted with a wonderful tropical setting. Walking on the beautiful palm-lined sand strip is a marvel. 
Fishing or swimming in clear turquoise waters is up to you! Yet, it's undeniable that it's enjoyable to sit on these man-made shores. When you come here, don't leave without eating the sea shell and lemon pie; they're famous here. 
This place stays south of Miami and is about 90 miles from Cuba. This is a great place to spend time in nature. It'll be a very nice experience to discover its architecture, as well. You shouldn't return without seeing the colorful Caribbean-style cottages. When you come here, you'll be close to the southernmost corner of the US and you can take a trip there if you wish. 
Best Activities on the Florida Keys
Visiting John Pennekamp Coral Reef State Park
Visiting Florida Keys National Marine Sanctuary
Snorkeling
Visiting Bahia Honda State Park
Visiting Key West
Seeing the Caribbean-style cottages
Eating famous lime pie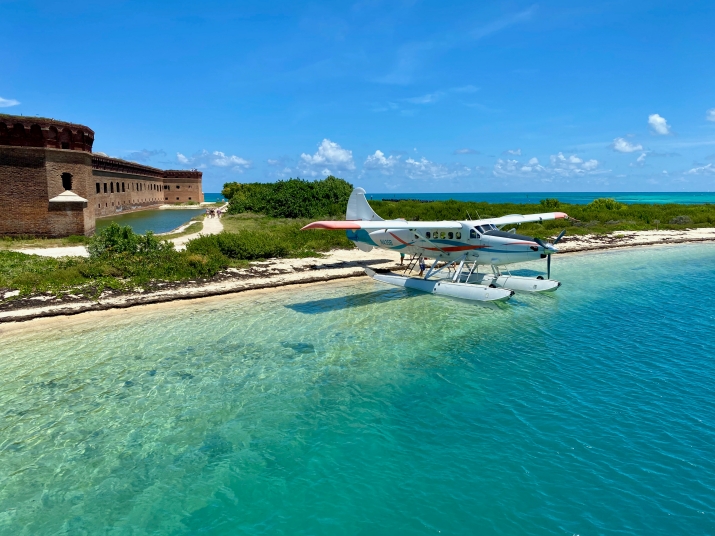 17. Sri Lanka
When you go to a tropical region, do you expect sunbathing and enjoying the sea? Then go to Sri Lanka! But don't be fooled when we say that, Sri Lanka also offers opportunities for all types of tropical vacationers. For example, a paradise for surf lovers. Also for lovers o culture and history… And, what's more, it's a paradise for foodies! 
There are many UNESCO World Heritage Sites here. There are so many experiences waiting for you that we don't know which ones to rank. Best you go and see! Also, one of the biggest advantages of this place is that it appeals to many budgets. 
The palm-fringed shores are lovely. It's a very good idea to sit and sunbathe on these beautiful beaches for those looking for a restful holiday. It's also a very suitable place for those who want to explore underwater. Snorkeling is very common here. And, a submarine awaits you to explore. When you leave the beach and head towards the forests, natural life awaits you. Leopards, elephants, interesting bird varieties, and more…
And of course, don't forget to visit the wonderful tea plantations and have a lovely hot tea while you're here! 
Best Activities in Sri Lanka
Surfing
Exploring underwater
Taking a safari trip
Seeing the ancient ruins, mosques, and temples
Visiting the Colombo
Visiting the National Museum
Touring the tea plantations
Drinking hot tea
18. Zanzibar
Those looking for a true island getaway should rank Zanzibar high on the list of tropical destinations! This place is also very rich in terms of culture. A wonderful island surrounded by corals, a visual feast. It looks like it came straight out of postcards. This is a place where many cultures mingle due to its famous trade routes. Therefore, you'll feel the influence of many cultures while visiting this place. 
The official name of this island is Unguja. It has wonderful beaches and sites that are in the UNESCO World Heritage Site. one of the most enjoyable activities to do on this island is to take a walk on the cobblestone roads. During this walk, you'll encounter wonderful architecture and you'll find a lot of spices. The gifts you'll buy on your way home have already been announced! Snorkeling on its wonderful clear water beaches is also very enjoyable. 
Not only that, but this place also appeals to wildlife lovers. But, don't forget to make reservations for the parks.
Best Activities in Zanzibar
Visiting Stone Town, it's a UNESCO World Heritage
Touring on cobblestone roads
Exploring the historic sites
Visiting the bazaar and buying spices
Snorkeling
Visiting Jozani Chwaka Bay National Park
Signing up for dolphin tours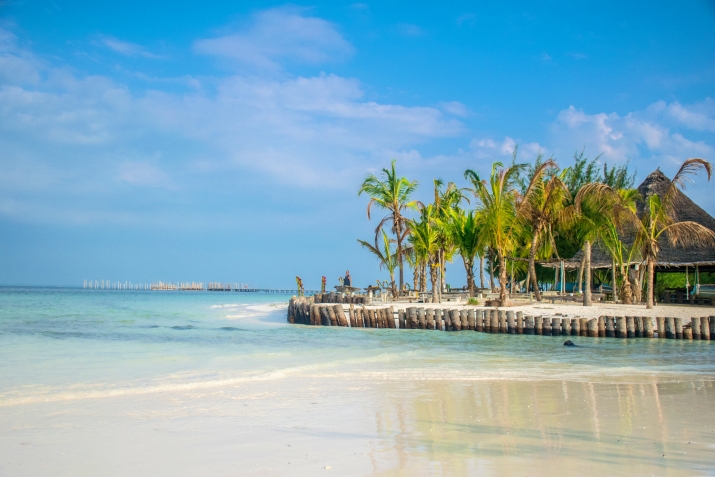 19. Mauritius
Mauritius is ideal for those looking for a tropical destination, especially for their honeymoon! There are many popular activities to do on your honeymoon here. The cuisine is wonderful. An island is a multicultural place. Indian, African, Chinese, and French, you can find the cuisine of almost every culture you're looking for here. 
This place is known as the pearl of the Indian Ocean. Located on the coast of Madagascar, Mauritius is a piece of paradise. This place is also home to volcanic landscapes if you love golf, good news! There are many golf areas here. Moreover, its wonderful beaches…The sand is like silk. 
When you come here, we recommend you join sightseeing tours. A great way to explore the island. One of the most popular activities here is water activities because there's nothing more enjoyable than an activity in the sea's wonderful turquoise waters! You should snorkel and explore the undersea. When you go a little further to the west of the island, you'll see wonderful coral reefs. 
If you're into fishing, we recommend making a reservation for deep-sea fishing. It'll be a great experience for fishing enthusiasts. This place is also known for its endemic species, both plants, and animals. Don't return without discovering the endemic creatures here. 
Best Activities on Mauritius
Visiting the Le Morne Beach, Flic en Flac and Pereybere
Snorkeling
Fishing
Hiking to Chamarel Waterfall
Climbing UNESCO-listed Morne Brabant
Learning the endemic birds
20. Colombia
Here is Colombia, which appeals to all types of vacationers. This place is for history lovers, food lovers, and adventure lovers alike. Here you can find everything you're looking for. For example, for history lovers, exploring colonial cities is a great experience. Moreover, museums… You have a great reason to take a break because you're in coffee heaven. This place is also for shopping lovers! There are great boutiques. You can shop as much as you want. 
However, when you think of a tropical vacation, beaches come to mind first, right? Colombia is also great for beaches! There are many beaches to choose from here. Snorkeling is very enjoyable. From here you can go to the Caribbean coast. Want to surf, not snorkel? You can do that too! Head towards the Pacific coast. 
Soak up the scenery here. So majestic! If you want to see this view from a different angle, go to the top of a mountain. Or, it'll be very enjoyable to watch while surfing. Moreover, for those who want to relax, just sit on the beach and lie down and enjoy the view! Sometimes that's the best, isn't it? This country is definitely a great destination for a tropical vacation.
Best Activities in Colombia
Climbing a mountain
Taking a jungle safari
Going to the Caribbean coast
Snorkeling
Surfing on the Pacific coast
Exploring the old colonial cities
Visiting the Medellin Museum
Taking a tour of coffee plantations
Shopping
21. Trunk Bay, St. John, USVI
Trunk Bay, west of Cinnamon Bay, is a great beach! As we come to the end of our list, it definitely deserved to be on this list. One of the best things about this beach is that it doesn't charge an entrance fee. In fact, there are toilets, showers, and lifeguard services here. Not having a car isn't a problem here, because there's also a taxi rank available.
It'll be pleasant to come here for a day. You can spend this day in a picnic mood. It'll be both fun and relaxing. Snorkeling here is a very enjoyable activity. Moreover, if you don't have snorkeling gear, don't worry because snorkeling equipment can be rented at the beaches. While snorkeling, you'll discover many tropical fish species. You'll also recognize many types of coral.
When you go a little further to the north of the island, wonderful beaches will welcome you again. If you get tired of the crowds at Trunk Bay Beach, you can head here and relax under the shade of palm trees and gaze at the peaceful waters. 
An interesting fact about this place: This is the most photographed island in the Caribbean! We're sure that you'll increase the rates when you go to Trunk Bay Island.
Best Activities on Trunk Bay
Snorkeling
Seeing the largest sea turtle in the world
Visiting the USVI National Park
Taking pictures from Trunk Bay Overlook
Taking a boat tour
Bottom Line: Best Tropical Vacations
There are many destinations for tropical vacations in various parts of the world. Surrounded by clear waters, velvety sands, and extraordinary landscapes, these tropical destinations have many distinctive features. From local culture to popular activities and prices, you can easily choose the tropical vacation that suits you.
You should be sure of what you are looking for when going on a tropical vacation. Some destinations bring you wildlife, while others offer exciting underwater activities. We also recommend that you be open to new flavors typical of tropical destinations. Fresh seafood, local dishes, and tropical fruits await you at the fine restaurants.
This article features the best tropical vacations and popular activities in the world. If you're planning a tropical vacation, don't forget to check out the highlights of these places!
Frequently Asked Questions for Best Tropical Vacations
Where is the most tropical place in the world?
There are tropical places in many parts of the world. Among the most popular destinations, Maldives is definitely in the first place.
What is the nicest island to visit?
Each island has its peculiarities. Choosing the best among them is entirely up to personal preferences. Bora Bora, Maldives, Bali, and Seychelles are among the most visited islands.
What is the most tropical place in the Americas?
South America and the southern parts facing the Gulf of Mexico are the most tropical places in the Americas.
What is the safest tropical vacation destination?
Bora Bora, Riviera Maya, Maldives, and Aitutaki are the top reliable tropical resorts. Kaua'i, St. Barts, and Abacos are other reliable tropical vacation destinations.
What is the prettiest island in the world?
There are many beautiful islands in different parts of the world. Seychelles, Maldives, Bali, and Kaua'i are the most beautiful among them.
How much does a trip to Bora Bora cost?
If you are planning a 7-day trip to Bora Bora, the average price for one person is $3,500. These prices vary greatly depending on the accommodation preference—for example, hotels in Bora Bora range from $135 to $690 per night. House rents range from $120 to $800.
Where is the most expensive place in the world to vacation?
St. Barts is much more expensive than other tropical resorts. It is a tropical vacation favored by luxury lovers, movie stars, and supermodels. 
What is the number 1 tourist destination in the Caribbean?
The Dominican Republic is the most popular destination in the Caribbean. It is a tropical destination frequented by tourists with options suitable for various budgets.
Best tropical vacations for couples?
The best islands for couples are Bora Bora and Maldives. These are the islands with opportunities that pamper couples with their special honeymoon offers. 
Best tropical vacations for families?
Mamanuca Islands and Bora Bora are very suitable islands for families. Its facilities for children make tropical vacations perfect for families.