17 Beautiful Villages in Europe
Many of us know famous European cities. What about great towns with their excellent cultures and cuisines? Europe is also very rich in this respect. You can find charming villages on almost every corner that will attract your attention.
There are many beautiful villages in Europe. We're listing the best of them to help you plan your vacation. Enjoy reading! 
The Most Beautiful Villages in Europe
1. Hallstatt, Austria
Located on the banks of the Hallstätter See, Hallstatt in Central Austria is a historic town like something straight out of a fairy tale book. The water flowing between the lush green offers such a beautiful sight… The salt mining history of this place is very rich. We can say that the town defines itself with this. It has a history of almost a thousand years. The ivy-covered buildings here are another characteristic of this place. It's also a UNESCO World Heritage Site.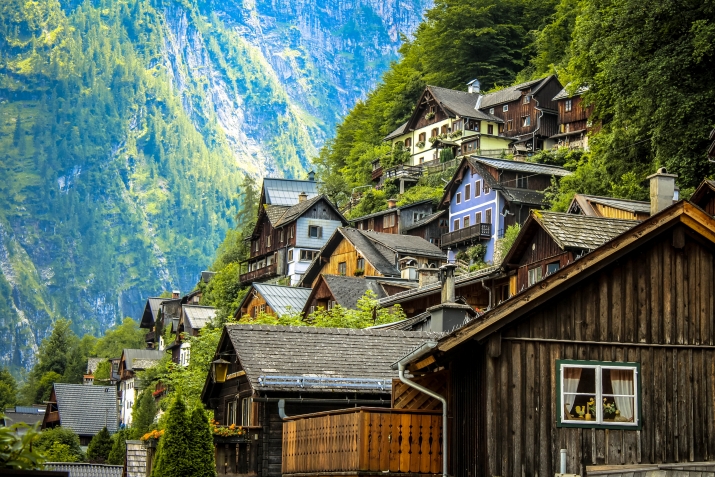 2. Arcos de la Frontera, Spain
Andalusia, Andalusia! What a rich history this place has… This is one of the most famous villages in Spain. One of the reasons for this popularity is its spacious whitewashed houses. Arcos de la Frontera is located on the Guadalete River. But, that is not the really interesting part, it's located on the edge of a cliff above the river! Castillo de Los Arcos Castle, which has a very rich history is among the places to visit when you come here. 
3. Eguisheim, France
It's both a beautiful village and a wonderful wine route. So, we're in France! It's a very quiet place with a very little population. Winemaking is famous in the region and its roots date back to the Roman Empire. The colorful houses are also beautiful, and pink and red geranium gardens… They almost complete each other. This place was chosen as ''French's favorite village'' by society back in 2013.
4. Tellaro, Italy
A region overlooked by tourists: Tellaro! To get here by car, it's necessary to cross the curved cliff roads. Naturally, this makes it a bit far from tourists. This is a small port city. Its cliffs and pastel-hued buildings look great. One of the characteristics of this place is that important personalities such as Lord Byron and D.H. Lawrence came to this village in time to seek inspiration. 
5. Alberobello, Italy
We couldn't get enough of Italy, and add another charming village right away! This village is the Puglia Village of Alberobello. This is one of the smallest villages in Italy. And, lots of fans! This place is famous for its whitewashed houses with conical roofs. Italians call these houses trulli. When you come here, if you want to drink Puglia wine and taste wonderful cheeses, we recommend you take a tour of the Rione Monti neighborhood. You can also find very nice souvenirs here.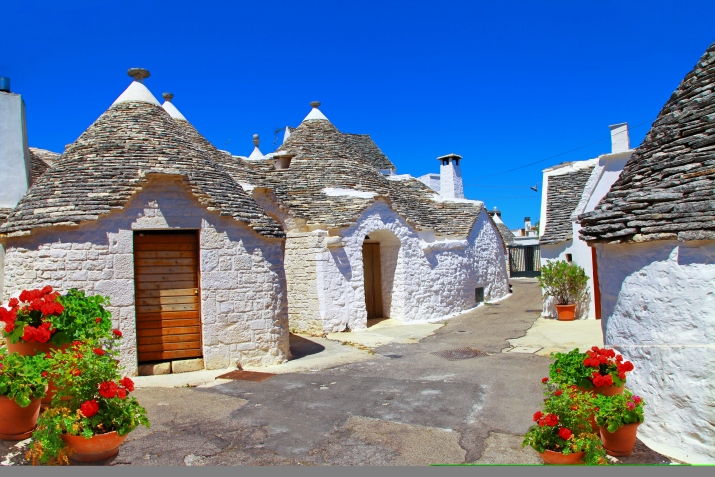 6. Vinišće, Croatia
This picturesque village is steeped in history. This place is located on the Adriatic coast of Croatia. It's a tiny village and you wouldn't believe it but only about 700 people live here. It's not a very touristy place either. We recommend you visit this perfect village. This place has very beautiful sandy and pebble beaches. Pine streams make this village fragrant. There are architectural examples here that date back to the Roman period. 
7. Bibury, England
Ah, you'll feel like you're in a movie scene! This place is located in southwest England. And, the area that was designated an ''Area of Outstanding Natural Beauty''. It's one of the most beautiful villages in England. Stone huts with steeply pitched roofs meet lush green meadows in this village. The Coln River, which divides the village in two, is wonderful! It's full of trout. We recommend visiting Arlington Row once you get here, it's one of the most beautiful areas. 
8. Grindelwald, Switzerland
The next village on our list, the Village of Grindelwald, is located at the foot of the Bernese Alps. People living in the surrounding areas often come here for trekking. But, there are also quiet spots here. In the villages and on the grasslands on the hills, if you seek isolation, you'll find plenty. This place offers one of Europe's greatest rail adventures. Therefore, we recommend that you experience the Jungfraubahn train when you come here. 
9. Sorrento, Italy
We can't give up on Italian villages! Let's take a look at one more. Sorrento is an epic seaside village. It hides in a place like a jewel. The cobblestone streets, and the chirping stalls that pop up on these streets. Here, you can find wonderful soaps and necklaces. And, they're all handmade. From here, the transition to the Amalfi Coast is very easy. So, you can also switch to a beach trip from here. We recommend you experience great restaurants as well. Especially, Italian pizza! 
10. Folegandros, Greece
Let's go to Greece! Generally, those who tour Greece love the streets of Santorini. But, you'll find it here, too, in a much calmer state! The streets here are paved with slate and filled with colorful flowers. The whitewashed buildings add a very spacious feel to it, and from time to time you cross Greek Orthodox churches with their bright blue domes. From here, Katergo Beach is close, if you're looking for a secluded beach for swimming, you can consider this place.
11. Riquewhir, Alsace, France
Another French village and another winemaking village! This is a very cute winery village. It's already one of the most famous villages in France. If you're near Colmar, it's only half an hour away. We especially recommend it to honeymooners because this place is so romantic! It's a charming place with bay windows and wonderful courtyards. Walking the cobblestone streets and drinking famous wines during the breaks is a wonder.
12. Cudillero, Spain
A village straight out of postcards! It's located on a mountain in Asturias. A small fishing village. This is an ideal place for a vacation because it offers both a quiet place along with many things to do. For example, it's an ideal place for those who want to make a history tour. Here, you can find a Gothic-style church from the 16th century. Nightlife is also good, with colorful fishermen's taverns with wonderful treats. The colorful hanging houses and their magnificent stance in that simplicity are indescribable!
13. Colmar, France
If you want to experience cultural interaction to the fullest, this village is great because there's a synthesis of French and German influences here. For example, local bakeries sell both croissants and kugelhopf. In addition, restaurants in this region are very skilled in foie gras and sauerkraut. Don't miss tasting these delicacies while you're here. You'll find almost everything you're looking for this in this Alsatian village. From Gothic architecture to Baroque architecture to World War II traces, this place offers many cultural experiences.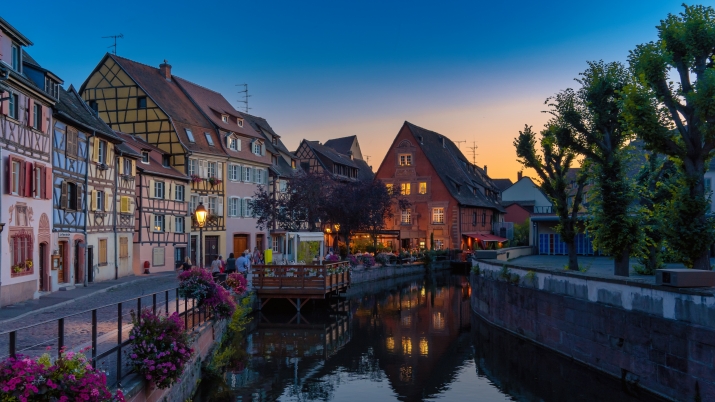 14. Knaresborough, U.K.
This is a Yorkshire village. It has wonderful viaducts and a magnificent castle. Thanks to them, its fame has spread all over the world. It's located on the River Nidd and is one of the oldest settlements in England. When you come here, we recommend you to go to Mother Shipton's Cave, it's one of the oldest attractions. Also, if you like shopping, you can stop by the main square, where there is an open-air market and it's especially great for food shopping. 
15. Kazimierz Dolny, Poland
This magnificent 14th-century village should also be on the list. This place is located on the right bank of the Vistula River. If Krakow is on your holiday itinerary, this is not far from there. It has a wonderful castle and we can say that this castle is the feature of this place. It has a great influence on the territory of this place. You can take plenty of oxygen when you come here by walking on wonderful routes in lush green areas.
16. Reine, Norway
From the midnight sun in summer to the northern lights in winter, that place where the sky is glorious: Reine! This is located north of the Arctic Circle. With this feature, it'll give you one of the most interesting experiences of your life. This is a wonderful fishing village punctuated by mountains. The bright red fishing huts are called rorbuers by the locals. Some of these huts were created for tourists.
17. Dinant, Belgium
This wonderful village of Dinant, made almost invisible from the outside by a magnificent castle, is located on the banks of the Meuse River. This is an amazing village. French is spoken in this village, so we say be prepared in order not to have difficulties with the language when you go. One of the interesting features of this place is that this is where the saxophone originated. Also, the 13th-century Gothic cathedral is among the must-visit pales. Village of music and history! 
Beautiful Villages in Europe: Conclusion
Wherever you go on a European holiday, it's very enjoyable. However, sometimes the holidays are so hectic and noisy that when we get home, we don't realize whether we have a holiday or not. For this reason, sometimes one wants to take quiet getaways.
At that point, European villages are a great choice to get away from the hustle and bustle of life. As you can see from the list, European villages have magnificent beauties. They're both rich in history and have bright waters and lush forests. Ideal for a getaway. 
We hope this list will help you plan your vacation. Have a great holiday in advance!