Best Coworking Spaces in the World
Coworking spaces have been growing in popularity among freelancers and remote workers throughout the world since the mid-2000s. They have now established themselves as a new workspace. Renting a coworking space is not just having a shared office space at an affordable price anymore. It's about having a nice workspace to work in and networking with other digital nomads.
These shared office spaces have popped up in many of the world's largest cities, thanks to a surge in the number of professionals who can work from anywhere with a reliable internet connection. In this article, we'll take you on a journey to the best coworking spaces from all around the world! 
Betahaus – Coworking Space & Events, Barcelona, Spain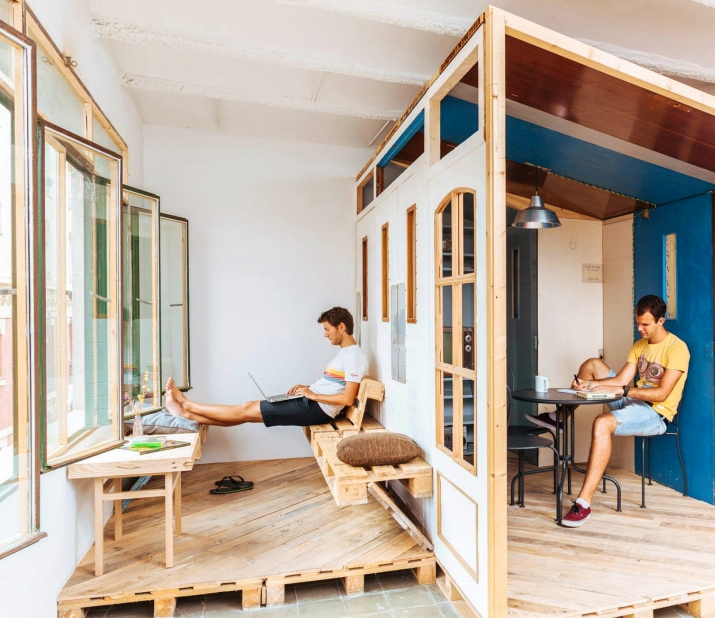 Betahaus has coworking spaces in different parts of the world. I think one of the best ones is Betahaus in Barcelona! Each of its five floors has a modern, airy and unique decoration. In the atmosphere created by the Betahaus team in Barcelona, ​​plants, handmade furniture, terraces, and a roof stand out with their magnificent view. In addition to the study rooms that get quieter as you go upstairs, there is a cafe, Skype booths, and a siesta club. 
Betahaus Barcelona also offers two types of monthly subscriptions for digital nomads. With Flex Membership, you can work individually or jointly from 8 a.m. to 8 p.m. on weekdays. With Fixed Membership, you can have a 24/7 private desk and closet and use the meeting rooms and coworking space. In addition, there is the possibility of working without being a member.
Fees: Starting from €49 per day, and €199 per month
Google Review Rating: 4.8 – May 2022
NeueHouse Hollywood, California, United States
Located in LA, NeueHouse was designed to establish a warm home environment with its hospitality and create a cultural environment where strong connections are made. In addition to providing a workplace for business people, it also inspires artists. Thanks to its location and structure, it brings together professionals from the fashion, publishing, and film industries.
It has a seven-story coworking area that appeals to many occupational groups. It also offers private desks, private booths, and noise-canceling headphones for individual employees. There are also various membership options with a wide price range. NeueHouse has a large area with quality cuisine with breakfast, lunch, and dinner options, a bar, happy hour and cocktail programs, private studios, lounges, and a conference hall. NeueHouse offers powerful technological facilities such as IT support, WiFi, charging packages, mail services, and a scanning room.
Fees: Starting from $595 per month
Google Review Rating: 4.6 – May 2022
Patchwork, Paris, France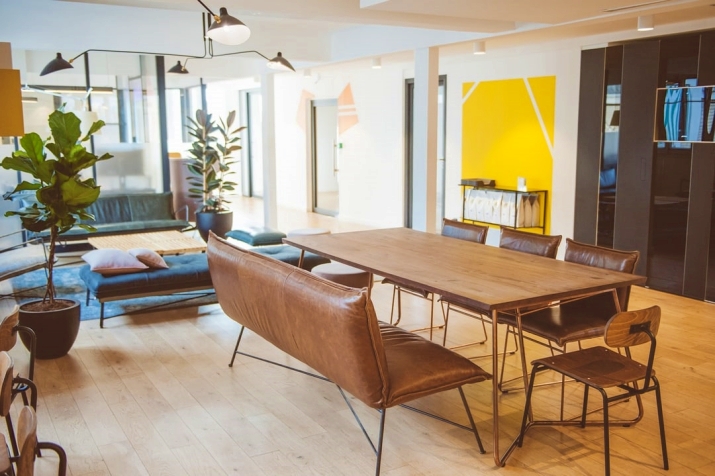 Patchwork, which has nine different venues in various parts of Paris, offers professional coworking spaces with a unique interior design for each area. For example, the colorfully designed Sentier also has concepts such as République, which offers a spacious workspace with modern furniture, and Saint-Lazare, which has a stylish interior design. It's up to you to choose the one that fits your workspace or style.
At Patchwork, you can use coworking spaces, open space desks or meeting rooms, or rent an office. Thanks to its large spaces, teams of 8-10 people can work comfortably. Among the facilities provided by Patchwork are fast WiFi, a kitchen, and relaxation areas.
Fees: Starting from €40 per month
Google Review Rating: 4.9 (Average rating of nine branches) – May 2022
Crew Collective Cafe, Montreal, Canada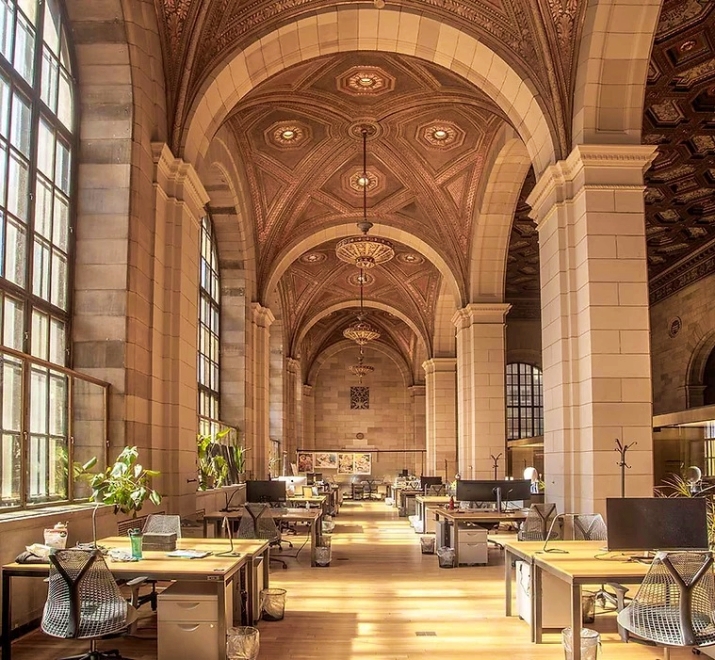 Crew Collection, which has the aura and architecture of a historical place from the 1920s, offers an open working environment every day of the week. High ceilings, enormous chandeliers, everywhere covered with bronze and marble…Crew Collective Cafe has the vision of presenting a cafe and working environment with a historical texture. This way provides the opportunity to work with sweets, local coffees, and delicious food.
The place was converted from an old bank and turned bank counters into individual working spaces. In addition, there is an area reserved for meeting rooms and a cafe with large tables. Crew Collective, which can be used for various purposes, also has virtual office and closed office options.
Fees: Starting from Can$40 per day and Can$300 per month
Google Review Rating: 4.5 – May 2022
Ministry of New, Mumbai, India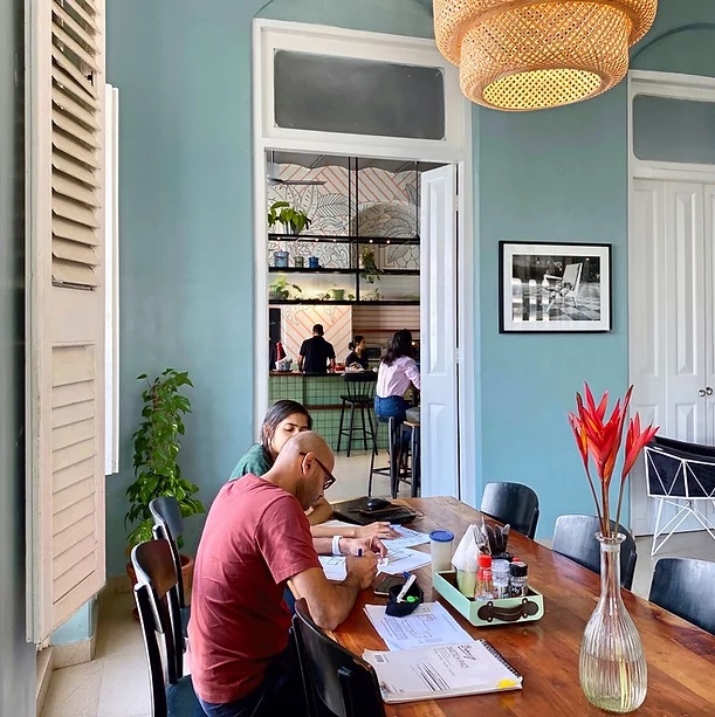 The Ministry of New features high ceilings, a courtyard full of greenery, colorful walls, an art gallery, and a place with plenty of sunlight. It has carefully designed private study rooms, four-team rooms with natural lighting, meeting rooms, and a cafe. High-speed internet and security are among other attractive features.
Located in India, the venue has the vision to create a collaborative working environment where professionals worldwide can work together. You can find a quality working environment in the place, which blends the cultural Indian touch with the European style. In addition, whether you are a digital nomad, freelancer, or CEO, the Ministry of New offers various memberships for individuals or teamwork.
Fees: Starting from INR1,500 per day for individuals and INR22,000 for teams
Google Review Rating: 4.5 – May 2022
CocoVivo, Panama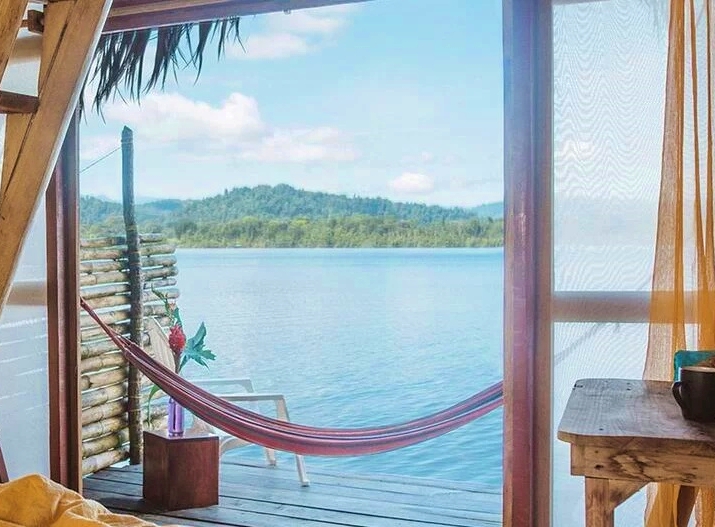 As a digital nomad or freelancer, do you want to get away from it all and work online in nature? Located next to the rain forest on Cristóbal Island, CocoVivo offers you this opportunity on ​​37 square meters. You can reach the region with a 1-hour flight from Panama City or an 11-hour bus trip.
It has a peaceful and natural living space with its glamping-style accommodation, a pier with a coworking area, delicious cuisine, and an upstairs lounge. Also, CocoVivo eco-resort provides high-speed WiFi service to online workers. While working, you can do water sports or participate in activities such as walking in the forest. Rather than being stuck in the crowd of the city, CocoVivo offers you a workspace in the middle of nature.
Fees: Cabin prices vary
Google Review Rating: 4,9 – May 2022
Cape Town Office, Cape Town, South Africa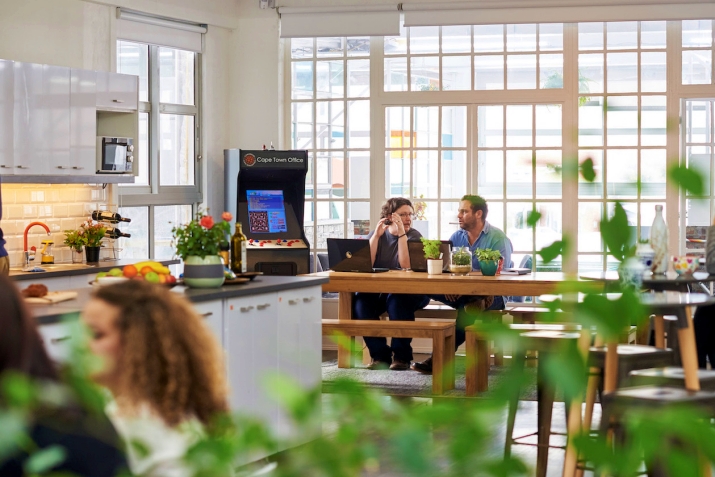 The Cape Town Office was established in 2010 as there was no office in the area. The purpose of Office, which emerged for a common reason, is to establish a professional workspace to offer you the opportunity to meet people with whom you can collaborate.
The Office is open for 24/7 work in a spacious and modern environment. There is free herbal tea and coffee service. It provides fast WiFi, conference rooms, a printer, a physical mailbox, and weekly community events. There are membership options with different possibilities for individual or teamwork.
Fees: Starting from ZAR2,500  per month
Google Review Rating: 5 – May 2022
B. Building Business, Amsterdam, Netherlands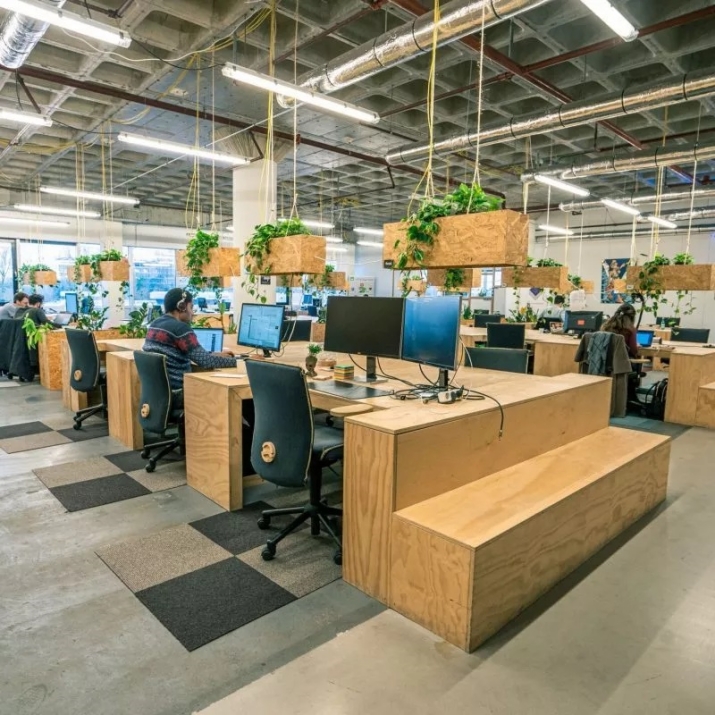 The most remarkable coworking space in Amsterdam, B. Building, has everything you can look for in a coworking space. It has a rooftop restaurant, boxing gym, padel courts, and event space. In addition to natural and fresh food, there is also a cocktail service and a coffee lounge with herbs of your choice.
Offering ample and comfortable spaces where you can work individually or as a team, B. Building also has fixed or flexible membership options. The private office has workspaces such as a flex or fixed desk and a startup floor. The working hours of the place, which has three different venues in Amsterdam, differ according to the buildings.
Fees: Starting from €90 per month 
Google Review Rating: 4,3 – May 2022
The Great Room One George Street, Singapore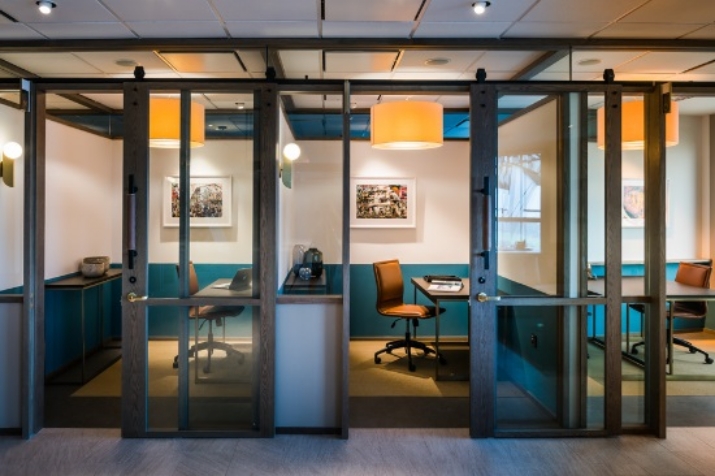 Established in 2016, The Great Room stands out as a magnificent coworking space. The space, designed by spreading modern and comfortable furniture over a wide area, brings together dark colors and wood. In addition to five different locations in Singapore, it also has branches in Hong Kong and Bangkok.
The Great Room provides many services besides the coworking space. Some of these are Monday breakfast club, office supplies, printer, business and lifestyle events, workshops, training and meetings, nursing room, and fast WiFi access. In addition to personal desks, there are also offices and daily work environments for small or large teams.
Fees: Starting from S$70 per day and S$175 per month   
Google Review Rating: 4.7 – May 2022
Punspace, Chiang Mai, Thailand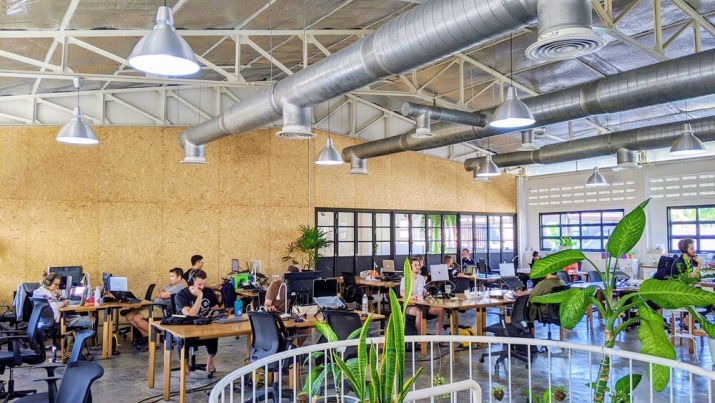 Punspace has two locations in Chiang Mai, Wiang Kaew, and The Phae Gate. The distance between them is only 15 minutes on foot. Both have a well-designed interior and an outside courtyard to relax in.
They provide services with locked rooms, private offices, and skype rooms. It also offers a smoking area, printer, photocopy, shower, and parking. You can also work daily at Punspace, which is open 24/7 for members. However, service is provided from Monday to Saturday from 9 a.m. to 6 p.m. for daily guests. There are three different entrances: hot desk, cool desk, and visitors. They each have hourly, monthly and yearly plans.
Fees: Starting from THB229 per day and THB2,499 per semester
Google Review Rating: 4.6 (Average of two locations) – May 2022
Dojo, Bali, Indonesia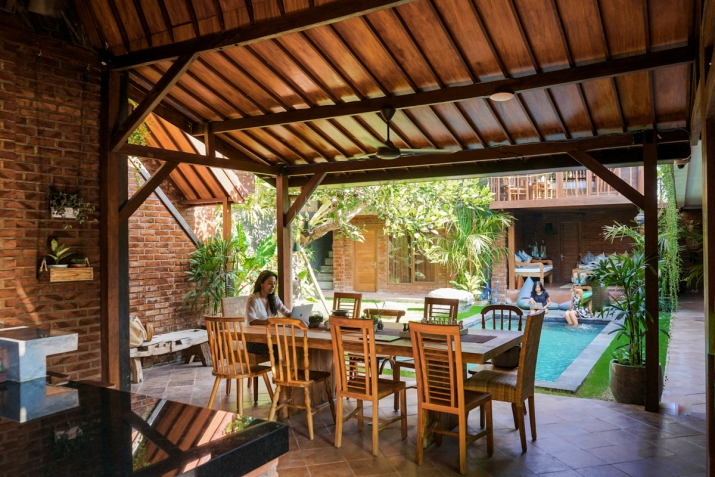 One of the most preferred coworking spaces in the world is Dojo. Located in a tropical and green area, Dojo is a few minutes from the beach. You can also cool off in the pool while you take a break. For those looking for a flexible workspace, Dojo Bali is a good alternative. It can be an excellent choice for those looking for a healthy social life and business area.
In addition to using a good internet provider, the two-story space has air-conditioned meeting rooms and rooms where you can work individually or with a team. It also provides opportunities to attend events, invite friends, or offers IT support.
Fees: Starting from IDR700 
Google Review Rating: 4.5 – May 2022
Duke Studios, Leeds, United Kingdom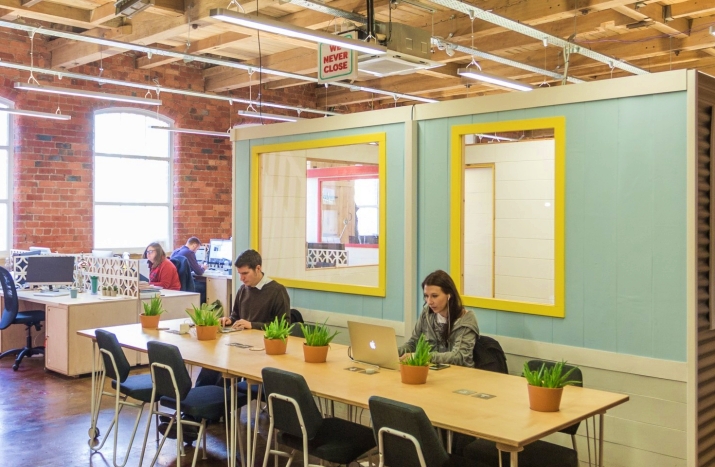 Duke Studios has an inspiring, colorful, and cool atmosphere. One of the best coworking spaces in the UK, the space is frequented by designers, copywriters, producers, and web developers.
The large desks and virtual offices at Duke Studios are suitable for individual and team workers. There are three options: coworking space, desk rental, and studio space. These membership types, which have minimum membership periods, are priced according to the facilities provided. Some of these facilities are meeting rooms, kitchens, and storage areas.
Fees: Starting from £145 per month
Google Review Rating: 4.4 – May 2022
The Bottom Line
There you have it…Some of the best coworking spaces in the world… This is just an introduction though, there are many other coworking spaces that offer great benefits to digital nomads and remote workers. Do you have a favorite coworking space? Let us know…
Frequently Asked Questions 
Who uses coworking spaces the most?
Coworking spaces are available to anyone who can work online. If we consider those who use coworking spaces the most, startup teams and small to medium-sized corporations come first. There are also entrepreneurs and corporate working remotely, freelancers, and digital nomads. It is used less frequently by large-scale corporations.
How do I find the best coworking space?
Finding the best coworking space for yourself or your team is entirely up to your preferences. At this point, you should consider what you need and the opportunities. First, you need to determine the location and budget. After that, you can decide on transportation, facilities, and infrastructure. Also, identify what you need, such as meeting rooms, community events, sports activities, cafe and restaurant facilities, or quiet workspaces. Once you determine which of these features you need, it will be much easier for you to find the best workspace. Also, don't forget to check feedback and google maps score.
What are the types of coworking spaces?
There are coworking spaces in many styles. These can vary by membership types, such as individual or teamwork, events, and facilities. These types can be listed as follows:
Traditional coworking spaces

Luxury coworking spaces

Condominium communities

Minimal coworking spaces

Coworking hostels

Coffee shop or restaurant with coworking spaces

In-store coworking

Virtual coworking spaces

Coworking with storage facilities

Coworking spaces for enterprises

Wellness coworking spaces
Why is coworking space in demand nowadays?
With the increase in remote working opportunities, the need for coworking spaces has also increased. Let's take a look at why employees prefer coworking spaces:


Teams often prefer collaborative workspaces because they increase cohesion and efficiency.

Working from home can be frustrating and boring for remote professionals. For this reason, they prefer coworking spaces to be motivated.

Working from home can be an obstacle due to remote working policies. The most logical solution for data security and technology is collaborative workspaces.

To not spoil the corporate culture, many institutions prefer collaborative workspaces.

Work flexibility is essential to offer employees a free and creative environment. Most coworking spaces are open 24/7, and employees can go when they're most productive. 

Coworking spaces are very convenient for you to meet and meet professionals. Coworking spaces are beneficial for improving your networking skills and meeting people from different sectors.