20 Best Places To Visit in France
Finally, it is time for a vacation. If you're heading to France, one of the most visited countries in Western Europe, it's time that you become familiar with the best places to visit there! France is a magnificent country with its geography, culture, cuisine, and people.
This is why I've prepared this article where I've added many places in France that are worth a visit. Continue reading to discover the real atmosphere of France and find out which places should be on your itinerary.
Best Places To Visit in France
Now, let's pack the bags, we are going to France. You'll learn and visit every corner of the country with pleasure thanks to this list! Enjoy!
1. Paris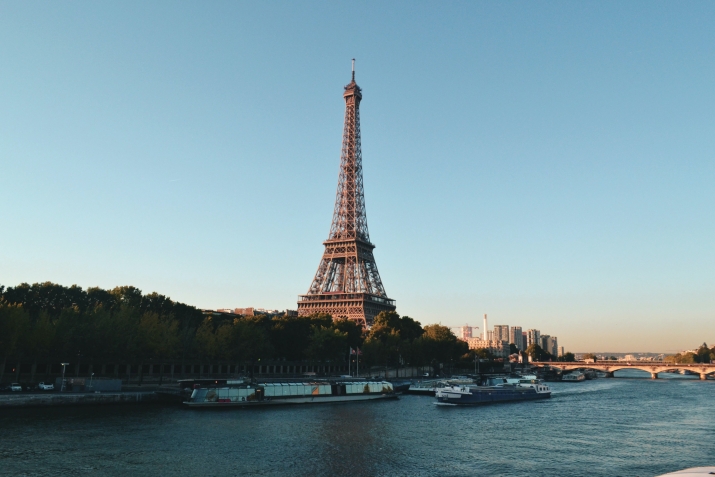 Paris is one of the most important centers in the world. It is also the capital city of France. It is a very important city with its culture, art, architecture and excellent restaurants. Of course, it is also a fashion center! The Seine River, which runs through Paris, gives the city a great charm. It would not be an exaggeration to call Paris the most beautiful city in Europe!
Here you will also feel like you are traveling in history. Many historical monuments and museums in the city are popular attractions. Tourists from all over the world crave to see Paris and once you're there you'll understand why.
Must-see places
Eiffel Tower
The Louvre Museum
Cathédrale Notre Dame de Paris
Palace of Versailles
Arc de Triomphe
Montmartre
Palais Garnier
Disneyland
Centre Pompidou
2. Bourdeaux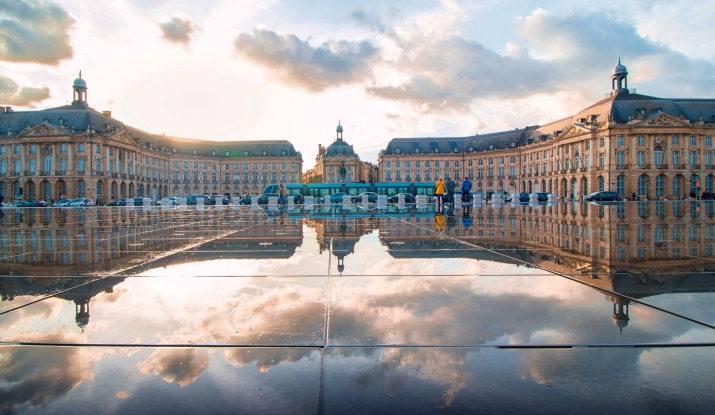 In our list, the second route is the charming city of Bourdeaux. If you have a car, you can go to this city from Paris in five hours. Good for you if you arrive before evening because you do not want to miss the sunset here! You can also taste great wines in Bordeaux as this is the famous wine region. Are you not a wine person? Then go for a coffee which is also very famous. Bordeaux is also a dynamic city, but not as much as Paris, of course. But if you are overwhelmed by the action of Paris, this would be a great route to unwind and calm down a bit.
Bordeaux is also a port city and half of the city is under UNESCO protection. Every year many tourists visit Bordeaux to see its museums, churches, cathedrals, and old mansions. In short, you should visit Bordeaux if you're heading to France. Planning a road trip can be a great idea too.
Must-see places
Cathedrale Saint-Andre
Le Grand Theatre
Place de la Bourse
Basilique Saint-Michel
Basilique Saint-Seurin
Place des Quinconces
Grand Théâtre de Bordeaux
3. Mont Saint-Michel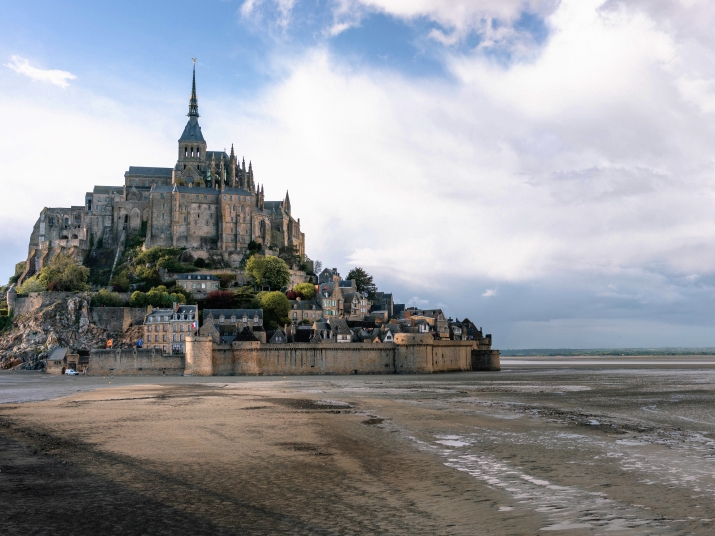 This wonderful island commune in Normandy is among the places you should see when you go to France. You will love the wonderful scenery. Located at the bottom of the Couesnon River, this beautiful island is surrounded by natural walls. It is also home to a very ancient monastery, named after the island. This monastery was a teaching place at that time.
This beautiful island is also on the UNESCO list. We claim that you will be fascinated by the calmness and nature of this place. It will also be a historical journey.
Must-see places
The Abbey
Tidal Island
Eglise Saint Pierre
The Parish Church
Museum of History
4. The French Riviera      
Do you like watching movies? Then, welcome to the French Riviera. This region is famous for Cannes Film Festival. It is also known for its picturesque villages, and local business groups, namely mesmerizing shoreline and potters. It's one of the most popular tourist destinations in France.
The French Riviera is located in the south of France. The view of the stunning coastline is wonderful. It will be a suitable place for your vacation plan as it hosts many holiday resorts. The region also has many health facilities which make it attractive for prospective retirees who are looking for a new home.
Must-see places
Eze
Grasse
Monaco
Menton
La Colline du Chateau
5. Arles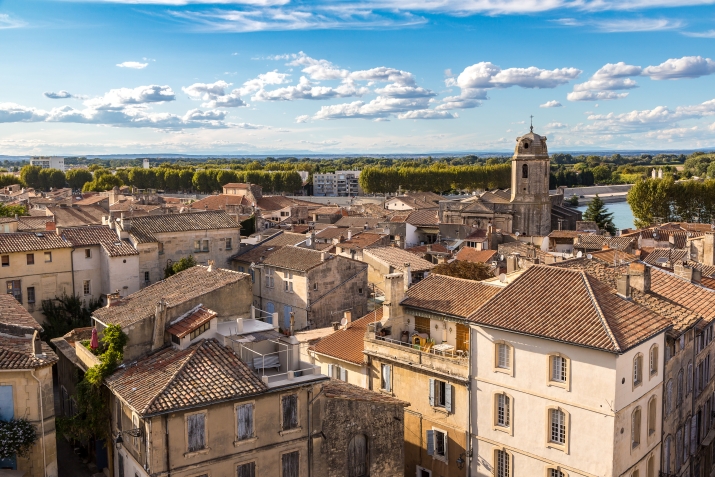 Another great place in France is a UNESCO World Heritage Site: Arles. This is an antique city where the Rhine River diverges to meet the sea. This city is built on a hill. You will find wonderful houses and roads in this ancient city.
Arles is a paradise if you love shopping! There are many shops in the city. Of course, we have not forgotten the hungry ones! You will also find many great restaurants where you can test the famous French food.
One of the most fascinating aspects of this city is that it is a source of inspiration for Vincent Van Gogh. It's known that Arles influenced his works.
Must-see places
Arles Amphitheatre
Alyscamps
Montmajour Abbey
Church of St. Trophime
Cloitre Saint-Trophime
Musee Departemental de l'Arles Antique
Fondation Vincent Van Gogh
6. Lyon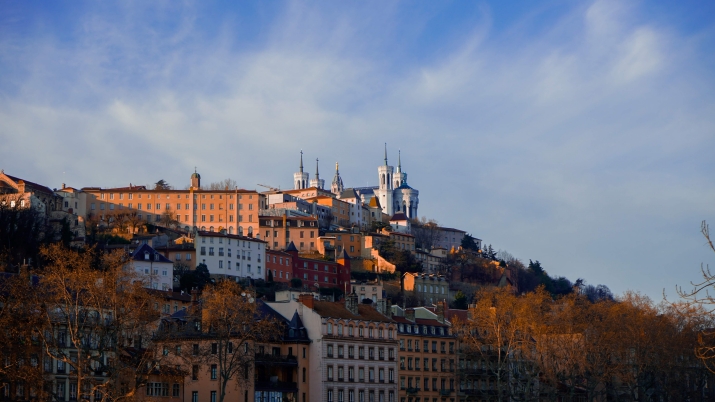 Food lovers unite! Because you need to visit Lyon. This is also a historical city and is also UNESCO World Heritage Site. Lyon is a big city that consists of two different parts. If you are interested in history, you should choose the historical city, known as Vieux Lyon. If you want to be more active, for example, if you want to be in the nightlife, you should choose the city part.
Lyon should be among the places you will see when you go to France. While you are there, you should not forget to visit the countryside because the views are magnificent.
Must-see places
Traboules
Fourviere Basilica
Parc de la Tete d'Or
Presqu'ile
Musee des Beaux-Arts de Lyon
Ancient Theatre of Fourviere
Gallo-Roman Museum of Lyon
Institut Lumiere
Musee Gadagne
Musee Miniature et Cinema
Lyon's Murals
Les Halles de Lyon Paul Bocuse
Lyon Cathedral
7. Biarritz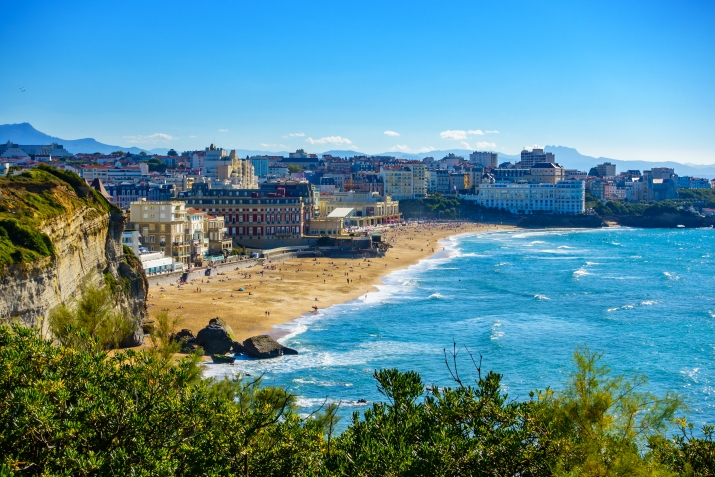 Here is a perfect seaside city! This is a real summer resort. That's why it gets crowded in summer. It is a very popular tourist place. As well as tourists, locals also love Biarritz and they spend their summers there.
If you are into sea sports, you should visit Biarritz. Surfing activities are very intense here. There are many surf training schools in the city and surfing competitions are held. Also, it has an active nightlife and is popular for its bars, clubs, and casinos.
Must-see places
Musee Bonnat
Grande Plage
Musee de la Mer
Phare de Biarritz
Rocher de la Vierge
8. Strasbourg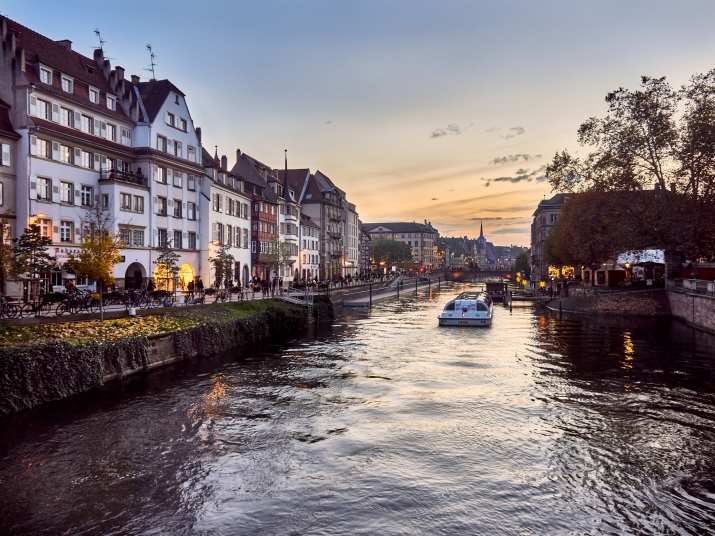 Strasbourg is located close to the German border. It is home to the European Parliament. It is possible to see German influence in this city due to its proximity to the German border. If you're visiting France, add Strasbourg to your itinerary.
If you come to France at Christmas time, you should visit Strasbourg because this is the Christmas capital! There is a heavy influx of visitors to the city during Christmas. During this period, the wonderful houses in the city offer a much more wonderful view under the lights. In addition to the small houses, it is also possible to see many works of Renaissance architecture in the city. Most of the places to visit in this city are located in the pedestrian area. So, be prepared to walk and explore a lot! If you wish, you can rent a bicycle or choose public transportation options such as trams.
Must-see places
Strasbourg Cathedral
Strasbourg Museum of Modern Art
Palais Rohan Strasbourg
Quartier des Tanneurs
Maison Kammerzell
Eglise de Saint-Thomas
9. Fontainebleau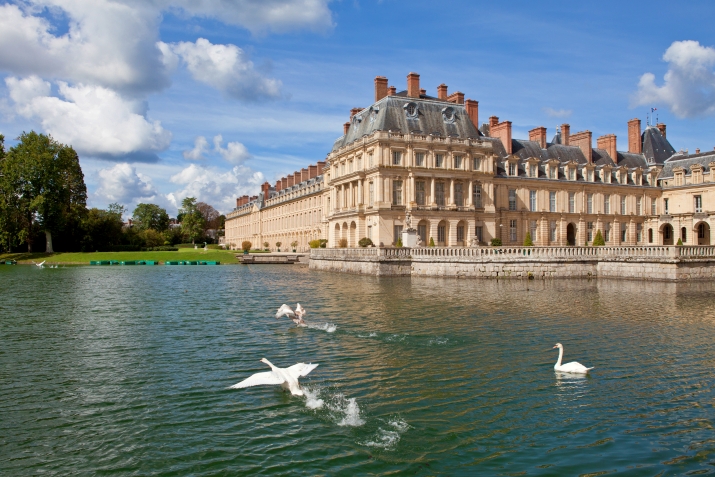 Fontainebleau, located in the southeast of Paris, is famous for its sumptuous Fontainebleau Palace. The Palace and Park of Fontainebleau served as the French sovereigns' residence up to the 19th century, during which time they regularly preserved and enhanced the palace with works of art.
This is a great spot for nature lovers and it's a popular vacation spot among tourists. One of the most beautiful parts of the town is that it is green all over which resembles a forest. If you like sports, it is also a great town for trekking and climbing. You should add this place to your list when you're traveling around France.
Must-see places
Chateau de Fontainebleau
Foret de Fontainebleau
Entrance to Chateau de Fontainebleau Grounds
10. Nice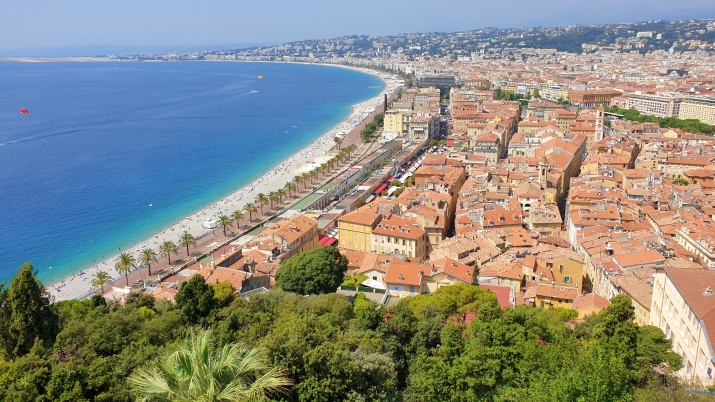 Nice is a wonderful city in the south of France. It attracts tourists mostly in summer because it is one of the most famous holiday resorts in the country. It is also one of the most luxurious destinations. Its long beach and promenade are world famous and worth seeing. In addition to its sandy beach, it is among the places you should see in France with its small charming villages, quality restaurants, and comfortable accommodation options.
Nice is also very enjoyable for water sports lovers. Almost all kinds of sea activities are available in the city.
Must-see places
Promenade des Anglais
Cimiez Region
Garibaldi
Cathedrale de Nice
Cathedrale Saint Reparate
Monastere de Cimiez
Musee des Arts Asiatiques
Notre Dame de Port Church
Chapelle de la Misericorde de Nice
Jardin Albert I
Opera de Nice
Zone Pietonne
11. Lourdes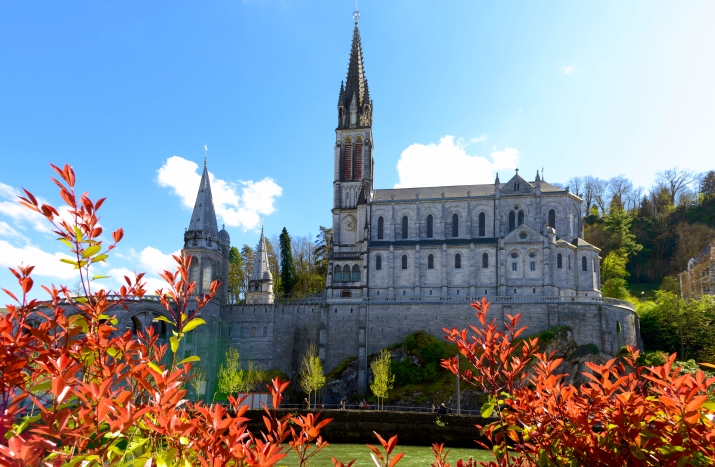 Lourdes is a place of pilgrimage. Its main landmark is the temple of Lourdes and this is a truly fascinating place. If you want to experience a different atmosphere, we recommend you to visit this region when you come to France.
When you're in Lourdes, take a stroll in the historic center while learning more about its history. Discover the city's secrets by exploring its little side alleyways and taking off on a culinary adventure.
Must-see places
Rosary Basilica
Sanctuary of Our Lady of Lourdes
Ossau Valley
Chateau fort de Lourdes
12. Chambord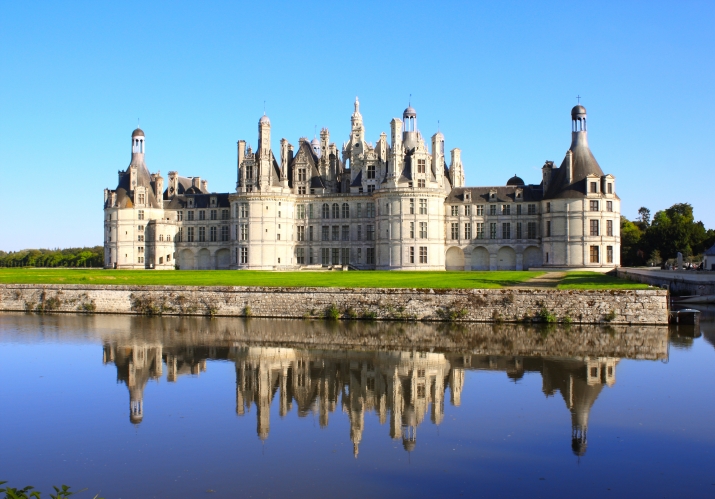 ''What's going on, are we in the Renaissance?'' You will find yourself saying that in Chambord. The city of Chambord is formed around Chateau. This is a magnificent building of the Renaissance period. Chambord will fascinate you with its wonderful architecture and works of art.
Must-see places
Chateau de Chambord
Eglise Saint Louis de Chambord
Domaine National de Chambord
Maison des Vinas a Chambord
13. Marseilles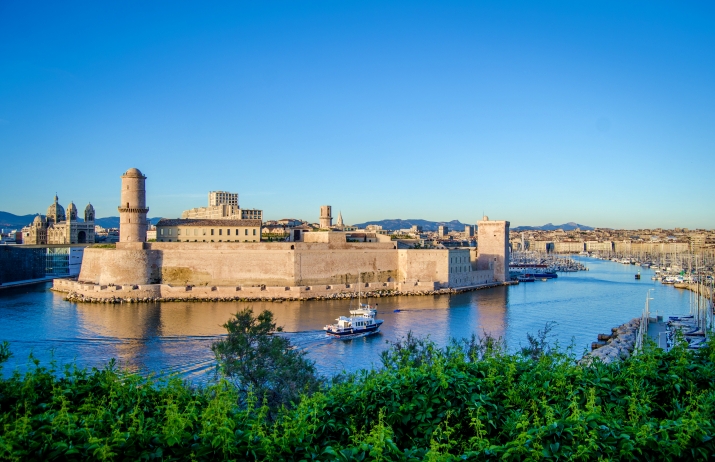 It would not be unfair to call this city the rival of Paris! This is the country's most important port and second largest city. When you come to this city, you will feel like you are in the Mediterranean.
The port of Marseilles is home to many bars, cafes, restaurants, and boutiques. If you're looking for a local vibe, add Marseille to your France itinerary.
Must-see places
Old Port
Basilique Notre-Dame de la Garde
Calanques National Park
Musee d'Histoire de Marseille
La Corniche
Le Panier
La Plaine and Noailles
Stade Velodrome
Boulevard Lonchamp
Cite Radieuse
Musee des Docks Romains
MuCEM
14. Burgundy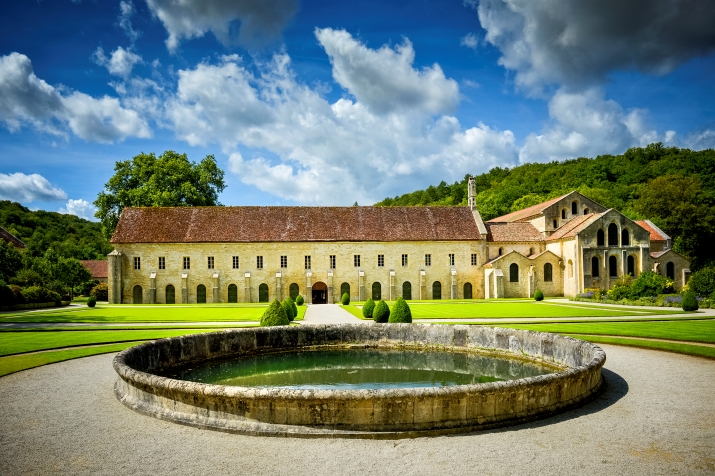 If you want to take some winding roads, you should visit this region. This is an old part of France and a tourist destination. Here you will find plenty of winding canals. Wine, palaces, museums, greenery, rolling vineyards, medieval villages… What more can we say?
The bumpy slopes are one of the most beautiful parts of this place. You will love the view here. If you are looking for some peace of mind, be sure to stop by here when you come to France.
Must-see places
Dijon
Nevers
Beaune
Macon
Autun
Auxerre
Vezelay
Avallon
Cluny
15. St. Jean Pied de Port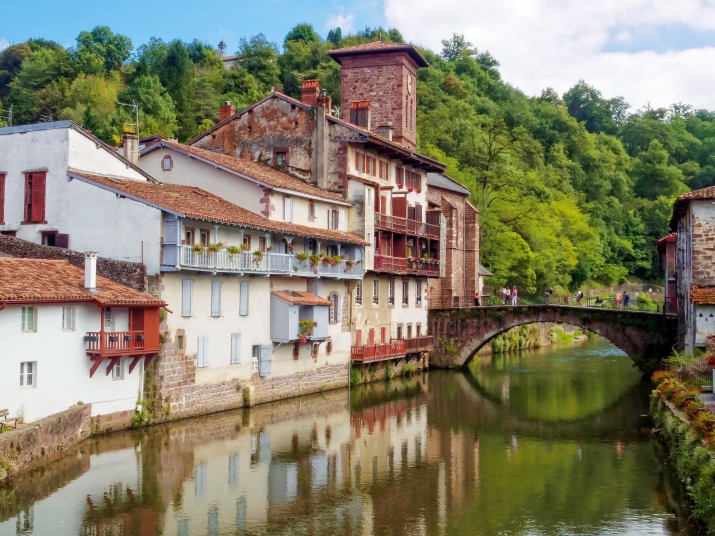 This picturesque village is a commune in southwest France's Pyrénées-Atlantiques region. It became famous after the movie "The Way'' was filmed here. The town is just a few kilometers from the Spanish border and it is an hour's drive from Biarritz. Why not take a road trip?
St. Jean Pied de Port is the ideal location for canyoning and potholing because of its proximity to the mountains and the Nive River, which flows through the area. There are a lot of hiking routes as well.
Must-see places
16. Annecy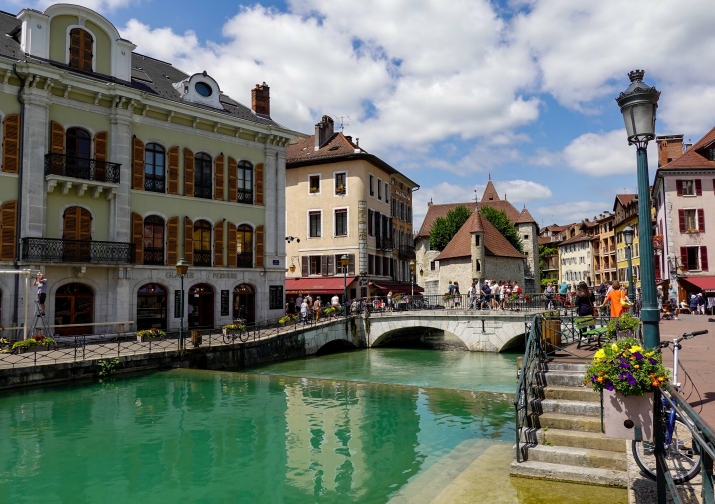 Imagine you're circled by a lake and mountains. Yes, you're in Annecy…A fascinating and diverse travel destination for a memorable adventure and to reconnect with nature! This river town lies at the confluence of the Thiou River and Lac Annecy.
Annecy is also considered a mountain town and is one of the most picturesque places in France. With its buildings and streets, it will give you the impression that you are walking in an antique city with many statues from the medieval period.
Must-see places
Palais de L'isle
Chateau d'Annecy
Semnoz
Basilique de la Visitation
Thiou
La Tournette
Pont des Amours
17. Eze
In the south of France, between Monaco and Nice, sits the picturesque hilltop medieval village of Eze. This place is also known as the eagle's nest in Southern France and is famous for the excellent views it offers. The fact that Eze is situated on top of a high cliff, 1,400 feet above sea level, with the Mediterranean Sea below it, accounts for the breathtaking views from every angle.
When you're visiting Eze, be prepared for a journey into the past. With cobbled streets, stone houses, and galleries from centuries ago, you'll not want to leave this town.
Must-see places
Streets of Eze Medieval Village
Notre Dame de I'Assomption
Eze's Jardin Exotique
Nietzche Path
18. Cassis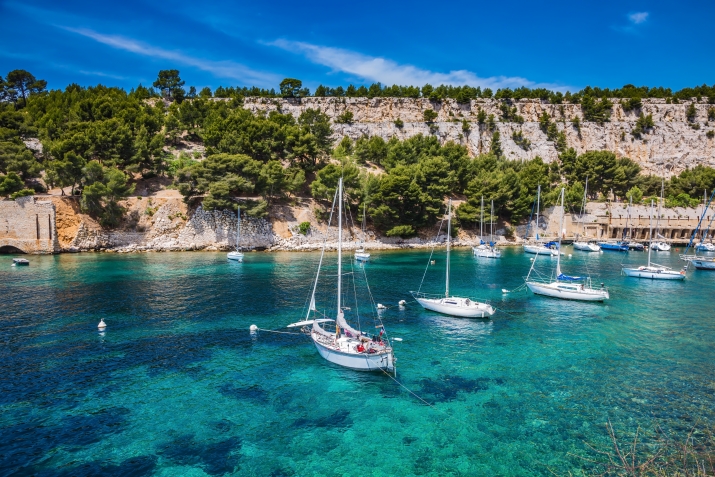 Another charming seaside town, Cassis is a village with an excellent location. It has a wonderful view among the towering limestone cliffs and ocher cliffs. You will also feel the Mediterranean climate to the fullest.
With its pastel-colored houses, winding streets, chirpy terraces, and rocky appearance, you will feel as if you are walking through a postcard. This place is also a paradise for lovers of outdoor sports. The cliffs provide a challenging walk on land. There are also mountain bike trails.
We have also suggestions for you to relax after tiring yourself! Be sure to go to the local market and buy lavender-scented items. They smell so good! Afterward, go wine tasting at a local vineyard and enjoy a fine meal.
Must-see places
Plage de la Grande Mer
Plage du Bestouan
Plage de I'Arene
Plage du Corton
Les Calanques Beaches
Port Miou Beach
Port Pin Beach
Calanque d'En Vau Beach
19. Rocamadour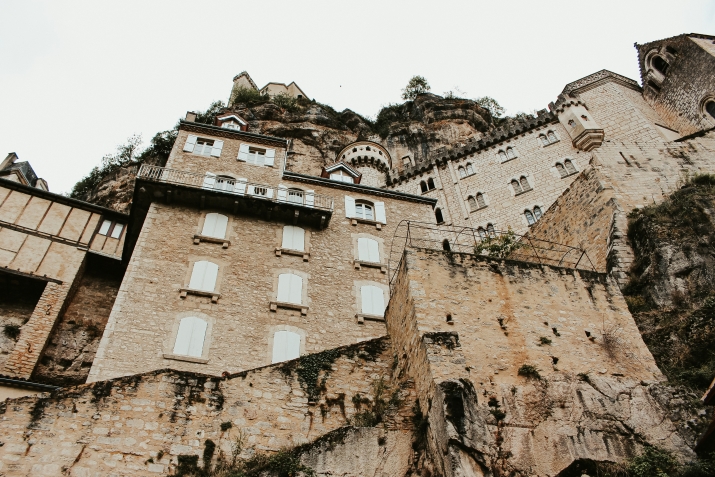 Here's a little town with international recognition. Rocamadour is a small clifftop village in south-central France and has always been an important pilgrimage site. It is perched 120 meters above a gorge where the Alzou, a tributary of the Dordogne, runs and was constructed on the cliffside in a series of levels. Homes, roofs, and churches all appear to be carved out of the rock.
Pilgrims came here to worship in the 12th century from all around Europe. The relics of Saint Amadour, a well-known hermit who sought seclusion in Rocamadour, and the legendary sword of Durandal were kept in the town. It served as the Black Virgin's sacred site as well.
Must-see places
Basilique Saint-Sauveur
Musée La Maison des Abeilles
20. Gordes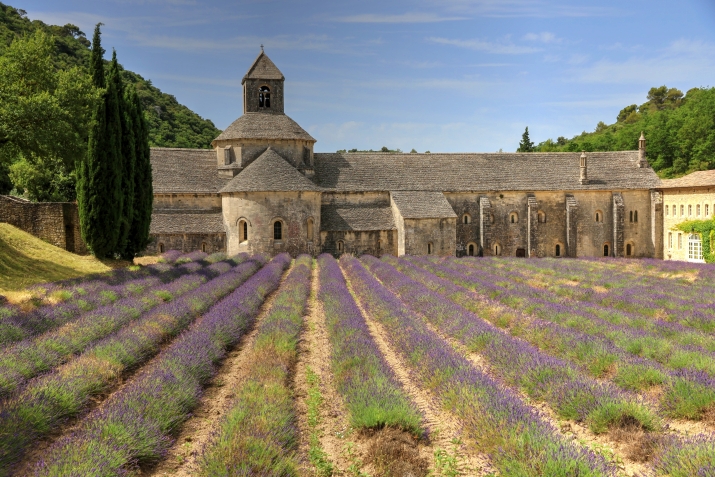 It is like a fairy tale! Gordes Village is one of the most touristic areas in the south of France. You can always discover something new by wandering around the labyrinthine side streets of this village.
During your breaks, you can have a snack from the various bakeries in the village. You can stop at the viewpoints and watch the views. While you are there, do not forget to visit Gordes market, which is set up every Tuesday morning during the summer months. You can find many beautiful products in this market such as olives, wine, cheese, and lavender sachets. Taking pictures in lavender fields would be good for your Instagram feed!
Must-see places
Le Chateau de Gordes
Les Caves du Palais Saint-Firmin
Eglise Saint-Firmin
The Bottom Line: Best Places To Visit in France
There you have it. We've given you an introduction to the best places to visit in France and famous landmarks in the country. France has kept its charm for many centuries and is a beautiful country that attracts millions of tourists every year.
Have you ever been to France? Are you planning to visit there soon? Hope our recommendations will be useful! Enjoy your trip to France!
Frequently Asked Questions About Places To Visit in France
What are three famous places in France?
To list three places, of course, Paris comes first. In addition to being the capital of the city, it is the most famous city in France with its architectural masterpieces such as Eiffel Tower and Notre Dame Cathedral.
Secondly, Bourdeaux. This city, which gives its name to France's world-famous wines, is one of the most famous and touristic destinations in France. If you visit France and add Bordeaux to your itinerary, plan a day trip to the Dune of Pilat, the tallest sand dune in Europe.
The third is Lyon. Lyon is the third place with its size and style that appeals to all segments. It is preferred by both those who love cultural trips and those who prefer a dynamic vacation.
What is France famous known for?
Wonderful places, cuisine, festivals, picturesque villages, architecture… Which one should we count? Yet, we have compiled a few for you.
Paris-the capital of the country and it is also a very romantic city. Moreover, of course, the Eiffel Tower!

French wine

Its history (French Revolution)

Art and artists 

French Riviera

The Alsace region
Why is Paris so famous?
Paris is famous for its lively life. Museums, galleries, architecture, cuisine… Besides, it is famous for being a very important city for the fashion world. It houses important structures such as the Eiffel Tower, Notre Dame, Arc de Triomphe, and Louvre. In short, Paris is so famous because of the possibilities the city offers. It's one of the best places to visit around the world.
If you're heading to Paris, you can do many day trips and explore the country easily. For example, the Champagne region can be reached in around two hours.
What is the most visited city in France?
It is Paris, the capital city. The most visited landmark in Paris is the Eiffel Tower. Paris also attracts a lot of tourists because it has so many famous French landmarks, such as Louvre Museum. If you're into French history, Paris should be on your itinerary. It's indeed a popular tourist destination but there are also many local elements in the city.
What is the most visited place in Paris?
It is the Eiffel Tower. It is also the most visited place in the world. Notre Dame Cathedral is another popular landmark.
What is France's famous food?
While visiting France, you should also spare some time to try French cuisine which is very extensive. Here are some of the most famous foods for you:
Baguette

Caramel au beurre sale

Cassoulet

Cheese

Chicken cordon blue

Crème Brulee

Crepes

Croissants

Eclairs

Macarons

Millefeuille

Onion soup

Ratatouille

Souffle
Apart from the food, French wine is also very famous. This is why wine lovers love France.
What are 5 French cities?
We can list them as Paris, Nice, Boudreaux, Lyon, and Strasbourg. These cities are important as they are home to famous French landmarks.
Strasbourg is an important city for the European Union and Europe. The city is the capital of the Alsace region. Since it hosts the European Parliament, it is also considered the capital of Europe in the world. Many sites in this city have been on the UNESCO World Heritage Site list since 1988.
Apart from these cities, other French cities are worth visiting. For example, if you want a beach holiday, consider visiting Saint Tropez, a famous holiday place in France.
What is the richest place in France?
Economically, the largest district of Paris, Ile-de-France is the richest district in the country. Culturally, it is Paris. It has so many iconic buildings and it's a popular tourist destination.