Is It Illegal To Sleep in Your Car?
Have you ever wondered if it's illegal to sleep in your car? Imagine, for example, you had to leave your home all of a sudden; are you in an area where you can sleep in your car? It's good to know that you are, in case such an event occurs.
In some cities, for example, it's forbidden to pull your car over and sleep. No federal or state law strictly prohibits sleeping in a car. However, municipalities and the judiciary have local regulations that can replace state and federal laws. For example, you cannot sleep in your car on the private property of someone or in an area where parking is prohibited. Moreover, in some cities, it is a crime to sleep in your car. 
In many areas, state law specifies certain places to park and sleep, such as rest areas, welcome centers, parks, and service plazas. If your parked car gets damaged by another vehicle or a person in these specified places, it can benefit from insurance.
In this article, we aim to inform you about the states and places where you're allowed to sleep in your car, as well as where and when you can park in these places.
Why Is It Illegal To Sleep in Your Car?
Driving tired is a dangerous thing that you should always avoid doing. However, can you pull over and sleep in your car if you're tired? 
As we've mentioned earlier, although no federal law directly prohibits this, it can still be forbidden in some states. We know this is a bit of a dilemma: you shouldn't be driving tired, but you can't pull the car and sleep either. Well, what are you going to do then?
There are various reasons why sleeping in your car is illegal, two of which are the most important. The first reason is to try and block too many homeless people from the popular areas in the city. The second reason is that long-term parking is prohibited in many public places anyway, which is not directly related to sleep. Let's go into a little more detail. 
1. Location
Most of the time, sleeping in your car is not what is illegal, but rather where you park to sleep. This may be the case at a stopover, a parking lot, or on the city streets. Parking your car for a long time in any space, in general, may constitute a problem. 
2. Laws
In this part, we elaborate on why sleeping in your car is strictly prohibited by laws in some places. Hence, it is more important. 
These laws were introduced to prevent cars from piling up in certain areas. For example, to prevent people from sleeping in cars near the city center or places like the beach. One of the cities that have the most strict attitudes on this matter, is probably Los Angeles. This is because there's a huge problem of homeless people there. This may sound interesting, but LA has gone even further to prohibit sitting inside a parked vehicle for a long time. Therefore, if you're caught sleeping in your car anywhere in LA, you may face heavy fines. 
Situation by State
Regardless of the state, it's illegal to sleep in your vehicle on someone else's private property without permission. Besides the laws concerning sleeping in the car, it's illegal as it's trespassing on private property. This is a law that doesn't change between states, just as it's illegal to drink and drive. 
Moreover, you shouldn't leave your car parked for too long in public places. At this point, the problem isn't that you sleep in your car, but that you occupy that area for too long by parking. 
In addition to federal law, each jurisdiction has its own law, according to which they may impose various restrictions or expectations. If you want to sleep in your car, all you have to do is look at the website of the municipality of the state that you are currently in. This way, you can learn about the specific laws in that municipality regarding where and how long you can sleep in the car. You can find the general parking guidelines on the website of the related council. Asking police officers is another option to find out where and how long you can sleep in your car. 
To cut a long story short, you should always remember that each state has different laws. Now, let's move on to giving you further information on the sleep-in-car laws of various states.
Alabama
You can't sleep in your car on highway shoulders in Alabama because parking is prohibited. You can sleep in resting places during the day. However, at night, it's illegal to sleep in resting places as well. 
In some cities in Alabama, sleeping in your car altogether is illegal, while in others, it's not. In some cases where you're sleeping in your car and drunk, you may even get arrested.
Alaska
In Alaska, you can park to sleep on highway shoulders and rest areas. There are no restrictions as to parking during the day or night here. There are a few places where parking during the night is illegal.
While sleeping in a car is generally legal in Alaska, it may be illegal to park on public property in some cities. For example, Anchorage only allows weekend parking on public streets or in parking lots. The allowed parking duration is 24 hours. 
Arizona
Arizona is one of the relatively comfortable states for sleeping in your car. You can sleep in your car at any rest stop, regardless of whether it's day or night. However, there's one condition: you're not allowed to camp. It's also forbidden to be drunk while in your vehicle. Getting caught drunk in your vehicle could get you arrested. Parking in the desert instead is a good idea. 
Arkansas
In Arkansas, it's legal to sleep in cars in cases of emergency, though, only for a night. The state doesn't look very kindly upon the car camps. It even went further to initiate attempts to ban them, as there were a large number of cars in a rest camp. 
Each city in Arkansas has its regulations and laws. Therefore, do your research on the parking rules and signs before you go, they'll vary from city to city.
California
It's legal during the day to sleep for 8 hours at any Golden State rest stop. However, it's illegal at night. Moreover, California is one of the states that declared war on car camps. Hence, you can't set up camp near your car. Apart from the rest stops, you can also find areas reserved for parking at night. You can research ahead about the parking rules and signs in California before going there. Keep in mind that you can't park on highways unless you have an emergency. 
Texas
Sleeping in your car is allowed in Texas unless you're drunk. If you're caught drinking in your parked car, you may get arrested. As in many other states, different cities have different laws in Texas. Therefore, it's best if you check the laws of your destination before you get on the move. Pay attention to the traffic and parking signs upon arriving at your destination, or get more detailed information using the municipality's website. For example, taking a short nap in a parking lot is free almost anywhere, but for a decent sleep, you may need to go to certain areas. You can also sleep in your car at state picnic areas or travel agencies.
West Virginia
There's no state law in West Virginia that prohibits sleeping in your car. However, parking laws can vary depending on the location. If you're going to stop for a short nap, you're free to do so at any parking lot. However, you'll have to be more selective at night because it's not legal to sleep in your car at any place you like during nighttime. For instance, you're allowed to sleep at rest stops day and night, but law enforcement will check up on you. Sleeping while drunk is illegal like in many other states, and you can get arrested for it. 
Oregon
Each jurisdiction has its separate laws in Oregon. You can find some laws printed on street signs or check the municipality's website for more accurate information. It's best if you do your research before you go there. Oregon's rest stops are convenient for sleeping in your car for a whole 12 hours. State and federal parks, and forests also offer designated areas for parking to sleep. For shorter naps, on the other hand, you might consider hospital parking lots. 
Tennessee
The government in Tennessee allows drivers to sleep in their cars unless they're on private property. Moreover, Tennessee has 24-hour rest stops where you can park for two hours. Some drivers prefer to sleep in their cars in federal parks or in the parking lots of department stores that are open 24/7. 
Colorado
You can sleep at the rest stops in Colorado during the day but not at night. Don't worry, though, Colorado has designated several parking spots for night parking. Check the state's municipal website to see these parking spaces. 
Some travelers say it's fine to park in a national forest while others argue that sleeping in your car in Colorado is generally comfortable, as long as you stay outside the big cities. 
Idaho
The sensitive issue in Idaho is camping, which you can't do in any way. You can't even lay a sleeping bag on the floor. However, it's possible to sleep up to 16 hours at any rest stop. Just don't set up a tent! 
Michigan
If you don't have a caravan, you can park and sleep in the parking lot of one of the parks in Michigan. Be sure to check the dates though, because the parks are only open during the summer season. You can also sleep in the state rest areas, or go to the Bureau of Land Management or the national forest.
Hawaii
You cannot sleep in your car in Hawaii in any public place between 6 p.m. and 6 a.m., meaning you can sleep in your car at any resting spot during the day but not at night. You can even sleep on private property if you get permission from the owner. The rules, however, vary depending on the county in Hawaii as well. In some districts, you cannot park on any road for more than 1 hour between 2 a.m. and 6 a.m. 
Georgia
You can legally sleep in your vehicle until 11 a.m in Georgia. However, you cannot pitch a tent at rest stops, or sleep on picnic tables. Highway shoulders are such that only those with emergencies are allowed to stop. In addition, you can park your car at any welcome center until 11 p.m. Don't forget to pay attention to the parking signs in Georgia as well.
New York
Each region has different restrictions and permits in New York. Therefore, you should watch out for the signs and do your research about the rules. However, New York, in general, has plenty of sleep-in-car facilities. There are plenty of welcome centers, rest areas, and parking areas. For instance, truckers are allowed to sleep up to 10 hours at any rest stop. For other drivers, on the other hand, this duration is typically around 3 hours. We recommend that you pay attention to the security of parking spaces. Try to get information online before going to New York.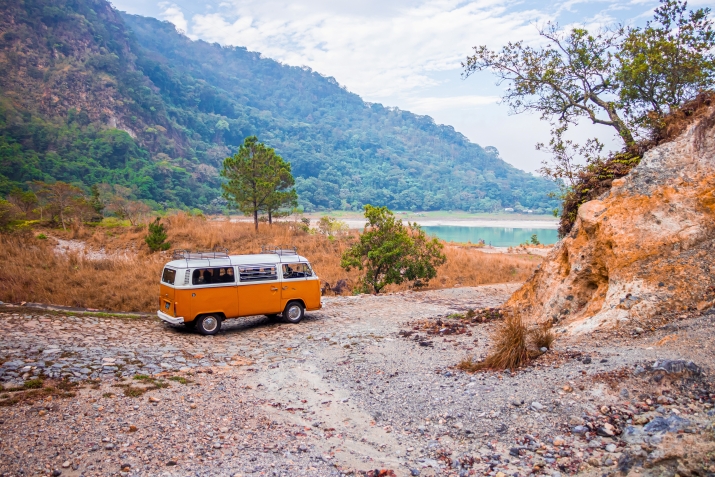 Sleeping in Your Car at Walmart
It can be difficult at times to find an available space to sleep in your car. We've established that it's forbidden to sleep in your car in some places. On the other hand, some places where you're allowed to sleep in your car may not be safe for you. Therefore, different questions come to mind such as "Is it legal to sleep in Walmart parking lots?"
Generally speaking, yes, you can sleep in your car at Walmart. There's no specific policy that prohibits or allows people to sleep in Walmart's car parks. Therefore, we can say that it's up to the store manager of the relevant Walmart store if they allow it or not. Most managers prefer not to do much about the issue. Some store managers carve out a special area of their parking lot with signs. 
Most Walmart locations have typically been safe sleeping places, especially for RVers and other travelers. There's just one thing: Walmart executives used to be more flexible about it. Now, however, caravans may not be allowed in some branches. 
You can also find information on the subject on the website of Walmart. It says there, they allow as much RV parking as they can in their store parking lots. However, the parking permit is given by the store managers. Therefore, you should talk to the store manager before preparing to sleep in your car. If you're on the road but not sure if you can sleep there or not, it's a good idea to call the manager of your Walmart on the go. 
Places To Sleep in Your Car Legally
Nobody wants to break the law and put themselves at risk, right? If you're a risk-averse person, here are some suggestions for legal places to sleep in your car:
#1
Your Own Property
No one can interfere with what you do on your own property! You can sleep as much as you want in your vehicle on your own property. This also applies to sleeping on someone else's private property, provided the owner is aware and has approved. 
#2
Rest Areas
You can sleep in your car legally in the rest areas. However, you should always consider the time limitations. All rest areas have set time limits for sleeping. These limits range from 2 to 24 hours. You'll also be relieved to know that you're in a safe rest area. The reason we mention this is that some passengers state that they don't feel safe while sleeping in their vehicles. To be sure, you can review the accommodation area on the internet and check its scores before you go.
#3
Truck Stops
Truck drivers are the occupational group that knows the best as to where to sleep. Due to long working hours, they have to park their vehicles in parking lots and take a nap. And, believe us when we say, they know safe and legal places. You can find truck stops listed on their website as well. One-night camping is also allowed at truck stops.
#4
24-Hour Open Stores
Sleeping in cars is generally legal in the parking lots of the shops that are open 24 hours. When you hear that, the first place that comes to mind is Walmart. And yes, one of the most comfortable of these stores is Walmart if you have an agreement with the store manager. It's a good idea to call the store manager to clarify before you go. The same suggestion goes for all other 24-hour stores. 
#5
Casino Parking Lots
Maybe this never crossed your mind before but is worth considering. Casino parking lots are a good choice for sleeping in your car because they're open 24 hours. 
An advantage of using a casino parking lot to sleep in your car is that you can use the bathroom facilities whenever you want, as customers are coming in and out 24 hours a day. Food is also usually cheap in casinos. Moreover, such parking lots are safe because casinos have high security. However, some casino managers may not want you to sleep in your vehicle outside their facilities. A quick tip: try not to stand out too much in places like this. 
#6
Camping Areas
There are campsites in many cities or proximate locations to cities. If your state has a campground where it's legal to sleep, it's a good and safe choice. Remember, though, you still need to check whether it's legal to sleep in the campsite in the area of your destination. 
#7
Welcome Centers
They're also known as information centers. These are safe places where it's legal to sleep in a car. They're usually free, but it's best to check the website before you go just to be sure. 
Once you've crossed state lines, you'll almost always find a welcome center. This also applies when entering national parks. Here, you can get information about where you're going, or you can relax and use the restrooms. And it's legal, of course! These places are also good choices for spending the night in terms of security. However, there are usually hour limits. 
#8
 Federal Lands
If your trip is long, you can usually find state-operated places like the National Forest Land or the Bureau of Land Management. These are public lands that offer free camping if it's legal in your area. Here you can get out of your car and sleep safely. You'll also make sure you're on legal federal land, which is very convenient!
#9
Religious Places
Church parking lots and religious buildings are also among the places where you can sleep legally. Historically, religious buildings have also always been seen as a place of charity. The people of the religious buildings are happy to help the people who need help, regardless of their faith. Therefore, if the only nearby places where you can sleep are religious buildings, don't hesitate to knock on their doors. If you don't coincide with the day of worship, which varies depending on the religion, they'll make you comfortable. 
Is It Illegal To Sleep in Your Car in Europe?
So, ever wondered what's the situation in Europe then? 
Let's say you're on the road and very tired. Is it illegal to sleep in a car? In Europe, too, laws vary from country to country. However, many EU countries are trying to prohibit drivers from sleeping in their vehicles. It may sound weird, but it is so. 
Let's talk about Germany, for example. In Germany, as a result of illegal parking, both the driver and the carriers are subject to serious fines for sleeping in the car. This amount starts from €60 and increases per hour.
The situation is no different in France and the fines are even higher. Moreover, in France, you can face not only fines but also jail time for illegal parking! While the situation is more or less similar in Belgium, this idea doesn't seem widely accepted in the Netherlands. Discussions are still going on.
Is It Illegal To Sleep in Your Car: The Bottom Line
In conclusion, decide for yourself whether or not you think it is illegal to sleep in your car. weigh the pros and cons we discussed here. if you do choose to sleep in your car, make sure you are aware of the local laws, and risks and take steps to minimize them as much as possible. Sleep safely!
Is it illegal to sleep in your car?
Yes, it is illegal to sleep overnight in your car in most places. There may be a few places where it is allowed, but they are not common. Before you decide to sleep in your car, make sure to make thorough research.
Why is sleeping inside a car illegal?
There are a few reasons why sleeping inside a car is illegal. One reason is that it can be unsafe, as the driver can be easily woken up by someone trying to get into the car. Another reason is that it can be disruptive to other drivers and pedestrians.
Is it illegal to sleep in your car in the UK?
Yes, it is illegal to sleep in your car in the UK. Section 115 of the Highway Code states that "You must not park on a road at night time with your engine running or leave a vehicle unattended with the engine running." This is because it can be dangerous and lead to theft or damage to your car.
Is it legal to sleep in Walmart parking lots?
Not all Walmarts allow overnight parking and the number of stores that do decreases day by day.
Some Walmart locations have always allowed overnight parking while others have not. Walmart stores that close at night are less likely to allow overnight parking, whereas stores that are open 24 hours are more likely to welcome visitors.
Can you sleep in a church parking lot overnight?
Yes, you can sleep in a church parking lot overnight if you have permission from the church. The church owns the parking lots, which are thus private property. As a result, you should seek permission from the church before parking overnight.
Many churches offer their parking lots as "safe havens" for people to spend the night in RVs and cars. It has been customary for places of worship to offer weary travelers an overnight rest for thousands of years. But getting approval first is necessary.