Indian Ocean islands: A Traveler's Paradise Guide
Where is your next vacation destination? Indian Ocean? Wonderful! There is no better way to rest, to relieve the tiredness of the year than a vacation in the Indian Ocean.
Warm sun, wonderful sunsets, and great cocktails… It offers a wonderful holiday with every element. So, have you decided which island to go to? Each of the Indian Ocean islands offers something different. Each of these islands is more beautiful than the other. However, some are more suitable for travelers, while others are more suitable for couples and some for families. It'll be good for you to know this information before you go. In this article, we'll talk about what each one has to offer and try to make it easier for you to choose.
Without further ado, let's get started. 
Maldives
Of course, we start with the first place that comes to mind. Maldives! This is a great getaway spot. Maldives, the smallest country in Asia, will seem like heaven to you. You'll lose yourself in the white sands of this place. Especially the deep blue waters… It's almost as if they were made by an artist. Its beauty is incredible. Colorful coral reefs look amazing. Is there a need to talk about the weather? Its warm and slightly windy weather will give you wonderful days. Sunsets are also beautiful here.
This place is mostly preferred by couples going on their honeymoon. Because it's a very romantic destination. You can spend very romantic days here. Enjoying diving, followed by a romantic meal in a wonderful restaurant. Isn't it a great plan? There are opportunities for every budget here.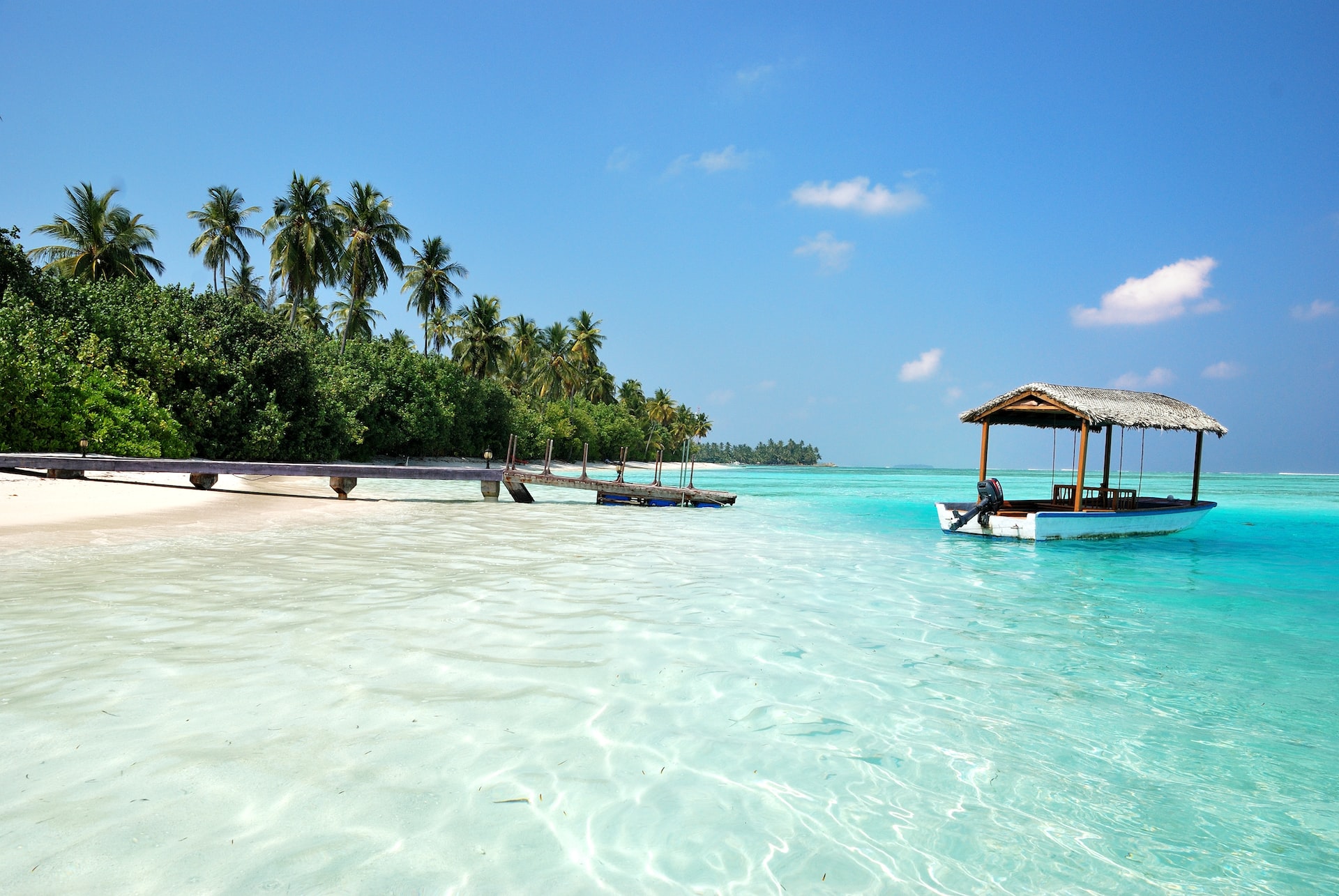 Mauritius
Again, we continue with an island that is very suitable for romantic days. Mauritius is also among the most preferred islands for a honeymoon. This island republic is located in the southeast of Africa. That's not just for honeymoons, beach lovers flock here every year. Because it has such a great beach! White sand, green mountainous fields…. And, magnificent fields. 
The capital of the island is the Port Louis region. This place is ideal for those who like active holidays. The city is very lively. The restaurants are open until late and even the beach gets very crowded at night. One of the best parts of this place is that it's suitable for visiting almost every time of the year. The air temperature is the same in almost every period of the year. However, if you want it to be warmer, it would be more appropriate to visit between spring and autumn. 
Seychelles
This is a country on its own. It promises many things to its visitors every year with its wonderful beaches and nature. Besides being a romantic area, this place is also preferred for sports activities. Also, nature trips are a wonderful experience. Everyone who comes to the Indian Ocean usually wants to see this place. It's almost like a paradise.
It consists of 115 islands belonging to the African continent. It's an archipelago. The interesting thing is that most of the islands are abandoned. So, we can say that this place is up to the tourists! Many areas are also nature reserves. There are places of untouched beauty. The waters are deep blue and ideal for swimming. It has warm water. Coral islands are amazing. If you want to have a holiday in the middle of tropical life, consider this place. The locals here are also great people and meeting them will be a great experience. 
Sri Lanka
And, we came to the last island on our list. This place is perhaps the favorite of many travelers. Sri Lanka! This place is located just south of India and has so much to offer. In addition to its wonderful beach, this place is also very rich in historical and biological terms. As you can see, there are maybe a hundred activities you can do here and it appeals to all types of holidaymakers. 
The capital of this place is Colombo. It's a very lively city and appeals to those who enjoy active holidays. If you want to be quieter, there are also many quiet towns you can see. For example, towns like Kandy or Sigiriya. Walking along the coast is a wonderful experience here. During the walk, you see many wonderful things. The climate here is somewhat variable. For this reason, we recommend that you pay attention to your coming days. For example, rains can occur from late July to early October as there are monsoons here. 
Activities and Experiences
Now, you know the islands. Then, what activities can be done on which island, and what should be experienced, we'll look at them? Let's start. 
Activities and Experiences
Now, you know the islands. Then, what activities can be done on which island, and what should be experienced, we'll look at them? Let's start. 
In Maldives
If there is a door that opens directly to the ocean from your hotel room, you're most likely in the Maldives. Is there anything more beautiful than this? However, there are many other things you can do when you're satisfied with this activity. For example, did you know that you can get tree climbing training here? You may not find such a chance anywhere else in the world. There are events with detailed information about coconut and date palm trees here. In these activities, you also learn how to climb these trees with traditional methods. If you're someone who is interested in the culture of the region you're visiting, you can find many activities related to this here. 
The main activities that can be done in Maldives
Snorkeling and diving
A romantic meal
Exploring the surrounding islands
Surfing, stand-up rowing, and fishing
Spa
Visiting local markets
Visiting Male town
In Mauritius
Mauritius has always been a favorite destination for travelers because it offers so many things to do. Another plus is that it's easy to access the island. More than 300 bird species live here. Wouldn't it be great to explore? It also has incredible diversity in the underwater world as well as on land.
In addition to all these, agriculture is very developed here. Sugar, tea, rum, etc. manufacturers are common here. It'll also be a wonderful experience to visit these fields. 
Activities to do in paradise Mauritius:
Playing golf

Touring colonial old cities

Hiking to the sacred lake in the crater of the extinct volcano

Going to Paradise Cove (especially if you're on a honeymoon)
In Seychelles
Seychelles has an interesting feature. And, we think you want to explore that. This is the only oceanic granite island in the world that wasn't formed by volcanoes. For this reason, the flora and fauna of this place are unique. It's truly unique! It's worth exploring the granite rocks hidden under the lush vegetation. Also, just sitting on the beach here is an experience in itself. White sands surrounding the deep blue waters… Moreover, all these natural beauties make an activity almost mandatory: snorkeling. You can also go to a more remote island by boat transfer. Here, you'll also see the beaked sea turtle, which is unfortunately in danger of extinction. 
Now, here's what you can do in Seychelles:
Land on the main island of Mahe, and you'll see Victoria there as well. This is a small capital.
Visiting La Digue and Praslin Islands
Seeing private islands like Fregate or North Island
Tasting great cuisine, a mix of French, Indian and African flavors
In Sri Lanka
If you want to explore the culture and nature of this place, you have to risk getting tired. Because there is so much to see. It can be a little difficult to fit in a short time, so we recommend that you add these activities to your schedule if you're coming to Sri Lanka. This place is home to legendary temples and ancient cities. Also, the beach is already great. Its biodiversity is very wide. The national parks here are a good way to see this diversity. Sigiriya is the ancient capital of this place. It's home to the Sacred Tooth Relic Temple, one of the holiest Buddhist sites in the world. 
What can you do in Sri Lanka, which has a magnificent nature and historical richness? Here:
Go on a wild safari

Joining a nature tour

Participate in water sports

Exploring Ayurveda. This is Sri Lanka's traditional medicine system. It's believed to have miraculous benefits, so its fame has spread throughout the world. 
Accommodation Options on Indian Ocean Islands
In Maldives
The Maldives appeals to many income groups with its accommodation possibilities. Depending on your financial situation, you can stay in a luxury overwater facility here. If you come with a lower budget, great bungalows will be waiting for you. At many luxury resorts in the Maldives, you get the experience of jumping straight into the ocean from your room. You can sip your cocktails in the pool and watch the sea from the pool. 
In Mauritius
We've mentioned that this place is intertwined with nature. Moreover, there are many places where you can find accommodation without breaking away from nature. Whatever you're looking for, we're sure you'll find a suitable accommodation option here. If you're looking for a villa getaway, we recommend Maradiva Villas Resort & Spa on the west coast. This place is preferred both for honeymoon getaways and for families because it's comfortable. It also has a pool. A real villa getaway, full of peace. If you head a little further southwest, we recommend St. Regis Resort. This place overlooks Brabant Mountain. It has an incredible view. Paradise Cove, on the other hand, is a place exclusively for adults. We can say that it's extremely suitable for a honeymoon. If you're on a family getaway, consider the Heritage Awali Golf & Spa Resort in the south. This place has an all-inclusive package, so it's ideal for families. You can spend a lot of fun with your family here. It also has a very stylish decoration. 
In Seychelles
When you stop by the big islands of Praslin and Mahe, you'll see that there are many hotels there. Hotels are good here, especially for families. You can choose rooms that connect to each other. There are also babysitting services and kids' clubs. So, you can safely entrust your children to the facility and go on a romantic date with your spouse. Consider the Constance Ephelia Resort in Mahe especially. If you're into cooking, the pizza-making courses here will interest you. Also, it doesn't end here. Here, many interesting activities such as treasure hunts and science lessons are offered to visitors. There are also many activities for children. For example, there are many activities such as ziplining, spas for kids, and hiking for families. Another advantage of Seychelles is that if you want to spend time in quiet places, such hotels are there. If you stay there, you can go on nature walks either on a tour or on your own. Also, not to forget Denis Island. This island looks like a shark's fin, so its image on the map is very interesting. Moreover, there are 25 cottages here and they're in seclusion. Ideal for those looking for a quiet place to stay. 
In Sri Lanka
There are also accommodation options in Sri Lanka that will appeal to every vacationer. You can stay in a more culturally rich area and be close to the temples, close to the beach, or stay in nature. Our recommendation is Galle Fort Hotel. This is located in the Galle region, so if you happen to be on that side, we say consider this place. Great local food is made here. You can have very enjoyable dinner meetings. Also, this place has a terrace which is great! It faces the sea and offers a magnificent view. We say enjoy drinking one of the nice cocktails while looking at the view on this terrace one evening.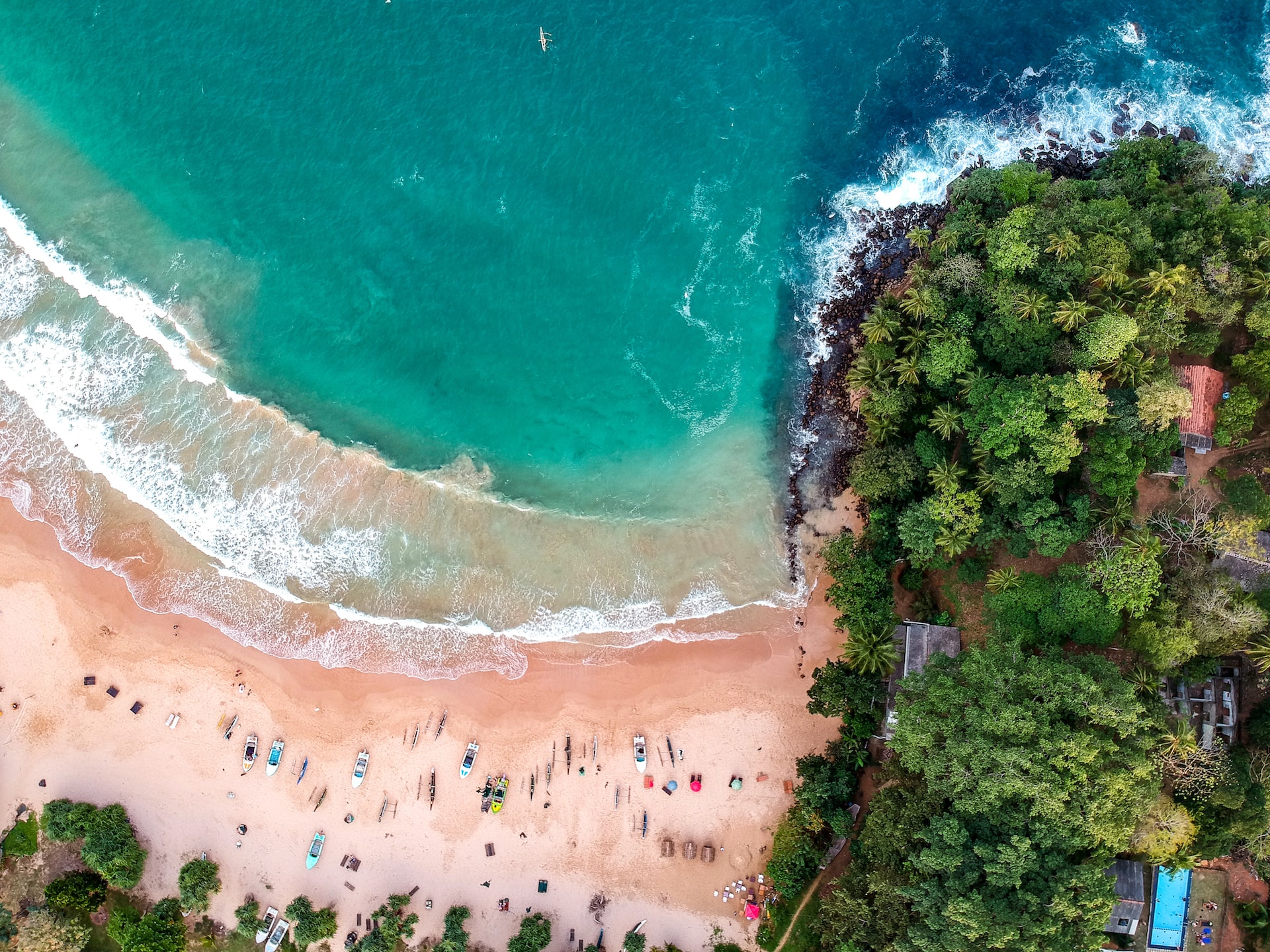 Conclusion
Yes, now you know a lot about the islands of the Indian Ocean. Isn't it time to stop dreaming and make dreams come true? Wonderful islands await you. A wonderful holiday that will relieve the tiredness of the whole year and be full of activities… It really sounds great.
We hope that in this article we've given you the necessary information to plan your holiday. Now, it's your turn. It's time to start planning your vacation. We wish you a good holiday in advance! 
FAQ
What are some popular island destinations in the Indian Ocean for travelers and digital nomads?
Some popular islands in the Indian Ocean include the Maldives, Seychelles, Mauritius, and Sri Lanka.
What kind of accommodation options are available on Indian Ocean islands?
Indian Ocean islands offer a variety of accommodation options, including luxury resorts, budget-friendly guesthouses, and vacation rentals.
What are some popular activities to do on Indian Ocean islands?
Popular activities include swimming and snorkeling in the crystal clear waters, lounging on the white sandy beaches, diving, and exploring the local culture and cuisine.
Are the Pacific Islands safe to visit?
Overall, the Pacific Islands are safe destinations to visit. It's always a good idea to exercise caution and be aware of your surroundings, but crime rates are generally low on the islands.
What is the best time of year to visit the Pacific Islands?
The best time to visit the Pacific Islands depends on your preferences and the specific island you are visiting. Some islands have a wet and dry season, while others have a more consistent climate throughout the year. It's a good idea to do some research and consider the weather and crowds when planning your trip.
Are Indian Ocean islands suitable for digital nomads?
Indian Ocean islands can be suitable for digital nomads, but it depends on the specific island and location. Some islands may have better internet connectivity and coworking spaces than others. It is recommended to research and plan ahead before moving to an Indian Ocean island as a digital nomad.
Are Indian Ocean islands safe for travelers?
Indian Ocean islands are generally considered safe for travelers. However, as with any travel destination, it is important to be aware of local laws and customs and to take the usual precautions to ensure the safety of yourself and your belongings.
What are the best months to visit Indian Ocean islands?
The best time to visit Indian Ocean islands depends on the specific island and what type of weather or activities you prefer. The Maldives and Seychelles have a dry season from December to April, while Mauritius and Sri Lanka have a peak season from December to March. For more information on the best time to visit, it is best to check with local authorities or your travel agent.