Uninhabited Islands around the World
Are you looking for a unique travel destination? Look no further than the world's many uninhabited islands. From tropical paradises to rugged landscapes, these remote destinations are perfect for adventurers looking to escape the hustle and bustle of everyday life. In this blog post, we will explore some of the most beautiful and fascinating uncharted islands around the world. From secluded coves to lush jungles, get ready to explore a world beyond your wildest dreams!
Definition of an Uninhabited Island
If you were stranded on a deserted island, who would you take with you? We always ask each other this question, but would you want to go to a deserted island? We recommend you to see these charming islands. They continue to fascinate many people every year with their beauty. There are many works about these islands, and they've inspired and continue to inspire artists over the years… These islands are located in the far corners of the world's oceans. Some are islands that have never been inhabited, while others are abandoned. These places are like paradise because it has surrendered themselves to nature.
Uninhabited Islands Around the World
Parts of the Maldives
Located in the middle of the Indian Ocean, Maldives is home to a magnificent archipelago. Consisting of almost more than 1000 islands, this beauty is home to a people only in a small part of it. Even in areas where people live, the population is very small. 
The wonderfuıl sandy beaches and the legendary green tropical vegetation of this place offer a view that you'll never forget for a lifetime. Let's emphasize that this place also appeals to luxury lovers. There are many five-star resorts here. For this reason, wealthy tourists also prefer to come. In addition, it's often preferred by couples who will come on their honeymoon, as it's a very romantic location. This place also has private islands and it would be a great idea to have a romantic vacation in the wilderness. Also, since there are many tour companies here, if you want to have a different experience, you can apply there. For example, these companies offer great tours throughout the island, and some offer overnight tent camping options. 
Auckland Islands
Second, on our list, we take you to a desolation in New Zealand. The Auckland Islands are located in New Zealand and are an archipelago of the Sub-Antarctic Islands. The settlement here actually dates back to ancient times. According to the research, the settlement here probably started in the 13th century. Traces of Polynesian settlement have been found, and these traces have also been found on Enderby Islands here. 
This is one of the oldest Polynesian settlements ever discovered, although it's located in the southernmost part. Moreover, there is an abandoned whaling ship here, and thanks to this ship, research begins on the island. In other words, we can easily say that this place has deep historical traces as well as all its natural beauty. This island is almost rediscovered and will give you an unforgettable holiday.
Clipperton Island
Clipperton Island is a very famous island. Maybe you've heard the name before. Well, do you know that this place is also an uninhabited island? Clipperton is one of the largest uninhabited islands in the Pacific Ocean. With a total area of six kilometers, Clipperton Island is considered a French territory and is located in southwestern Central America.
In addition to being considered a French region, the policy here has changed over the years. It has changed hands frequently between the French, Americans, and Mexicans in the last two centuries. So, although this place is in the middle of nowhere, you can find remains of many civilizations. The vegetation here isn't very dense. But, you'll see coconut and palm trees with majestic beauty. This is a largely abandoned area and this feature, attracts the attention of researchers. Many researchers come here as well as tourists who come here every year.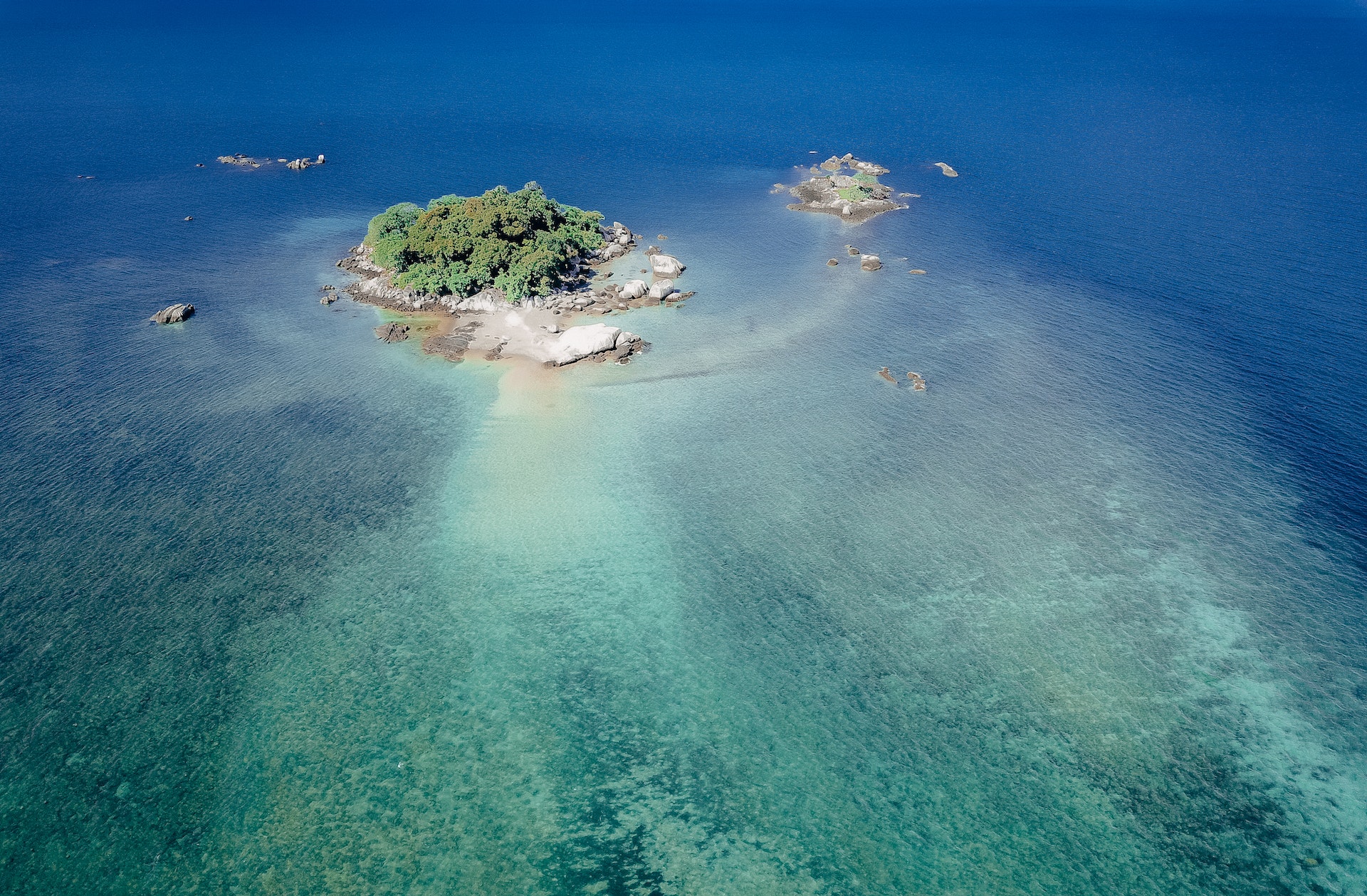 Henderson Island
Now, we'll talk about an uninhabited island where people cannot settle even if they wanted to. Henderson Island. This place is located in the South Pacific and is quite small. So, why did we say that people cannot settle down even if they want to? Because this place is made up of incredibly steep sea rocks and there is no fresh water source. Therefore, it's not a suitable area for settlement. This is a suitable place for adventurous holidaymakers.
So, what is it that makes this place so special? There is a diversity of animals here that you may never find anywhere else in the world. The animal species population is very high. We don't know which ones to count, but we would like to point out that there are four endemic bird species. So, it's a great location for bird watching. Also, the vegetation is unique. Here, you can take wonderful butterfly and snail photos. There are also untouched phosphate reserves here. A truly unique island. However, one of the biggest disadvantages of this place is that it's very dirty, unfortunately. Don't ask how this is possible when aren't living, unfortunately, it happens through the mixing of wastes with water. This is one of the places with the highest level of plastic pollution in the world. Maybe, when you come here you'll have a greater love for protecting nature. 
Mu Ko Ang Thong
We continue with the Golden Bowl Mu Ko Ang Thong. yes, you heard right, this translates as a golden bowl. Mu Ko means the group of islands. This place is located in the Gulf of Thailand. It consists of about 40 islands. It's a great archipelago. There are many limestone islands here. And, many of these islands are covered with tropical islands. If you ask why there is no settled life, the cliffs in the sea are very high and there are very interesting rock formations. It means that it's not very suitable for living, but it's great for traveling.
This place has wonderful white sand beaches. So, what can you discover here? A lot of things! The water here is shallow, making it suitable for snorkeling. While snorkeling, you'll see wonderful coral gardens. Bring underwater cameras with you! Many tourists choose to come here on a day trip from Ko Samui. This could be a good option for you too. We can also say that there is only one place for human life here. That's Ko Paluay. People who make their living by fishing live here. All other islands are uninhabited. 
Barra Isles
We can call this place the Scottish Islands. The uninhabited Scottish islands. On the other hand, they're more famous and known as Barra Isles like Bishop's Isles. It consists of nine small islands and only one of these islands is inhabited. It's Vatersay. The remaining 8 islands are uninhabited.
We can say that these islands are mysterious. Normally, no placement. However, some of the people who went here claim to have been settled. And, you won't believe it, but the percentage of those who say this is not small. These people report seeing a human population. The islands are close to the Scandinavian countries. The locations are pretty easy. Therefore, if you've planned a trip to Scotland, it'll be a good experience for you to visit its islands while you're there. And, if you're going to organize a trip to these uninhabited islands, we have a recommendation for you. Here is a pile called Biruaslum. We recommend seeing this stack. 
Jaco Island
This desolate island is also part of East Timor. It's located about half a mile from the mainland. This place attracts a lot of tourists every year with its wonderful untouched corners. It has white beaches with fine sand and wonderful blue waters. Especially those coral reefs! This is a great place to visit. We can even say that it's one of the most suitable places to visit among the uninhabited islands. 
This island is also part of the Nino Konis Santana National Park. This national park also has the distinction of being the first national park of East Timor. You know you won't be staying here because there is no one living here. Therefore, it would be good to come to this beautiful island for a day trip. It's also one of the most popular places among tourists. Here, you can negotiate with the fishermen and ask them to show you around. Local fishermen like to help visitors here. They'll gladly assist you with snorkeling or getting to know the beaches. 
Ball's Pyramid
We wanted to add an interesting rock island to our list. Ball's Pyramid is located in the Pacific Ocean. It's located southeast of Lord Howe Island. The elevation here is 562 meters (1844 feet). This is a really interesting natural beauty. It was formed as the remnant of a volcano that formed about 7 million years ago. 
Many adventure lovers want to climb this peak. If you like adventures like this, you can consider this place. However, it should be noted that it's not easy. Climbing here has a history. The first successful ascent here takes place in 1965. The achievers are a team of Australian mountaineers. Much more recently, another team here discovered an insect thought to be extinct. Stick beetle. These were located on Lord Howe Island and were long thought to be extinct. This insect is known as one of the rarest insects in the world due to its rediscovery and very few numbers. 
Okunoshima Island
Let's be a little scared, what do you think? This is one of the most popular uninhabited islands in the world. Also, it's a spooky uninhabited island.
You may have heard the name of this place in history. At the beginning of the twentieth century, this was a weapons center, and it remained unfortunate. Factories were established here to manufacture chemical weapons for Japan during the Second World War.  However, very interestingly, there are no people here today. It suddenly became of the uninhabited islands in the world. Moreover, what's even more interesting is that this place is full of rabbits right now. These rabbits, on the other hand, don't traditionally belong here. 
Aldabra Islands
We wanted to mention Aldabra Islands at the end of our list because it deserves to be on this list of the inhabited island. This place is located in the Indian Ocean. It's located in a remote corner of Seychelles. The island here consists of four coral islands surrounded by a coral reef. In addition to being desolate, we can easily say that it has magnificent beauty. It also revolves around a lagoon. 
This is the second largest coral island in the world, thus hosting a magnificent beauty. Another distinctive feature of this place is that it's home to the world's largest population of giant tortoises. It sounds interesting, but the turtle population here is estimated to be around 152.000. There is no human habitation here at all. However, this place has beautifully preserved and increased our hope for humanity. For example, military bases and permanent settlements were tried to be established here recently, but they were blocked by the surrounding people and this place was protected. 
Conclusion
In this article, we've tried to list the 10 most beautiful uninhabited islands for you. Since there are no settlements on these islands, the best way to visit is to organize a day trip to the surrounding cities.
We hope we've been able to assist you in planning your holidays and increasing your knowledge in general. We wish you a good holiday in advance!
What is the largest uninhabited island in the world?
The largest uninhabited island in the world is Robinson Crusoe Island, located off the coast of Chile. This remote destination offers an array of activities such as snorkeling and scuba diving, fishing, trekking, and camping. Visiting this enchanting island can be a truly one-of-a-kind experience
Where are the Solomon Islands?
The Solomon Islands is an archipelago of roughly 900 islands located in the South Pacific Ocean. It is situated east of Papua New Guinea and northeast of Australia, making it a popular destination for both international tourists and locals alike. The capital city Honiara sits on the main island of Guadalcanal and has beautiful beaches, incredible green scenery, and vibrant culture. The Solomon Islands is home to some of the most diverse marine life in the world, with coral reefs, lagoons, and vibrant tropical fish inhabiting its coastal waters. The islands are also known for their traditional villages, jungle treks, World War II memorials, and spectacular waterfalls.
Where are the Phoenix Islands?
The Phoenix Islands are a remote archipelago located in the central Pacific Ocean, east of Kiribati and southwest of Hawaii. This collection of uninhabited tropical islands is part of the Republic of Kiribati and has been declared a marine protected area since 2008. The islands offer visitors crystal clear waters, white sandy beaches, untouched coral reefs, and a variety of marine life.
What is Deserted Islands?
Deserted islands are uninhabited islands with no permanent inhabitants. These islands often have untouched jungles, white sand beaches, and crystal clear waters. They provide visitors with a unique experience, as they are able to explore the island's untouched flora and fauna without the presence of other people. Some of them have been turned into national parks or nature preserves, offering an opportunity for visitors to appreciate their natural beauty. There are countless islands scattered across the world, each with and crystal-clear waters, providing visitors with a truly unique experience.