Essential Skills to Do Well in Remote Work
Some people have just experienced this "new" way of working during the pandemic, while others have always been working this way. But one this is for sure, remote work is here to stay.
Every change causes some initial discomfort. In the quest to efficiently work remotely, we must be willing to learn new ways of doing things. That means developing new skills, improving knowledge, and getting better at something that we weren't necessarily good at or used to.
In this article, we'll list some skills that can contribute significantly to your day-to-day working from wherever you are, alone or in teams, in squads, in tribes.
It is worth remembering that, in the universe of remote work, there are three groups of people:
Those who are used to the "traditional" or "pre-pandemic" model: are probably more used to working under control, under the clock. If you belong to this category and want to excel at remote work, you alone need to have the ability to manage your time and activities.
People who already work remotely: If you've recently entered the workforce, chances are you only know remote work as a way of working. But remember that we are all learning to work remotely during the pandemic and the current economic slow-down. Not everyone knows how to self-manage. This is a skill that we can learn and improve. Empathize with those who are still trying to learn to work remotely. This includes yourself!
People who are looking for an opportunity to work remotely for the first time: we hope that this article will make you realize that each of the skills described here can be learned and improved
Let's go to the skills that are key to working well remotely!
Collaboration
It's crucial for the nature of remote work!
Many tools are used online to allow for collaborative work. It could be that the team works at different times, or it could even be that they work at the same time, updating the document in real-time. You do your part, your colleague does him, and so the delivery is complete. For example, this article was written by two team members using Google Docs!
In the document shared with the team, as in this example, you can enter comments and tag the team member who needs to see what you wrote. This is collaboration in practice: everyone does their part, focused on ensuring the delivery of what is agreed upon.
To be collaborative, it's nice to communicate with the team online.
Registering that a task has been completed – in the tool that the team uses – ensures that everyone can move forward in their routine knowing what is going on in the project. Ensure team alignment!
Do you realize that written communication, in a clear way, is also important? This is how, in writing, you will record the progress of your tasks so that the team can read an update on the project. We will talk about this later in the article.
Organization and Coaching
Even if you're not naturally organized, it's good that you recognize the importance of this skill for remote work. There are several methodologies and tools to help you in this regard.
Being organized means knowing which routine fits you the best. Do you know what time you feel most productive and do you use that to your advantage? Do you know how to organize your schedule to fulfill all the deliveries for the day and week?
When we started working remotely, we didn't know either! And we got better over time.
Just as important as getting organized is knowing when to take breaks and when to end the workday. Remember to stop to eat properly, to drink water, and also to pause to… do nothing for a few minutes!
In addition to your own ability to organize yourself in your daily routine, some tools or apps can help you stay focused and prioritize. There are thousands of options, free and paid, and here we like the simplest: Trello and Notion are widely used by the HappySoundsLike team. We also, of course, use Google Suite, which contains shared documents and sheets we can collaborate on.
Marc Stitt, CMO, from FMX believes that establishing a pervasive coaching culture can help to create an environment where employees feel encouraged in their growth. Employees recognize that the typical directed management style generates suffocating conditions that stifle talent development, resulting in poor business outcomes. Participants agreed that managers should acquire coaching skills such as asking the right questions rather than giving answers. They should listen carefully, empower people, and guide action plans. Long-term organizational benefits such as greater innovation and talent retention can also help with a coaching culture.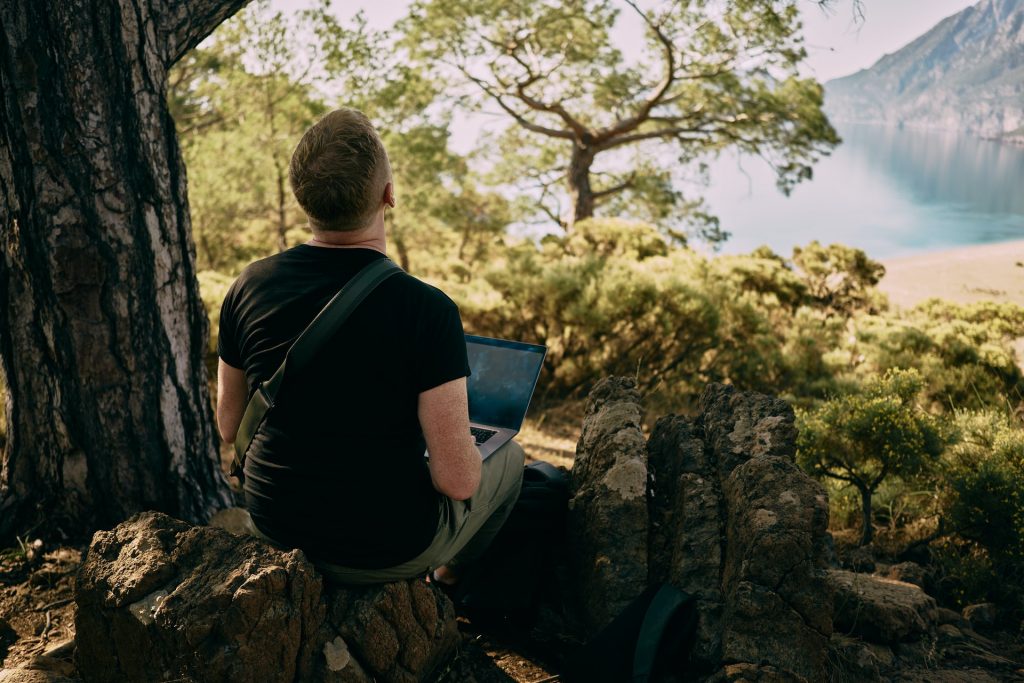 Self-Management and Autonomy
Your team is counting on you. The ability to self-manage is important in remote work as each person on the team is working in their own space and time, and you need to ensure that what has been agreed will be done.
Can you organize your schedule by yourself and carry out your activities within your daily working hours?
Do you know how to do this based on what was agreed between the team, according to the priorities and the agreed-upon deadlines?
Do you manage well on your own, autonomously, carrying out your planned activities?
You can work alone, in a small team, or in a large team. In any case, it is important to know and manage your own time, your own agenda, and your own priorities, to ensure that what has been agreed upon is delivered.
Of course, if you need help finishing a task, it's important to ask your colleague for help. Knowing when to ask for help is also part of knowing how to manage yourself.
Has anyone out there tried to bite more than they could chew? It's happened in our team! We're glad we learned our lesson and improved!
To improve self-management skills, you need to focus on ways to improve everyday tasks.
Some of these include:
Self-awareness: so that you can manage your time and make good career decisions, making the most of your behavioral skills and technical knowledge (hard and soft skills).
Prioritize: Clearly define what the most important responsibilities are and focus your attention on the most critical tasks.
Define your method: there are so many ways to manage time, streamline your daily activities and keep your to-do list organized. Test out different options and create your method. That app that works for your colleague may not work for you. And it's okay.
Create deadlines: define and organize each activity of the day and week.
Take one task at a time: so that the time — and the effort put into each one — is managed efficiently.
Take care of physical and mental health: with proper nutrition, regular exercise, and taking breaks.
Evaluate your progress: Carefully review all that you have accomplished along the way. The entire result of this assessment is feedback to further improve your work process.
Structured Communication
As your colleague is not on your side for you to nudge, quickly ask a question, and resolve any pending issues, it is important to record the progress of activities and projects in writing.
Some tips for the good use of the internal communication tools (whether Slack, Teams, Twist, WhatsApp, or any other):
Written communication among the remote team is much more important than meetings and video calls.
As the office is virtual, discussions need to happen online too, in the tools that the team uses.
Prioritize writing messages in groups, and not in private chat, because that way the information is available for everyone. This makes it super easy for you and other people on the team to retrieve the information now and in the future.
Is it just too complicated to express what you are doing in writing? Use and abuse resources like Loom or Stream! So the context of your message is complete.
It is essential to ensure that everyone has access to complete and contextualized information. The documents are in the cloud (on Google Drive or OneDrive, for example), so it's nice that everyone knows how the documents are organized.
Prioritizing the group, and not the private chat, the decisions that were made and the important documents are accessible for consultation in the future. This is super important, you know why? Interrupting a person to ask something is a habit of the old way of working… Many times we simply need information, so we can just access the document.
The more complete your message, the better! That way your colleague doesn't have to interrupt you afterward asking for something that was missing.
Remember that each of your colleagues is working on their own time. Be empathetic, provide all the information they need, and leave it all recorded so they can read (or watch the video) and go about their work with peace of mind.
Carefully choose who should be tagged in a message from you, as an on-screen notification is an interruption in your colleague's work. Empathy helps.
The purpose of structured communication in remote work is to keep the team aligned. When communicating something to someone in the internal communication tool your team uses, think of it as writing a summary of what you want to say to the person. Explain the context of the situation and include all necessary information. The message needs to be complete and written clearly. Include links to documents that people need access to. So everyone is on the same page.
Structured communication doesn't mean boring and dry communication. Use emojis, and gifs, be fun!
Having read this far, you realize that this article is focused on behavioral skills, also called soft skills. Technical knowledge and the right tools are also important when working remotely. Remember that we can learn a lot online, knowledge is accessible with just a few clicks – and there is a lot of free quality content available! We encourage you to dig deeper, read other articles on HappySoundsLike, and Google those subjects that interest you most in the world of remote work.
The goal is to always improve and make remote work better and more efficient. If these tips are helpful to you, share them with your colleagues and friends, please!