Top 10 Best Cities To Visit in Eastern Europe
Eastern European cities are still full of undiscovered beauty. You can experience delicious cuisines, medieval castles, and unique architecture for less money than you'd spend in Western Europe.
Eastern Europe is ignored due to political turmoil and economic conditions. However, it is full of eye-catching cities where historical textures meet modern architecture. The dazzling view of the Adriatic Sea reveals its value with its centuries-old cities, colorful streets, and modern cafes.
If you haven't visited Eastern Europe yet, you're lucky because there are many cities to explore. Prague and Budapest are popular destinations for visitors, while St. Petersburg, Kyiv, Tallinn, Dubrovnik, Krakow, and other glamorous cities of Eastern Europe are very attractive.
Best Eastern European Cities
We have listed the top ten cities you must visit if you plan a trip to Eastern Europe. Every part of Eastern Europe has sights worth seeing. If you can't choose the cities you want to see, this list will help you set priorities.
Let's take a closer look at the best cities to visit in Eastern Europe. 
1. Prague, Czech Republic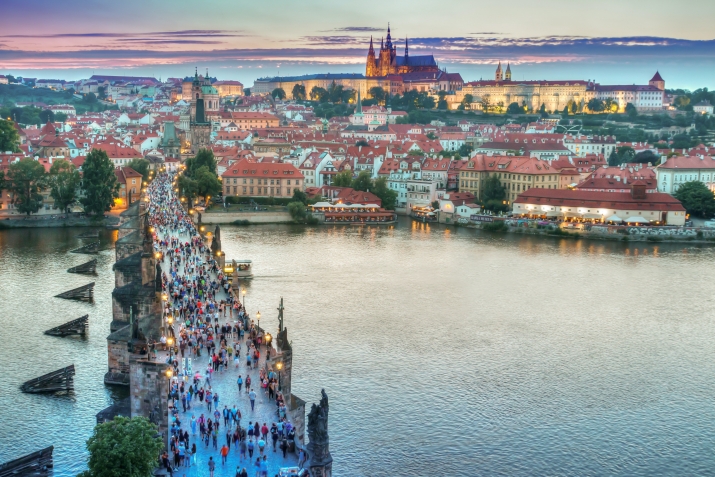 Prague is one of the first cities that come to mind when talking about Eastern European cities. It has been subject to many invasions, massacres, attacks, and natural disasters in its history, going back to 870 AD. Prague, the capital of the Czech Republic, has managed to survive despite many events threatening the city.
Prague has also become a historical attraction for tourists. Although other European cities have overshadowed it, it has become one of the leading European cities for affordable holidays. With its narrow streets, bridges lined with statues, historical churches, and mysterious atmosphere, Prague is a city in the focus of tourists.
In addition to its history, Prague is also a city full of culture and art. Visitors to the city should definitely see the galleries and museums. In addition, concert halls, theaters, shelters from the Cold War, and the Strahov Library await its visitors.  
Best Places To Visit in Prague
Charles Bridge

Old Town Square

Prague Castle

St. Vitus Cathedral

National Theatre

Prague Astronomical Clock
Petrin Hill

Wallenstein Garden 

St. Nicholas Church

Karlštejn Castle
2. Budapest, Hungary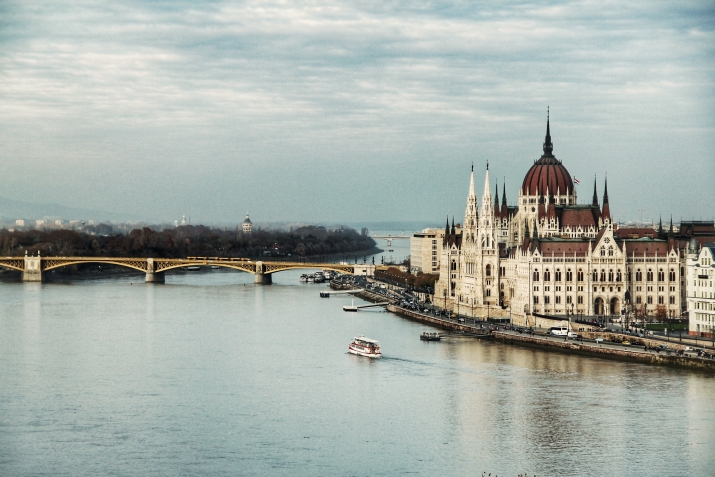 Known as the "Pearl of the Danube", Budapest is one of the attractions of Europe with its art, history, architectural richness, and good food. The Danube river divides the city into two: Buda and Pest. Budapest was formed by the merging of these two sides in 1873. Opened in 1849, the Széchenyi Chain Bridge connects the cities of Buda and Pest.
Visitors can explore Budapest on foot or using the metro, Europe's oldest electrified underground system. Also, the currency of Budapest is the Hungarian Forint. This way, unlike in many European countries, you can have a more affordable holiday.
In Budapest, you can feel the influence of Turkish and Roman cultures with its food, culture, and architectural structure. The thermal baths unique to Hungary are still popular cultural items, like the Szechenyi and Rudas baths. There are also day trips to places such as the town of Eger, famous for its Baroque churches and baths.
Best Places To Visit in Budapest
Danube River

Fisherman's Bastion

Castle Hill

Hungarian Parliament 

Széchenyi Chain Bridge

Heroes' Square
Buda Castle

St. Stephen's Basilica

Matthias Church

Thermal Baths
3. Tallinn, Estonia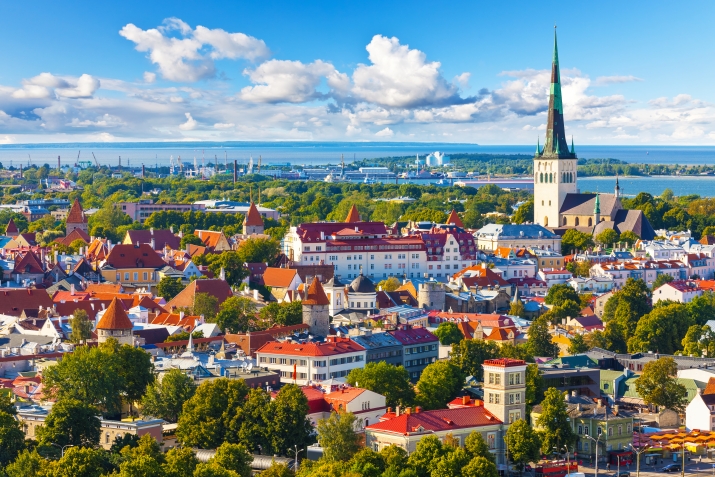 Tallinn, the capital and central port city of Estonia, is a city where blue waters and historical buildings meet. Besides being the capital of Estonia, Tallinn is the country's heartland in terms of culture, industry, and finance. Business centers, shopping centers, and restaurants that have developed while preserving the city's historical texture have made Tallinn the meeting point of the old and the new.
Tallinn, with its colorful buildings, cobbled streets, UNESCO World Heritage Site Old Town, and museums, is a hidden gem of Europe.
The cuisine of Tallinn, an authentic medieval city, is also highly developed. You can taste bear, deer and rabbit meat in many restaurants that reflect the spirit of the Middle Ages. There are also many foods and drinks unique to Tallinn. Honey beer, garlic ice cream, spicy candied almonds, glögg, and pavlova are different flavors you can try in Tallinn. In addition, kefir, hot chocolate, hamburger, and game meat are also featured in many restaurants in Tallinn.
Best Places To Visit in Tallinn
Tallinn Old Town

St. Alexander Nevsky Cathedral

Kadriorg Art Museum

St. Olaf's Church 

Lennusadam

Toompea Castle
Kadriorg Park

Kumu Art Museum

Tallinn Town Hall

Viru Gate
4. Ljubljana, Slovenia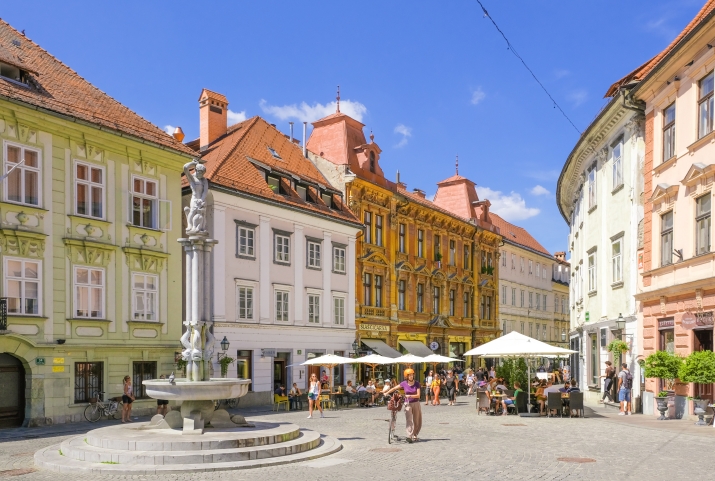 Ljubljana is an excellent city for a weekend getaway or a few days. Ljubljana is Slovenia's capital and is a remarkable place among the historic cities of Eastern Europe. The town, in the middle of the Alps and the Mediterranean, has historical and natural beauties.
Ljubljana, which resembles Prague architecturally, is a city famous for its bridges. The four dragons placed at the ends of the Dragon Bridge are among the city's iconic structures. The Ljubljanica River is a magical city with bike paths, wide green spaces, pedestrian-friendly streets, and postcard-worthy scenery.
Ljubljana is a city that makes a difference not only with its historical buildings and nature but also with its food and beverages. Things you should definitely taste while you are in Ljubljana:
Mushroom soup made with products specific to the region,

Local dessert Prekmurska,

Bograç, a Hungarian dish,

Kraski Prsut, a snack unique to Ljubljana,

Sljivovica, known as plum raki.
Best Places to Visit in Ljubljana
Ljubljana Old Town

Ljubljana Castle

Ljubljanica River

Tivoli Park

Dragon Bridge

Tromostovje (Triple Bridge)
Prešeren Square

Ljubljana Cathedral

National Gallery

Butchers' Bridge
5. Krakow, Poland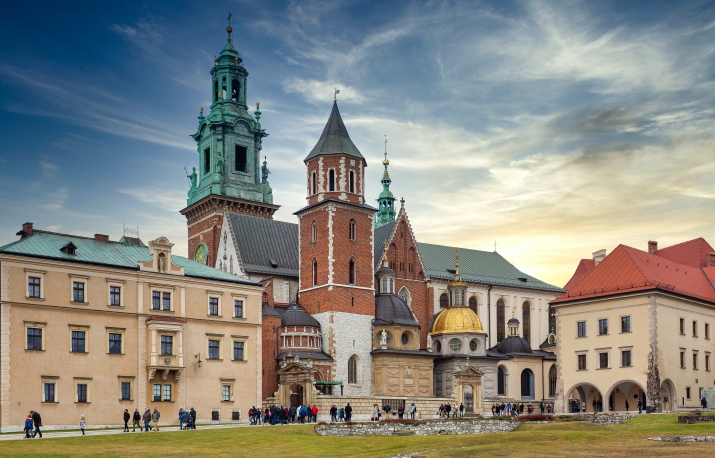 Krakow, a medieval city, is one of Europe's cities with a unique history. Krakow, which has been the capital of Poland for many years, is also the country's cultural center with works from the Baroque, Gothic, and Renaissance periods.
Krakow was one of Europe's most developed trading points in the Middle Ages. The city, lively even in the Middle Ages, is still very popular with its cobbled streets, restaurants, and crowded square. Many artifacts in Krakow are still carefully preserved, as the city was almost undamaged during the Second World War. 13th and 14th-century architectural remains in the town.
Another event that makes Krakow notorious is the shooting of the Oscar-winning Schindler's List in Kazimierz, the Jewish quarter. Evacuated after WWII, the Jewish quarter became a popular destination after Schindler's List. Now brimming with Jewish shops and synagogues, the neighborhood offers a welcoming atmosphere to visitors.
Best Places To Visit in Krakow
Wawel Royal Castle

Wieliczka Salt Mine

Rynek Główny

St. Mary's Basilica

The Cloth Hall

Town Hall Tower
Oscar Schindler's Enamel Factory

St. Florian's Gate

Rynek Underground Museum

Kraków Barbican
6. Kyiv, Ukraine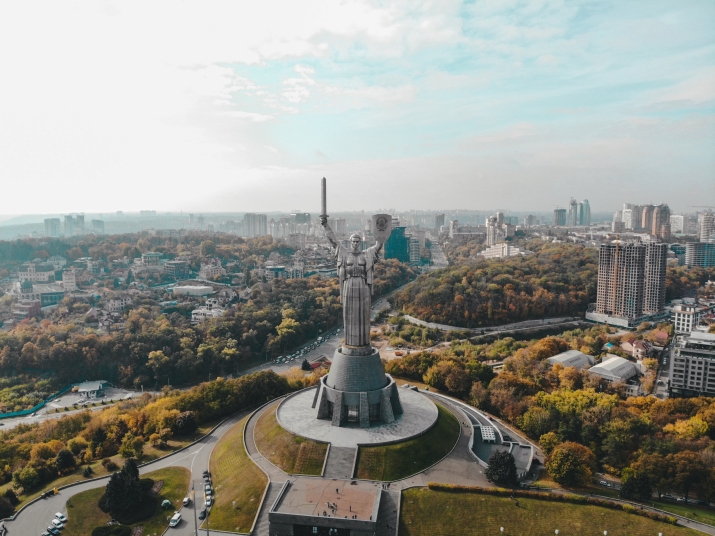 One of the most popular destinations in Eastern Europe is Kyiv. It is also interesting that it is more affordable and budget-friendly than many European cities. There are so many things to do in the city, its historical richness, and the effect of Chernobyl being one of the frequent tourist destinations.
Trips to the abandoned towns of Pripyat and Chernobyl have recently been under intense interest from both vloggers and tourists. Many YouTubers take trips to promote the region, and many visitors come from different parts of the world.
In addition, Kyiv, which has recently experienced a kind of renaissance, attracts attention with its new-style cafes, museums, restaurants, and art galleries. There are many places in Kyiv where you can plan a trip according to your travel style. If you are planning a historical journey, there are many artifacts you can see, from examples of Baroque architecture to palaces. Or you can have a pleasant time on the beautiful beaches on the banks of the Dnieper River.
Best Places to Visit in Kyiv
St. Sophia's Cathedral

Kyiv Pechersk Lavra

Ukrainian Motherland Monument

St. Andrew's Church

Golden Gate

St. Michael's Golden-Domed Monastery
Ukrainian National Chernobyl Museum

Independence Square

Andriivs'kyi Descent

Gorodetsky House
7. St. Petersburg, Russia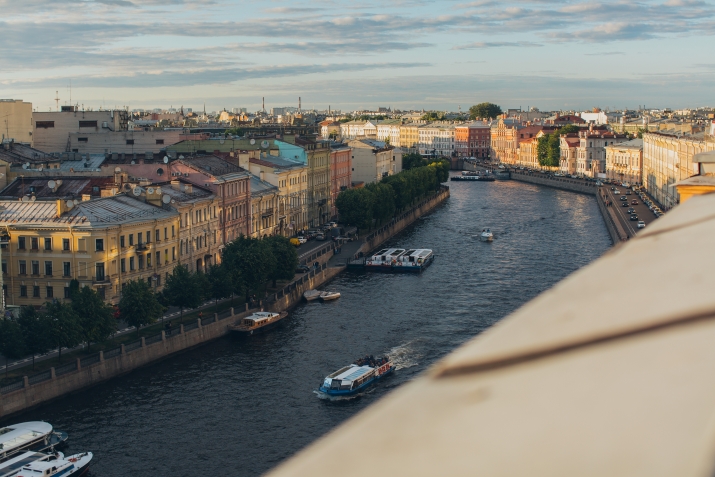 Known as the Venice of the North, St. Petersburg is the second largest city in Russia. Paris, Stockholm, Amsterdam, and Vienna have greatly influenced its architecture. In addition to its architectural diversity, it also hosts the Hermitage, the second largest art museum in the world.
With its colossal cathedrals, ostentatious palaces, and intriguing city center, St. Petersburg is one of the must-see cities in Eastern Europe. You can explore St. Petersburg by walking along the river and canals that run through the city. You can also find more than just artistic venues on Nevsky Prospect street, which is lined with luxury shops and hotels.
Best Places To Visit in St. Petersburg
St. Isaac's Cathedral

Winter Palace

Catherine Palace

State Hermitage Museum

Savior on the Spilled Blood

Peter and Paul Fortress
Palace Square

Alexander Nevsky Lavra

Smol'nyy Cathedral

Peterhof
8. Dubrovnik, Croatia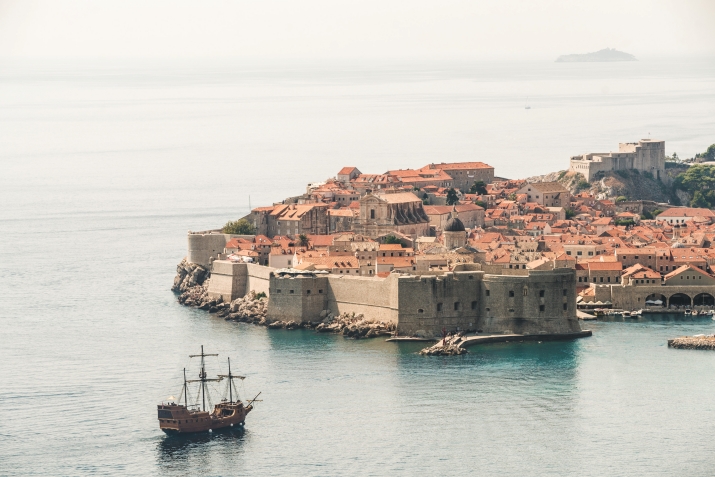 Dubrovnik, known as the Pearl of the Adriatic Sea, is a small city on the Dalmatian coast. This small city is home to substantial medieval stone walls, breathtaking beaches, and monuments. Dubrovnik is a European city full of architecture and history.
Another reason Dubrovnik is popular today is the world-famous television series Game of Thrones. Known as "Kings Landing" in the series, fans of the series frequently visit the city.
Surrounded by its magnificent medieval walls, the city has been on the UNESCO World Heritage Site List since 1979. Its delicious local cuisine, rich history, beaches, and monuments next to breathtaking slopes promise visitors an eye-catching journey.
Best Places To Visit in Dubrovnik
Walls of Dubrovnik

Lokrum Island

Stradun

Rector's Palace

Dubrovnik Old Town 

Homeland War Museum
Dubrovnik Cathedral

Dubrovnik Synagogue

Maritime Museum

Tvrđava Minčeta
9. Riga, Latvia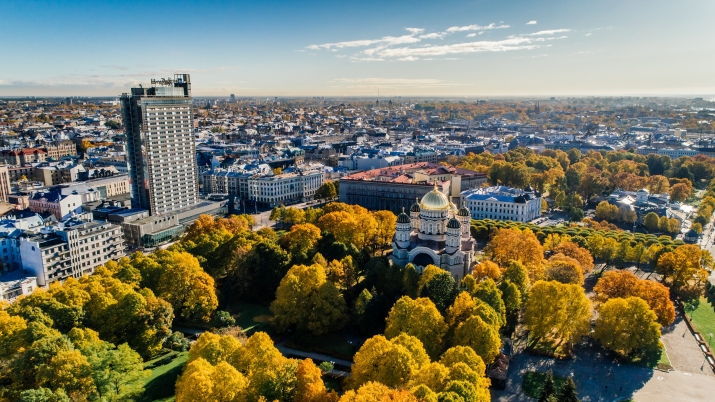 Riga is an excellent alternative for a few days trip. Many airlines provide connecting flights to the small city of Riga. Riga is the cultural capital to enjoy the Baltic Sea and get to know the Baltic culture closely.
Riga, the capital city of Latvia, is home to various cultures and architectural styles. Towers, lush historical parks, medieval churches, and Art Nouveau-style streets reflect the texture and spirit of Riga.
In addition to the historical and architectural texture, you can enjoy the sun and sand on the coast of Jurmala, which you can reach in a short time by train from Riga. Also, Riga Central Market is the largest indoor market in Europe. You can taste Riga's local and authentic dishes, and buy souvenirs.
Best Places To Visit in Riga
House of the Black Heads

Old City Riga

Central Market (Centraltirgus)

KGB Building

Freedom Monument

Riga Town Hall Square
St. Peter's Church 

Three Brothers, Latvian Museum of Architecture 

Art Nouveau Building

Latvian Ethnographic Open Air Museum
10. Bratislava, Slovakia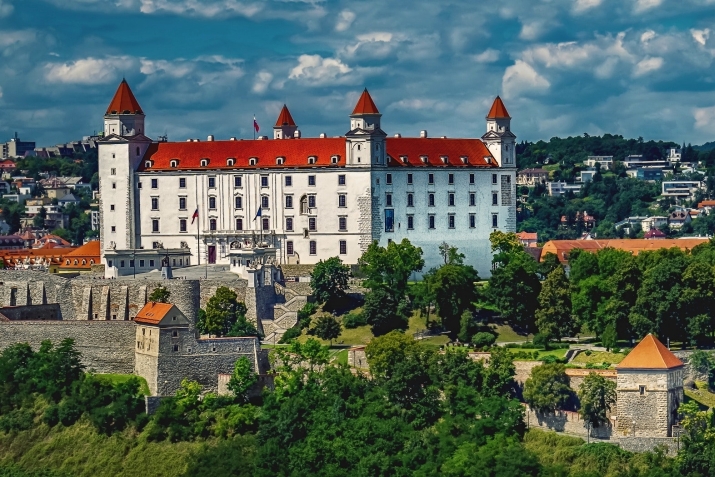 Known as "the Beauty on the Danube", Bratislava is the capital of Slovakia. Unique architectural structures accompanying the river landscape reveal the beauty of Bratislava. In addition to architectural designs, interesting bronze sculptures surround the city, such as Čumil.
Bratislava visitors can see magnificent examples of baroque, gothic, and art nouveau styles up close. Castles, cathedrals, and other historical sites make you feel like you have traveled through time. Bratislava is one of the most beautiful cities in Eastern Europe, where you can feel the historical texture.
The vibrant nightlife is one of Bratislava's attractions. You can also taste traditional food and have a tasting in the wine cellars. Spending time in cute little coffee shops in the city is also very relaxing.
Best Places To Visit in Bratislava
Devin Castle

Bratislava Old Town

Slavin

Modry Kostol (The Blue Church)

Bratislava Castle 

St. Martin's Cathedral
Primates' Palace

Michalska Brana 

Schloss Hof

Hlavne Namestie
Bottom Line: Best Cities to Visit in Eastern Europe
Eastern Europe's magnificent cities are full of undiscovered treasures. The region's importance comes to light as visitors discover the beautiful cities of Eastern Europe. Eastern European tourism is also developing day by day.
Each of the cities featured in this article showcases the beauty of Eastern Europe. Its historical texture, natural beauties, architectural structures, and cultural richness impress the visitors. If you haven't visited Eastern Europe yet, you will be amazed by what you see.
From Budapest to Krakow, from Tallinn to Bratislava, each city in Eastern Europe has a different and unique spirit. We are sure you will want to extend your travel time as you visit these cities! After seeing its friendly people, delicious food, and unique landscapes, you will understand the value of Eastern Europe much better.
Review your travel list, and definitely don't forget to add Eastern European cities to the top of the list!
Frequently Asked Questions About Best Cities To Visit in Eastern Europe
What is Eastern Europe's largest city?
Moscow is the largest city in Eastern Europe.
Is Eastern Europe nice?
Eastern Europe is full of history and natural beauty. Many Eastern European cities have an attractive beauty with their medieval cities, rivers, and architecture. Eastern Europe is a region worth seeing with its cobbled streets, cultural attractions, beautiful architecture, colorful houses, and history.
What is the best country in Eastern Europe?
Each country in Eastern Europe has its beauty. Hungary, Romania, the Czech Republic, Lithuania, Crete, and more. Each of these countries has a rich history and culture.
The Czech Republic and Slovenia are the most developed countries in Eastern Europe with high living standards.
Is Eastern Europe a good place to live?
While living in Eastern Europe, you will have beauties that you cannot see in many parts of the world. It is full of incredible historical texture, cultural richness, and natural beauty.
Also, Eastern European countries have affordable living costs. It offers high quality of life for expats, digital nomads, and retirees.
Which country in Eastern Europe is the richest?
Slovenia and the Czech Republic are the wealthiest countries in Eastern Europe.
How many countries are there in Eastern Europe?
There are ten countries in the Eastern Europe region. These are Belarus, Bulgaria, Czech Republic, Hungary, Moldova, Poland, Romania, Russia, Ukraine, and Slovakia.
Is France in Eastern or Western Europe?
France is in Western Europe.
Is Turkey Eastern Europe?
No, Turkey is not entirely in Eastern Europe. Turkey's lands in Eastern Europe are only Eastern Thrace.
Is Eastern Europe poor?
Eastern European countries are poorer than other European countries. The level of welfare also differs between European countries. They were particularly affected by the collapse of the Soviet Union.
Why Eastern Europe is underrated?
Eastern European countries are underrated because of their economic situation and living standards. But it offers riches full of historical richness, food, accommodation, and travel options.
Also, your trips to Eastern European countries will be cheaper than many places.
What is Eastern Europe known for?
The hidden part of Europe is Eastern Europe. It is full of many beauties that tourists and travelers overlook. Its beaches, mountains, old streets, interesting attractions, and historical sites are still waiting to be discovered.
Cosmopolitan cities live in harmony alongside medieval palaces and castles.
What are the best Eastern European cities?
Budapest, Prague, Tallinn, Kyiv, Riga, Bratislava, Dubrovnik, St. Petersburg, Krakow, and Ljubljana are the most popular cities in Eastern Europe. In addition, Sofia, Zagreb, Ohrid, and more are full of beauty with a picturesque setting and they're some of the best Eastern European cities.