The Best Flight Booking Sites
One of the most challenging things when planning a trip is finding cheap flights. There are sites where you can compare to find the most suitable flight and airline. You can book from these sites or find the airline with the most convenient flight. But how do you find the best flight booking site?
In this guide, we'll take you on a journey to find the best flight booking sites which will make your future searches easier and cheaper.
Let's begin with some basics before we dive in!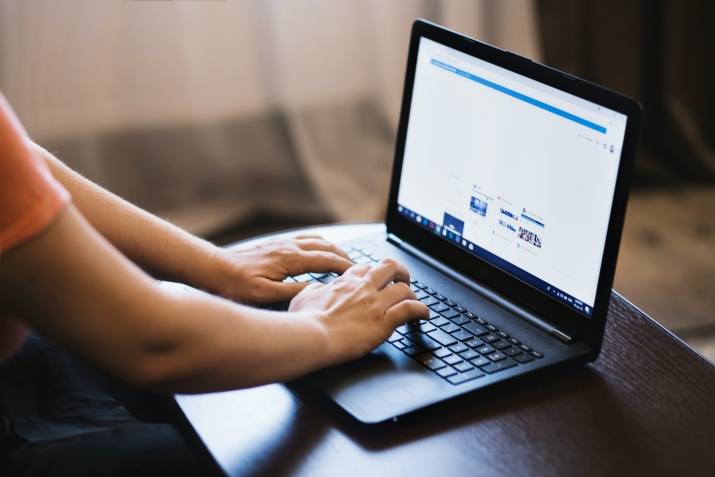 OTA vs. Metasearch
The sites where you can search for flights are divided into two in terms of their intended use: Online Travel Agencies (OTA) and metasearch flight booking websites. Of course, every flight booking app and site works in different ways. 
A confirmed flight booking and ticket selling site is OTA. The ticketing process takes place entirely on OTA. Many OTAs work for this purpose. These agencies offer reservation and research options in different ways. Some OTAs may add extra fees to some transactions when purchasing tickets.
You can view and compare both airlines and airline ticket vendors through metasearch flight booking websites, including OTAs. After comparing from metasearch, you will be directed to the website of the real seller of the route you have chosen.
In this guide, we'll go over both OTAs and metasearch options. You can view non-stop flights, airlines, and the most affordable flights with filtering options using these sites.
Let's find the most suitable flight booking site for you together!
Best Online Travel Agent (OTA) Flight Booking Sites
Expedia
Expedia was founded in 1996 as one of the first online travel agencies. Since its founding, Expedia has been a site for booking flights, operating as an actual OTA.
Today, Expedia offers the best deals on flight prices. Also, it does not charge more than the prices on airline websites.
Pros
One of its most beneficial aspects is the Expedia Awards. While the potential to earn from flights is low, the chances of winning are high with vacation packages, cruises, hotels, events, and car rentals
You can earn miles on flights you book through Expedia, but you cannot earn status miles
Cons
Upgrade possibility may be restricted when you book on Expedia
Miles earned for elite status may be limited when you book through Expedia
Priceline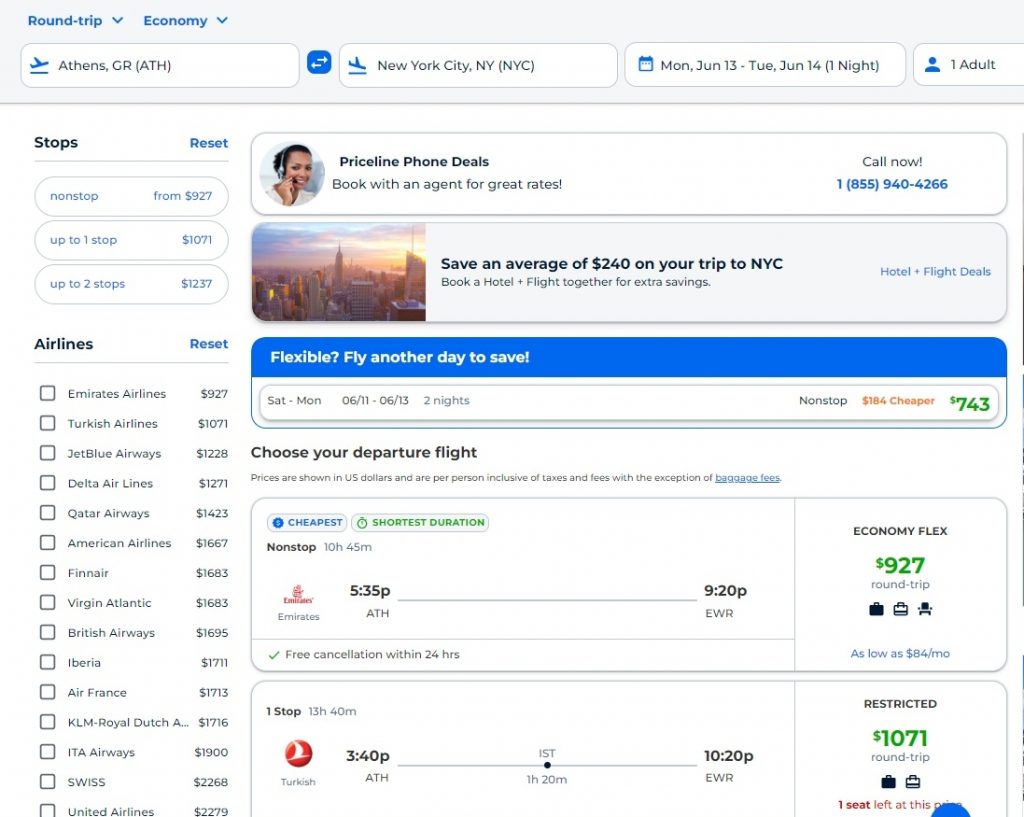 Priceline, one of the popular OTAs, was founded in 1997. It is known for its opaque reservations and the Name Your Own Rate tool. The Name Your Own Price tool, which can apply discounts to reservations, was discontinued in 2016, and Priceline continues to work like other OTAs.
If you have flexible travel dates, you can also see cheaper options on Priceline. 
Pros
Another service offered by Priceline is Express Deals. It is an option where you can save money if your travel dates are flexible
It offers a price match guarantee
Search results that make it easy to read and a calendar that colors according to prices
Free online cancellation within 24 hours after booking (excluding Express Deals bookings)
Cons
Express Deals don't always give the best price
No rewards program
Orbitz

Another OTA that was founded in 2001 is Orbitz. The application that differentiates Orbitz is Orbitz Rewards. You can earn Orbucks on a flight, vacation package, or hotel reservations. You can only use Orbucks for hotel reservations. When booking a flight from Orbitz, you can earn one percent of the price you pay at Orbucks. If you trade from the Orbitz mobile app, you earn two percent. Participation in this rewards program is free.
However, Orbitz charges one percent for some reservations. When booking, you can see if the flight is affordable by checking this fare on the travel summary tab.
Pros
Orbitz Rewards app
With the Low Price Guarantee, Orbitz will refund the difference if you find a cheaper flight on another site within 24 hours of booking
24-hour cancellation guarantee
Cons
One percent reservation fee
Hopper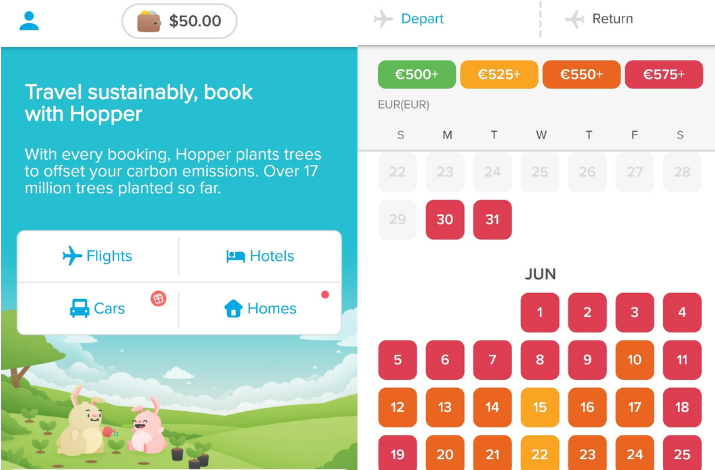 Hopper has aimed to save up to 40 percent on flight reservations since it was founded in 2007. At the same time, it aims to show the most suitable periods and dates to buy plane tickets.
Its easy-to-use application shows the most expensive and cheapest flight dates according to arrival and departure points. The calendar is colored according to the prices. Additionally, if you have flexible dates for your trip, you can create alerts to get affordable prices.
Pros
Creates a cheap flight alert for a month or between specific dates
Simple interface
Cons
Limited filtering options
No desktop search option
Hotwire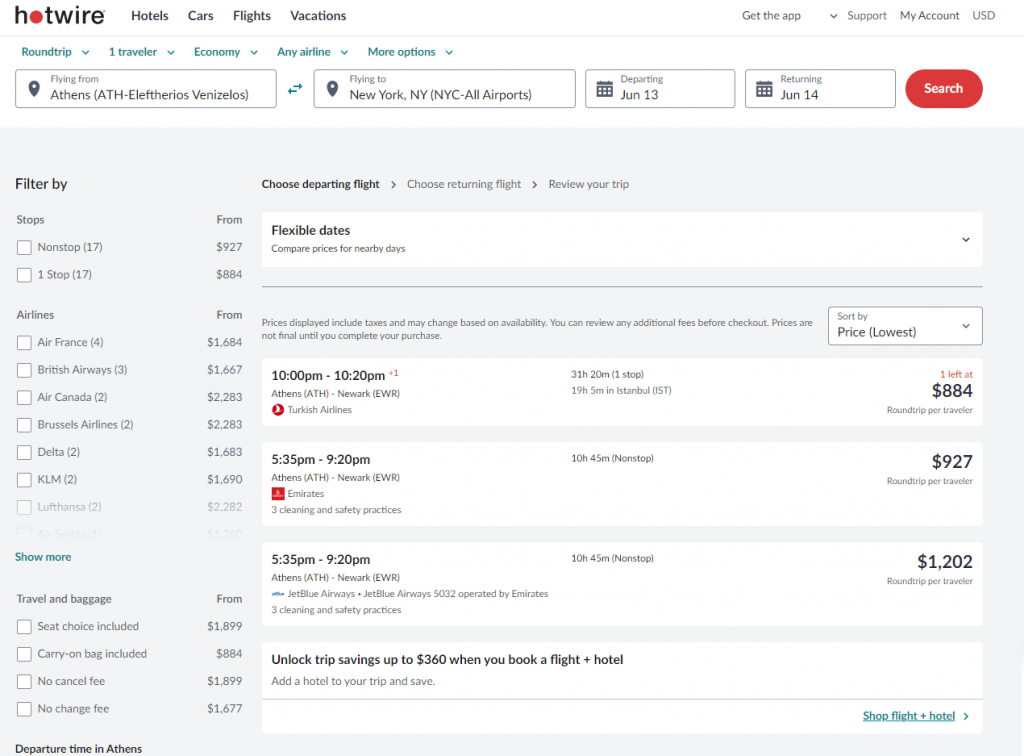 Serving since 2000, Hotwire is one of the most preferred OTAs. You can search for flights by selecting dates, departures, and destinations from the main search box on the simple and understandable homepage.
Hotwire can offer perfect deals if you book a hotel and a flight reservation.  Sometimes, purchasing a Hotwire holiday package is much more convenient instead of making separate hotel and flight reservations. It would be much better to have flexible dates for these packages. In this way, you can choose the most suitable package. Of course, these packages may not always provide savings.
Pros
24-hour cancellation guarantee
Low price guaranteed
Savings packages with flight and hotel reservations
Cons
Hot Rate flights are not always economical
May charge reservation fee
Travelocity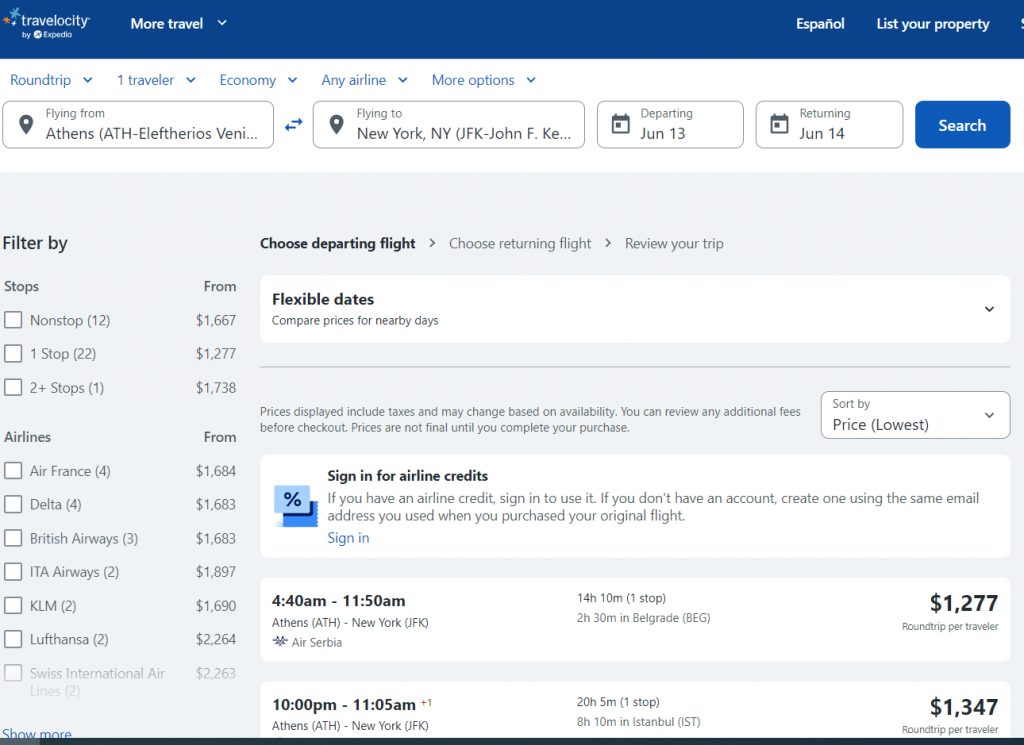 Travelocity was founded in 1996. Unlike other sites, the good thing is that different filtering options will come in handy when searching for flights. On the other hand, the price that appears at the beginning of the reservation may increase during the reservation.
Also, like many other agencies, Travelocity charges an extra fee for some reservations. You can check it in the account statement section before completing the reservation.
Pros
If you find a better-priced reservation within 24 hours of booking, Travelocity will refund the price difference
Free cancellation within 24 hours
Cons
Price may change at the time of booking
A reservation fee may be charged
CheapOair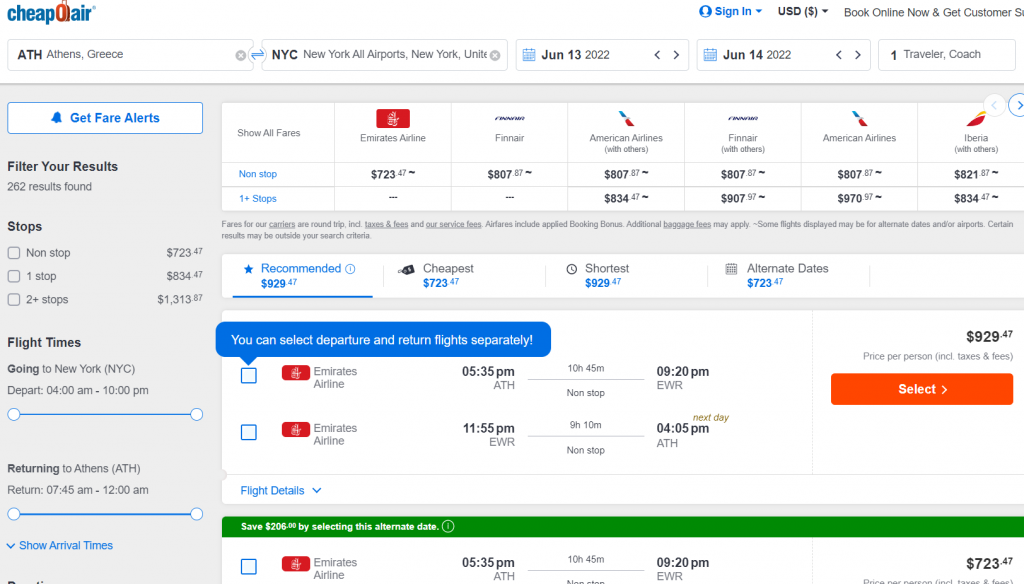 Founded in 2005, CheapOair is a little different from other OTAs. CheapOair offers its customers its own credit card.
Also, CheapOair can be a little more expensive than other agents because it may charge "agency fees" at booking. It is $35 per ticket on many flights, while on some, it can go up to $200.
Pros
If you find a cheaper booking with the same criteria within 24 hours, CheapOair will refund the difference
Cons
Refunds are made for a limited number of agents for more convenient reservations. These agencies are Orbitz, Travelocity, Expedia, and Priceline
Charges high fees for changing or canceling flights
Best Metasearch Flight Booking Websites
Momondo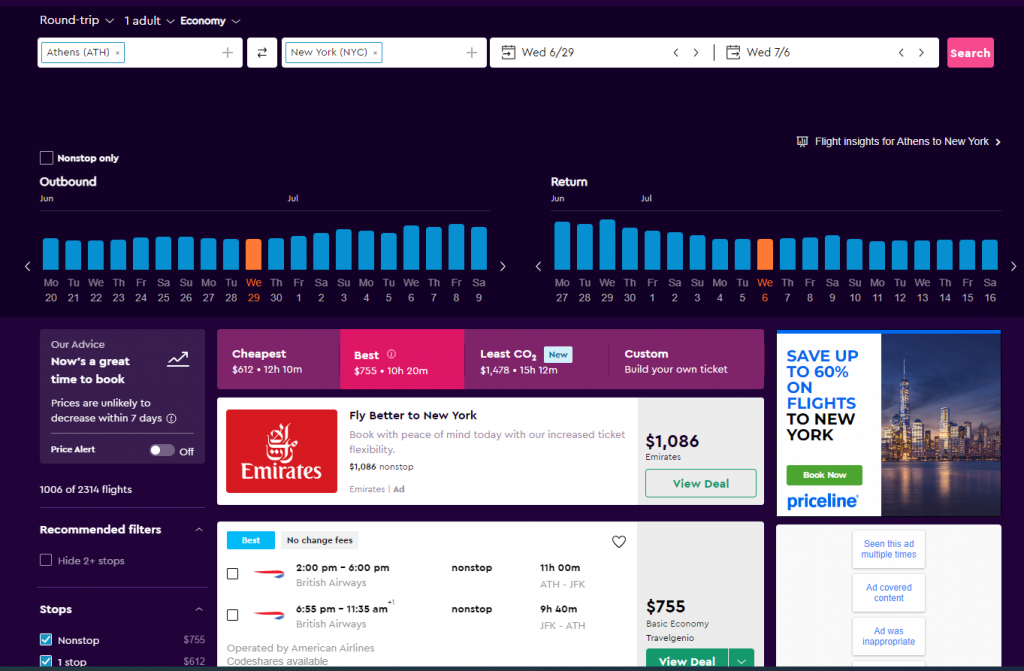 Thanks to Momondo's easy-to-use homepage, you can search by adding date and take-off points to the flight search box on the home screen. 
One of the best features of Momondo is that it visualizes flight prices. In this way, you can easily find a cheaper flight by changing flight dates. Momondo also offers Hacker Fares, which are basically two one-way tickets from different suppliers combined to bring you the most affordable plan.
Pros
Advanced price tracking tools
Cons
You need to make two different reservations to benefit from the "Mix and Match" feature
Kayak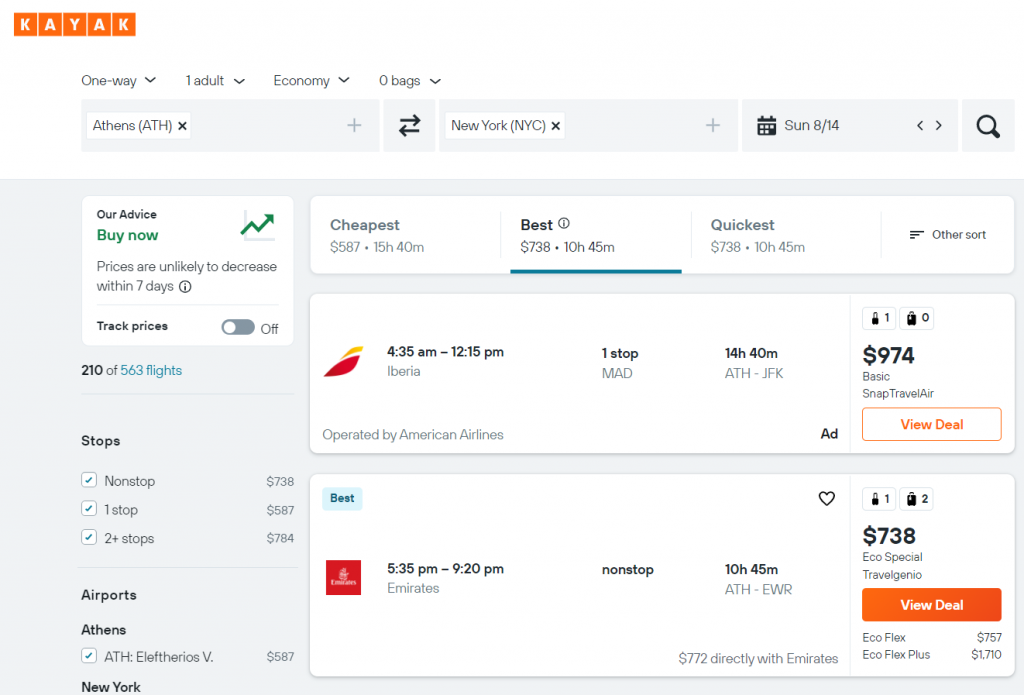 Kayak, a metasearch, compares prices from many vendors in one place. In this way, you can easily find the cheapest one. To make a reservation, you will be directed to the website of the flight you have chosen.
Kayak Hacker Fares are also an excellent feature to save on flights. This feature makes combinations of two one-way and usually different airlines instead of a round trip. This feature is not available on other metasearch websites.
Pros
Kayak Hacker Fares
Creating price alerts for flights within a specific date
Cons
Kayak offers more economical options for your flexible flight plans. Therefore, it may not work for specific dates
Skyscanner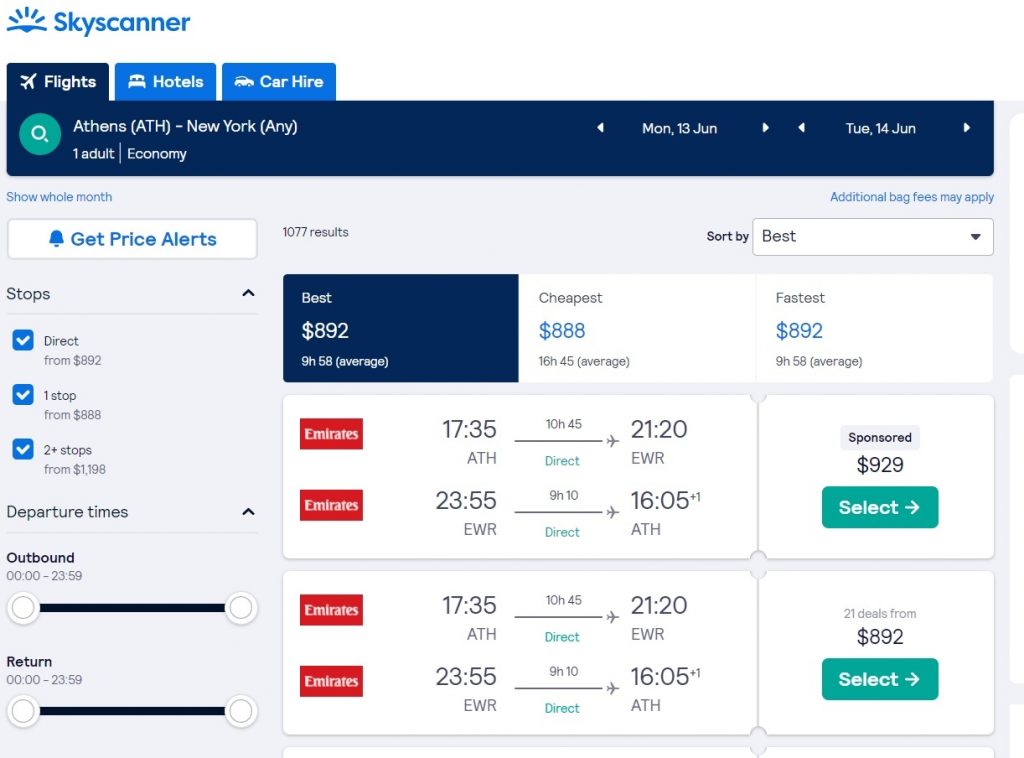 Skyscanner does not sell flights like other metasearch sites. Instead, it lists flights and redirects to airlines or OTAs. It's considered one of the top flight booking sites and is very popular among frequent travelers.
The most attractive feature of Skyscanner is that you can search anywhere if you have flexible dates and destinations. You can select any month and search ''Anywhere'' for the cheapest destination. But if travel dates and destinations are certain, it works like any other metasearch.
Pros
Price alerts
Easy currency and language exchange
The flexible flight search option
Cons
No compelling features that set it apart from other metasearch sites
Google Flights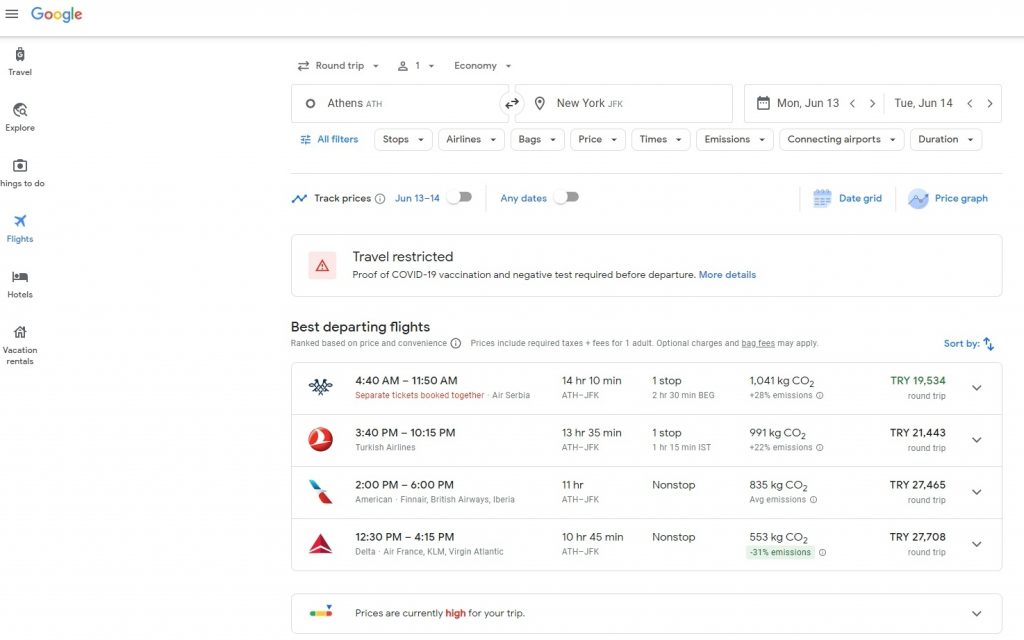 Like other metasearch sites, you can also find flights from different vendors on Google Flights. It also directs you to the airline's website or OTAs for reservations. Google Flights is built on the ITA Matrix and developed for travel agencies.
With Google Flights, you can follow the prices of the travel route to get a cheaper flight. It also reveals the cost by showing the price trends of the dates you want to fly. This way helps you see if the flight you're taking is the best option.
Pros
Price Graph showing which days it would be best to fly for the itinerary
Following the price of the flight you want will alert you by e-mail when it decreases or increases
Advanced filtering options
Cons
Using the application for the first time may seem a bit complicated for you because it offers advanced filtering and search options
Frequently Asked Questions About Best Flight Booking Sites
Which app is best for flight booking?
There are many applications for flight booking. First, choose whether you want to book directly or see a list of all flights. All sites offer different alternatives according to the features and flight options you are looking for.
How do I find the cheapest airline tickets and a good flight deal?
You should check the flight booking sites to get the most suitable and cheap flights. On these sites, you can list the most convenient flights by date and destination and get an alert when the flight price you selected drops.
Do flight prices go down on Tuesday?
Yes, flight prices generally go down on Mondays and Tuesdays. However, flight prices also drop on Wednesday and Thursday for some destinations. The important thing is to track fares and buy the plane ticket as early as possible, such as six months ago. But note that if you buy too early, you also risk missing the last-minute deals.
Which day are airline tickets cheapest?
It is generally believed that the cheapest ticket is bought on a Tuesday. Others think it's Monday evenings. So best check on Tuesday morning to get tickets.
What is the best day of the week to buy plane tickets?
Depending on the criteria, the day of getting the best flight ticket varies. For some destinations and dates, Monday and Tuesday are best. Sometimes Wednesday and Thursday are more suitable. Therefore, you can check flight prices frequently during the week.
 Is it cheaper to book flights at the last minute?
Generally, last-minute flights are more expensive than early bookings. But sometimes you can find cheap last-minute flights. For example, you can look for one-way flights or check nearby airports. When booking at the last minute, make sure you check all flight booking sites to find a good deal, compare prices and find cheap flights.
How can I fly for free?
First, you can fly for free using your miles from your favorite airline. Also, the fastest way to fly for free is to get the "welcome bonus" of a credit card. You can earn flight miles for each spending by using credit cards contracted with airlines. Some airlines also give a second passenger a "companion pass", allowing them to fly for free.
So, if you want to fly for free, plan well and join the loyalty program of your chosen airline. You can fly for free by gradually accumulating welcome miles and bonus miles from spending.